April 15, 2013



Dear Family and Friends,

We're late writing this year but with good reasons. We arrived home on April 2 and unpacked and reorganized the house after four months in Arizona. We finished the taxes a few days later, and we both had several medical appointments that were scheduled for as soon as we got home. We're still not done with those, but we have some breathing space this weekend.






SO, HOW WAS YOUR WINTER IN THE DESERT?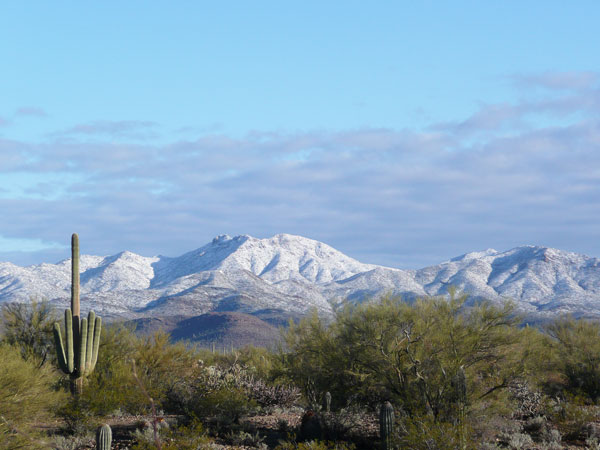 Four months in the Arizona desert is quite a change and a challenge from our usual life style at 8,500' in the Rockies. The winter of 2012-13 will be remembered for so many reasons.

While we missed this year's relatively dry and warm Rocky Mountain winter, we arrived home only a few days after a major spring snow; we had only to wait another week for the next one to hit us. As a result, we're now looking out over snowy woods, mud in the drive, partly sunny skies, and smoke from our wood stove rising from the chimney. It's a familiar sight at this time of the year Colorado's Front Range. We know we're home and feel the comfort of mountains: the tall trees, the quiet, and clear alpine air. The warmth of the desert is a nice change during the cold months of winter at 8,500', but it's not home.

Bella and Lucy knew they were home the instant they jumped out of the car leash-less and dashed helter-skelter into the woods and around the house and garage checking for old friends, familiar smells, and signs of visitors over the time they were away. They knew they were home as surely as we did. And just as happy.

Our four months living at Desert Trails RV Park had its ups and downs. Many folks there had either the flu, very bad colds, bronchitis, pneumonia, or some other respiratory ailment. Some serious enough for a doctor's visit or stay at a hospital. We were among those who were spared these conditions.


Some health issues may have been exasperated by Tucson's coldest, wettest winter in over twenty years. In fact, we experienced near-blizzard conditions (i.e., severe snow blowing at least 35 mph for at least three hours; ours lasted for two hours one day in February, with large flakes and very limited visibility.) Who'd have thought? This freakish weather was part of an overall cold—for the southwest desert—January and February. (The photo above was taken from Desert Trails)

On the other hand, we were not to escape our own troubles. Judy split a tooth to the root (eating a sandwich!) which required, in the end, a trip to Dr. Gonzales in Nogales (Sonora, Mexico) who bonded the fracture in the belief that it would hold for a few months until she returned to Colorado and a visit to her regular dentist. It did, and she is currently in the process of dealing with repairs.

[

Note: Many people believe there are excellent dentists and other health professionals in Mexico with clean, high tech facilities and US dental/medical school diplomas on their office walls. Many Americans and Canadians regularly spend time in Mexico during their winter getaways for excellent treatment costing a fraction of what American and Canadian dentists charge

.]

The poor weather and a painful heel/plantar faciitis problem threw off Judy's usual running program: she ran fewer times and usually not for as long as usual. While she has seen her foot doctor since returning and he has given her the OK to begin training for the upcoming racing season, she's not where she'd like to be this close to the Bolder-Boulder 10K on Memorial Day. She is working hard to return to her usual speed and endurance.

Hughes's knee, which has been troublesome for several years, finally made it clear it was time for drastic measures. After one of his few hikes this winter, a 5-6 mile trek through the Tucson Mountains, wearing his knee brace and with hiking poles, his knee was sore. The next day it hurt continuously; the second day the pain made it nearly impossible to walk. So he finally called his orthopod in Boulder and scheduled a knee replacement, something he'd put off for years (in denial? waiting for a miracle? thinking it would go away? convinced he could live with it?) Silly boy!

He's due to meet with Dr. Paul (who successfully repaired Hughes's shoulder last April) at Boulder Community Hospital on May 6 for a total knee replacement, followed by physical therapy until everyone is satisfied he is no longer disabled. How long will that be? We'll give an update in early summer.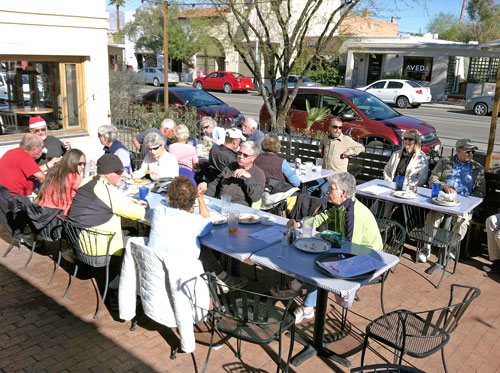 We should add into the mix of health issues and other misadventures this past winter the problems Bella and Lucy faced while away from their mountain home. While neither confronted a coyote or rattlesnake or javelina, Bella came down with a mild urinary track infection that prompted a trip to a local vet. Ten days of antibiotics took care of that.

Lucy, on the other hand, had issues that still remain unclear to us. After about a month she seemed at times fearful, listless, and/or in some pain. She rarely seemed to look forward to daily walks. She was more interested the times we went to a dog park or public park (what dog doesn't like grass, even dry and brittle Tucson grass?), or just out in a desert area where she could run and roam without much restraint. This makes sense because she is rarely on leash here at home. A trip to the vet resulted in an expensive and inappropriate diagnosis (we were told it was spinal pain!) in spite of what appeared to be a thorough exam including x-rays. She is definitely back to normal now that she's home and the leash is only a sometime thing. But it's something we need to be concerned about when we return.




SO, WHAT DID YOU DO FOR FOUR MONTHS?





BICYCLING

. Thank goodness both of us could bicycle this winter, Judy more than usual to compensate for less running. Working around the weather (primarily the wind) we regularly logged 6-12 miles daily, and occasionally up to twenty when the weather was ideal. There was also a group ride planned for each Monday morning, always followed by a group lunch like the one pictured here at Magpies Pizza on 4th Avenue. Judy became enthusiastic enough about road biking to call our son Michael and put him on an eBay bargain hunt for a first rate women's road bike. Desert Trails resident Jack from Oregon (who this winter probably logged 200–400 miles weekly) was especially encouraging to her interest in extending her mileage and went with her on several longer rides. As a result she's improved her strength and endurance a great deal and has found cycling more fun than she thought, an enjoyable complement to her running. As for Hughes, bicycling was the one activity that his ailing knee permitted.


[

Note: In addition to a organized road bike group that rode together weekly, there was also a mountain bike group that roamed the desert trails where cactus, cholla, and rocks occasionally cause riders to return bloodied, bruised, and looking like pin cushions. The only nasty incident among the road bikers was a dog bite that occurred in a neighborhood near to the park. Treatment was given, pictures were taken, officials were summoned, and the dog, which apparently had a history of being loose and unsupervised, was taken away. Walt will carry a scar on his leg for some time.

]



GEOCACHING

. We found additional exercise in our regular geocaching excursions. Armed with an area map and a GPS device of some kind, we set out two to three times a month with Joel, on the left (he owns a comfortable Jeep that can go anywhere), his wife Patty, who always wears a hat (who lets him know when his driving scares the hell out of her), and Frank, who also wears a hat (who helps scout areas for the hidden caches) in search of containers from the size of the joint of your little finger ("micro") which might only contain a log sheet, to a large ammo box or camouflaged plastic jar with room for lots of trading items: toys, coins, jewelry, etc. Hughes's role was to navigate to the locale and Judy was along to find the cache.

In addition to the delight of finally finding what is often a cleverly hidden container, we visited many different areas of Tucson, both urban and desert locations. Each search involved a short hike (rarely more than a mile). We would usually look for 6-7 a day. In the process we discovered new restaurants (especially The Original Hideout: great burgers and roasted chicken specials and an excellent neighborhood restaurant, Taco Giro: great authentic Mexican food) which we returned to several times during the winter.




HIKING

. Judy was a regular with the Thursday hiking group who drove to a variety of mountain areas for some spectacular hikes, many challenging, and usually lasting all day. Gates Pass Loop, Sabino Canyon, and the Tubac River were among the new hikes this year. But two hikes were most memorable: hiking the Cochise Stronghold in the spectacular Dragoon Mountains west of Tucson which was the rugged canyon area where the Apache chief eluded capture until 1872 when he was persuaded to give himself up; and summiting Sombrero Peak, (the official name is Safford Peak) a notable landmark on the horizon northwest of Tucson just within the boundary of Saguaro National Park. The climb is made more challenging because there is no developed or marked trail.



LECTURES, CLUBS, CLASSES, ET AL.

Just as we didn't last year, we did not take very much advantage of lectures or ongoing interest group activities. Hughes attended a couple of meetings of the Photo Club, but could never seem to get hold of their activities. Judy tried learning line dancing, but it too often conflicted with the hiking group which she preferred. The Quilting Class produced some magnificent soft sculptures, but Judy found the time commitments too great—and she did not bring a sewing machine. The Creative Writing group presented an evening of their best writings, most of which were excellent: strongly emotional or outrageously funny. But joining the group never captured our attention.

We attended an outstanding presentation of photos, videos, and music of a trip to Vietnam by Barb and Bob who spent most of February there. It was very professionally done. Their images and stories of their experience made us want to make plans to go ourselves. Hughes attended a workshop on creating web blogs. It seems easy enough but, except for the basics he produced during the workshop, he's not gone ahead with one as planned.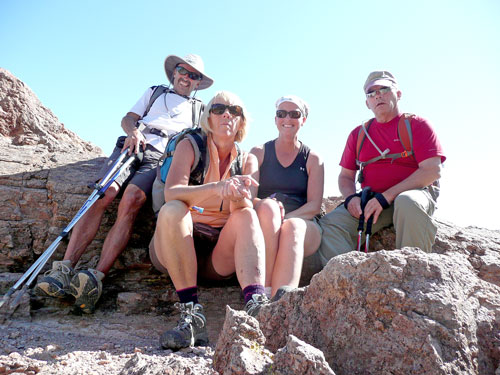 We should have been more interested in the RV Travel Club meetings, but like the weekly jam sessions, painting classes, and crafts classes, we never found time or interest to join up. We even tried Tai Chi exercises, but didn't have enough motivation to continue after a couple of sessions. Judy did stay with an exercise class that combined yoga and Pilates.

As you can see, there were many opportunities and we could not do them all. We truly were busy and often went to bed exhausted and fell asleep instantly.



FUN AND GAMES

. Bingo, bridge, pinochle, and bocce provided regular game entertainment.

Hughes won enough at bingo the first Thursday night we were there to pay for the installation of a TV satellite system for the rig. (Given the chilly weather, it turned out to be a pretty good investment—and we can reconnect the system when we return.) We generally think of bingo as a kids game (which it is) but it clearly has strong appeal to seniors who like to gamble a wee bit. (We heard recently that it is now becoming very popular with younger adults!) We spent $9 between us each night.

Monday evenings were set aside for bridge with the few other bridge players in the park. Joel and Frank were regulars from last year, and on occasion Joel's sister and Walt filled in when needed. We tried to teach bridge to another interested couple, but we ran out of time.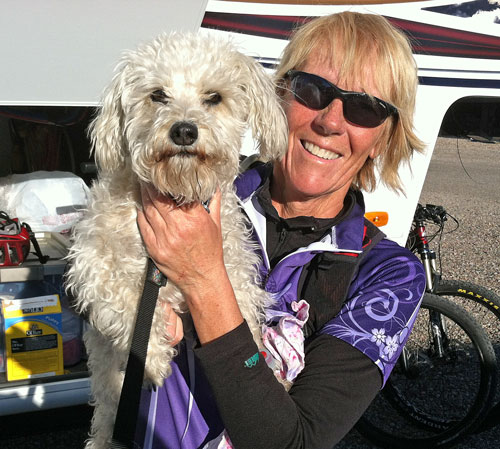 However, pinochle became the mainstay of our card playing this year. It began before Joel and Frank arrived, and we became part of a core group of about eight who played 2-3 evenings a week. Hughes was even able to find an occasional cribbage game with Christine (seen in the photo giving Bella a little love). We were introduced to Wizard, which often ended a pinochle night when there were more than four players still interested. We liked it well enough to buy a deck of Wizard cards and are looking for a group to teach it to here at home.

Judy was a late comer to joining the bocce players which played on Sundays and Wednesdays. Since there is no shuffleboard playing at Desert Trails (and who would want it?), it is a good way to enjoy some friendly competition.



LIVE CONCERTS

. Desert Trails holds two concerts each week, usually on a pass-the-hat fee basis, with only a couple that required advance purchase at a fixed price. Except for a team of comedians who bombed, all were musical performers who played everything from country and western and bluegrass to Celtic and mariachi and jazz. Some were families with several children performers who live on the road much of the year; some were solo acts; some were two to five member groups. Several were quite good and a couple were outstanding.

Tuesday and Friday evenings we usually spent at the rec hall enjoying these live shows. Those we would see again in a heartbeat were local singers Lisa Otey and Diane Van Deurzen whose songs are bluesy, jazzy, and sultry offered cabaret style. Though they have toured the world, their home base is Tucson and they play Desert Trails at least twice a year. We also looked forward to hearing again the most talented high school group we know: Mariachi Aztlán de Pueblo High School. All are high school students who play with gusto, sing traditional songs from Mexico, and occasionally dance during their performance. They have made albums, music videos, and toured the country, and like Lisa Otey and Diane Van Deurzen, they play at Desert Trails at least twice a year.

The Bar D Wranglers from Durango, Colorado, were the best cowboy and western group we heard, and the Dusty River Boys played great bluegrass. Avril Bird, "The #1 Native Indian Player in the U.S.A," was a favorite. The one performance we wanted to see but missed was the folk music of William Florian, a former member of the New Christy Minstrels. His show was well attended and folks said he was terrific. Instead, we traveled to Green Valley to hear one of our favorites, singer-songwriter Tom Russell in a live performance.


SO, DID YOU EVER LEAVE DESERT TRAILS?

We could have spent virtually all of our time at Desert Trails and forget that there are things to do and places to go beyond the park. Except for food and other necessary provisions, you could just stay in the 'hood.

However, we do leave to go biking, hiking, and geocaching. And more:

•We had a visit from Lee and Irene, two of Judy's high school friends who were vacationing in the area. We spent a chilly day at the Old Tucson Studios and theme park, where dozens of movies and TV shows were filmed (and still are occasionally). We sat on cold bleacher seats to watch a hokey staged shoot-out along with a group of visiting Australian school kids and then wandered the deserted streets of the mock-up of an old western town with its hotel, bars, and shops. Perhaps in better/warmer weather we would have enjoyed the experience more.

We also went with Lee and Irene to Biosphere II, the site of a three-acre artificially enclosed living space, like a giant greenhouse, originally designed to study how people might survive without support from outside. This remarkable complex includes several ecosystems (rainforest, wetlands, savannah, and agricultural areas) that originally housed a group of eight researchers who grew their own food and maintained the power, air, and water systems within the sealed structure. After a few years, administrative disputes brought an end to the original mission of the project and, after changing ownership and purpose several times, Biosphere II is now operated by the University of Arizona for a variety of research projects. The complex of buildings and facilities was well worth the half day visit.


•Our son-in-law Dan paid a very quick visit during a business trip to Phoenix. He stayed the night at the nearby Cat Mountain Lodge, an attractive and comfortable inn a few miles from Desert Trails. After breakfast and checking out our trailer and the park facilities (so he could report back to our daughter that we were not living in a desert trash heap), we drove up to Marana where Nederland neighbors Jim and Sandi have a winter home. We had arranged for Dan and Jim to play a round of golf on one of the pretty fabulous Dove Mountain golf course. Dan returned to Phoenix after the golf, so we didn't get to see much of him, but now at least he knows where we live in the winter.

•A few weeks later we went back to Jim and Sandi's for an afternoon of bridge with Jim's mother who drove down from the Phoenix area just to enjoy an afternoon of big time bridge and visit overnight. She played good bridge for a person of any age, but the fact that she was over 90 made her awonder at the card table.

•We joined Jim and Sandi for a tour of a most unusual museum: The Mini Time Machine, a museum of miniatures. This unique collection features antique and contemporary miniature exhibits centered on the artifacts of a home or other building showing a setting where people lived and worked in the past. The collection of over 275 miniature houses and room boxes is a delight for adults as well as children; the four of us spent over two hours marveling at the workmanship and artistry each exhibit displayed. Afterwards weintroduced Jim and Sandi to the pleasures of The Original Hideout, steering them away from the pool tables and into a booth on the outside of the dance floor.

•We attended two plays staged by the repertory group at the Gaslight Theater: "Scrooge" and "The Lone Stranger" were cleverly performed musical spoofs. We went last year and we'll likely look for another opportunity next year.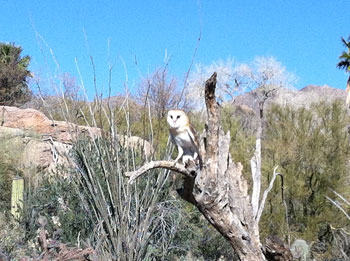 •As we do each year we're in Tucson, we visited the Arizona-Sonora Desert Museum, a combination zoo, wildlife sanctuary, aquarium, and garden of desert plants. In addition to the very popular hummingbird facility where, at the time we were there, the birds were nest building and laying eggs, we loved the raptor show/demonstration where hawks and owls fly untethered in the open desert while a museum guide describes the birds behavior and characteristics.

[

The world-famous nonprofit museum is a remarkable facility to learn about the animals and plant life in the desert. A modest membership fee permits unlimited entry, which is regularly $12–$14.50 daily per person, depending upon the time of year. In addition to the exhibits, the museum sponsors classes and seminar on a variety of topics, from art to natural history. Hughes attended an excellent three-day photography class in hopes of improving his limited skills. We'll see

.]

•The annual Tucson Gem and Mineral Show is a two-week extravaganza of amazing and unusual rocks from around the world, fine gemstones and jewelry ranging in price from modest to out of sight. There are hundreds of bead vendors alongside rare coin dealers, Tibetan statues and antler carvings and statues and linens from west Africa. We spent two half days searching for affordable souvenirs and gifts for family. We walked our legs off and returned each exhausted. We may go again next year.


•Shopping is a fairly popular activity among many of our friends at Desert Trails. Judy joined a small gang of bargain hunting ladies for an assault on the many thrift and second hand stores in the greater Tucson area. For the careful and discerning shopper there are lots of bargains to be had, especially in clothing and housewares. We also investigated several weekly swap meets/flea markets in Tucson and in Green Valley to the south. Tools, furniture, electronics, and other goods can be found at good prices along with clothing, housewares, and tasty street food.

•Speaking of food and eating out, we sampled a few more Tucson area restaurants than we did last year. We found really good sushi with Christine and Bill (who do not remember the name of the place, but could find it again); outstanding Mexican food in Tubac at Wisdom's Cafe, home to fine margaritas and a fruit burro dessert that is worth the 70-mile drive south. Look for the giant chicken in front of the building. (Forget the much ballyhooed Elvira's: Wisdom's is superior in all ways.) Bill and Hughes drove to the other side of town for breakfast at Gus Balon's, mainly to sample their famous cinnamon roll that fills a plate and stands nearly a half foot tall. We also had lunch with our Albuquerque friend Anna Marie, who was visiting a friend in Tucson, at Caruso's Italian Restaurant on 4th Avenue. It was good to see her and we enjoyed some good Italian food for a change. Park neighbors Yvonne and Jim, who was a big winner at the Casino Del Sol slots, celebrated his good fortune by treating us to dinner at the Texas Roadhouse (the one on Irvington) a favorite of carnivores (and line dancers) throughout the southwest. Their steaks were consistently outstanding, superior to those at Fred's Arena Bar and Steak House, the well known desert landmark which Hughes used to consider the home of the best Tucson steaks around. We returned to the Texas Roadhouse twice when Hughes's cravings for meat were too strong to withstand.

Just a five miles down the road from Desert Trails is a small area of shops including Big Papa's '50s style restaurant, home of one of the three best milkshakes in the country, and the House of Cheng, which serves up an excellent traditional American breakfast. Joel and Patty spend many mornings there and treated us to our only breakfast there on our birthdays in early March.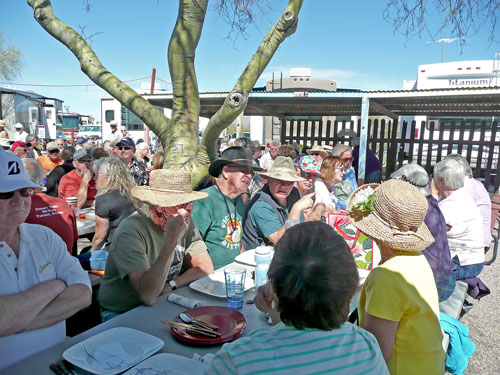 Add to the list of Tucson eateries the Irvington Road Olive Garden where we had lunch with Judy's cousin Bob and his wife Ginny, and Ginny's brother Gary. We also had dinner with them on New Year's Day. We see them each time we come to Tucson and are looking forward to a 75th birthday party reunion planned for next year (a few years short his real 75th, but it doesn't matter; it's the family reunion that counts!)

[

Note: It should not go without mention that Desert Trails has a strong tradition of serving up outstanding food at regular potlucks (everyone tries to bring their best offerings to add to the main dishes provided by the park owner), at monthly breakfasts, which serve up the best pancakes around, and at monthly soup and salad lunches. Christmas dinner featured turkey or ham with potluck sides and desserts. Dinner on New Year's Eve was a sitdown and be served a complete dinner of beef, ribs, and/or shrimp, followed by dancing with a live band. We left the day before Easter when park residents were treated to an aged prime rib dinner with all the trimmings. Of course, every Monday morning is the doughnut meeting of announcements of the coming week's activities and whatever else is on Pericles's mind. All in all, it's easy to gain a few pounds staying at Desert Trails, even if you never leave the park!

]


SO, HOW IS LIVING IN YOUR NEW FIFTH WHEEL?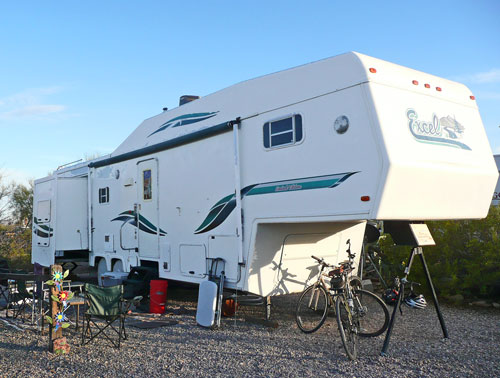 Last year we spent two months—two warm months—living out of our 24' Navion motorhome. The Navion is perfect for road trips, for getting in and out of gas stations, parking in tiny slots near the shore, and for eating in when it's occasionally wet and cool outside. However, after two months of close quarters—remember the front six feet or so is not usable; it's the cab and engine of the motor home—we wisely decided if we were going to stay in one place for any longer, we needed more space. Our purchase last spring turned out to be a good decision.

Tucson summer temperatures can test the mettle of anything left out of doors through the summer heat and monsoons. When we arrived the morning of November 30, we found the rig on the site we had selected (from among those available) to be in good condition. No critters had taken up residency in any part of the interior or outside. No water leaks showed and the inside was dry. The plumbing worked, as did the refrigerator, hot water heater, air conditioner, furnace, and all the rest. We breathed a sigh of relief and went to work straightening and putting things away.

We were not to be let off so easily: in just a few days a strong odor from the storage area below the toilet room suggested a leak, which the RV Doctor, a fixture at the park, located, diagnosed and repaired quickly. (Usually a toilet is "set" using a wax ring seal. However, in a hot desert environment, the smart folks have gone to a Teflon or other synthetic ring that stands up better to the high temperatures.) While he was there, he fixed a stubborn drip in the kitchen sink by installing, at Judy's request, a new sink fixture. A good decision.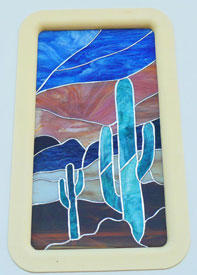 We made another good decision just before we left this year: we purchased a beautiful stained glass window that fit into the entry door the to trailer (photo on left). Betty has been crafting stained glass objects for many years; we had purchased a stained glass small hummingbird last year that has hung in our west window. We liked the desert motif very much, and when her husband, George, came to move our trailer to its new site for next year, he installed the stained glass panel.

Things went along well for almost four months when we discovered an error message on the refrigerator information panel. We called the RV Doctor one more time who was unable to pinpoint the source of the error message except to suggest that there was a faulty circuit board and that he might be able to locate another, even though they're no longer manufactured. While he was finding one, the refrigerator error message disappeared and the unit worked as though nothing had happened. (Damn computerization!). We bought the new circuit board and have it ready to go if there is a real failure in the future. An expensive back-up plan.

In all other respects, we enjoyed living there. We were warm, sat on comfortable furniture which the dogs could freely use also. The 3" foam mattress topper made an otherwise ordinary bed very comfortable. We were able to have friends visit for dinner and/or cards in the evening. And Howard was able not only to install a new satellite TV system in the living room, but found a link to the small bedroom TV which may never have been used before. It's almost like here-home.


We don't have the comfort of a fireplace or wood stove on cold, snowy or rainy Arizona days, but the extra room, the usable shower space, floor space to roll around and play with the dogs, and several large windows for watching the finches, cardinals, quail, and other wildlife makes a very comfortable living space that we could live in for four more months.

So, we'll be returning next December and see how things are working, and if our friends from this year (and last) return to the old neighborhood. We hope so. After all, as everyone says about Desert Trails, it's the people that make it the place to spend the winter.

To all our Desert Trails friends, thank you all for helping to make our winter enjoyable. You make all the difference in the world. See you next year.


Judy and Hughes