April 1, 2010



Dear Family and Friends,

Can it be spring already? It doesn't seem like it, what with snow falling lightly at the moment and well over a foot of snow still blanketing most of our back yard and ice patches in the drive. The hummers haven't yet arrived, though we don't look for them until around tax day. Looking back at the calendar for this past winter, we discovered we were busier than we had realized—and we have lots to remember about the past three months: a fledgling duplicate bridge group here in the mountains; a very short trip to Florida; a month in Arizona; a short trip to ER; a surprise birthday party for Hughes's 70th; and a whirlwind visit from a Ohio friend.




WINTER TRAVELS




Perhaps we are getting softer as we've aged. Or maybe the winters have been colder/windier/snowier as a result of climate change (or as the science scoffers snicker, "global warming," as in the phrase: "Global warming? Hah! Tell that to the folks in Nederland who had one of their coldest winters on record."). Whatever the reasons, we've taken a more serious and active stance in favor of heading out of the mountains during the December–April period and seeking warmer climates. This winter we ventured to two warmer spots:



FLORIDA

. Destin, to be exact, in the middle of February for a week of fresh air and sun on the whitest beaches this side of Zanzibar. Canadians we had met some years ago told us it's a favorite winter getaway spot for Canadians from the eastern part of the county. The Travel Channel boasted Destin as a hot destination for spring breakers seeking sun, booze, flesh, and widespread heavy duty partying. We thought we'd give it a shot.

We lined up our airline tickets, made reservations at the Wyndham Beach Street Cottages, reserved our rental car, and packed lightly for a week of pre-spring break fun old persons' style. What a cluster we ran into. The Friday we were to leave, American Airlines said, "Sorry, but Dallas is shut down and we can't get you into Pensacola for at least a day." The next day we found that we could get to Dallas, but Pensacola was closed due to snow!!! So, we arrived on a beautiful Sunday, two days later than planned. (When we asked the fellow at the car rental in Pensacola how much snow fell yesterday that closed the airport, he smiled and said there were "just a few flakes," but not really enough to make air travel dangerous. He had been surprised the place was shut down.)

Our accommodations were cozy and comfortable, just across the street from the white sand beach (along Old Scenic Highway 98), which we walked almost everyday, though with a jacket/sweatshirt: the temperatures were rarely above 60° in spite of clear skies. Nevertheless, we enjoyed walking the shore looking for shells (not many around here), shooting pictures of the birds, and enjoying having the beach pretty much to ourselves.


We rented bicycles to ride an outstanding bike trail that parallels Scenic Route 30A east of Destin, passing through the villages of Santa Rosa, Grayton, Watercolor, Seaside, and South Walton—about 20 miles each way. (Forty miles is relatively easy when the path is level and smooth, and not more than 10' above sea level.) Along the way we stopped at Grayton Beach State Park to walk the beach and stretch our legs. Lunch at The Shrimp Shack in Seaside was a delight worth returning for: we relished their scrumptious royal reds (with corn on the cob and fingerling potatoes) and cold beer at an outside table watching the light surf and shorebirds poking in the sand for their own lunch. It was one of several outstanding meals we had. The village of Seaside was bustling with activity in spite of the cool weather. Art galleries, a fine grocery, and other tourist shoppes were another excuse to do some walking before completing our bike ride.

We spent a leisurely day driving around Choctawhatchee Bay, through small non-tourist towns quite different from the glitzy high-rise areas along the coast. At Turkey Creek Park in Niceville we walked on the boardwalk next to the river for a close-up look at wildlife and vegetation deep in a swamp area. In warmer weather we might have glided by canoe, kayak, or inner tubes, or simply gone swimming at one of the several beaches. On this day, however, the air was a bit cool and we encountered few other walkers. As we passed over the Destin Bridge on the way home, we stopped for an early dinner at Dewey Destin Seafood Harborside, an out of the way, yet well known shrimp shack where the boats still tie up. Their delicious steamed shrimp dinners were also served with corn on the cob and potatoes. Dewey Destin is another local eatery we'd return to on a future visit.

There is no end to the restaurants along the Emerald Coast. To complete our dining experience, Capt. Dave's on the Gulf, a short walk from our condo, provided good red snapper and a fine view overlooking the Gulf (while the sun was out). The concierge at the resort recommended the Ocean Club, which turned out to be pricey, formal, and noisy. The seafood was okay as was the service, but it is highly overrated and way overpriced for those who are looking for a friendly relaxed atmosphere, excellent fresh food, at a reasonable price.


On the day we returned to Pensacola for the return flight home, we walked along the nature trail of the Naval Live Oaks section of Gulf Islands National Seashore, area set aside by President John Quincy Adams as a national tree farm to provide live oak lumber for early naval vessels.

Though our planned vacation was cut short by really strange weather, our visit was enough to recognize the numerous fine opportunities for bird watching, photography, dining, camping, and, in warmer weather, fishing, diving, sailing, surfing, and other water activities. The five days was enough. However, we had come to relax and, in spite of what folks there called the coldest winter in their memory, a chance to be outside in relatively (for us) warm weather without crowds that would show up for spring break in a few weeks.




ARIZONA

. Last winter we enjoyed our three week road trip to Arizona so much that we decided to return. This year we spent a month visiting new areas (including Death Valley, Lake Mead, as well as parts of southwestern Arizona), and seeing family and friends. We spent the first two weeks camping with cousins Ken and Carol before venturing off to visit friends in Patagonia, Tucson and, on the way home, Albuquerque. Judy won the 46 and up age group (!) in a Nogales race. We went birding at Patagonia State Park, sighting the first Arizona woodpecker of the year and the fabled, rare, and elusive elegant trogon. We rockhounded for pyrite and rhodochrosite near Nogales. We picked through derelict buildings and cemeteries in the ghost towns of Rhyolite (Nevada) and Harshaw (Arizona), and toured the surprising Scotty's Castle at the north end of Death Valley. We dry camped in an isolated area of southern Arizona that looked like the Serengeti but without the zebras and wildebeests. We escaped another poisoned dog tragedy thanks to the quick action of Jim and Sandy in Marana (Arizona); we dodged a winter storm watch along 1-25 on the return trip home thanks to Anna Marie in Albuquerque; we avoided a more serious heart attack by getting Hughes to his Boulder doctor, and eventually into ER for stent implants the day after we arrived home. And we discovered Desert Trails, the most customer-friendly and reasonably priced RV park just west of Tucson where we'll return next winter for a more extended stay. A more complete account of our month in the southwest along with lots of pictures can be found on our website.




AROUND HERE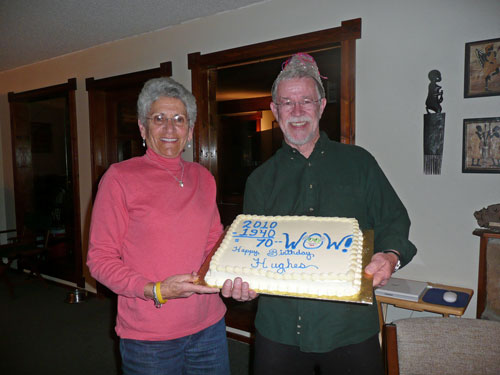 Gotcha!

The day before we left for our Arizona trip, Judy caught Hughes completely off-guard with a surprise 70th birthday party. At 6:30, in the middle of the evening TV news, a group of neighbors and friends from town and Boulder (including Michael and Cindy!) barged in the front door, ignored the barking dogs, put a goofy party hat on his head, and sang "Happy Birthday." At least, that's how he remembers it. Judy had successfully pulled her every-twenty-years sneak attack. She had ordered the birthday cake and bought the beer a couple of weeks before. A friend from town helped by stopping at the local pizza parlor to pick up the extra large pizzas with various toppings to satisfy everyone in the crowd of about 25. She got everyone to come down the driveway, maybe the last 50 yards without headlights (?) and gather at or near the garage for a full frontal attack. It worked. Hughes got his surprise (not a heart attack) and Judy was delighted and relieved to have pulled it off so well.



Duplicate Bridge

. After almost giving up hope of finding more than a couple of other bridge players here in the mountains (so many people don't even play cards anymore!), with the help of like-minded fanatics, we were able to gather eight bridge players who agreed to monthly evenings or afternoons of duplicate bridge. We began cautiously in the late fall to work out a smooth set of procedures. This winter, we had monthly gatherings—until the inevitable happened: people left town for winter travels (including us). We were able to get a reliable substitute (and a good player) to sit in for one of the group who spends all winter and early spring in Arizona.



Heart Attack

. Hughes's cholesterol caught up with him this winter, in spite of his Lipitor regimen. He left for Arizona with a typical cold that seemed to hang on throughout the trip. Bike riding and other forms of exercise caused some discomfort in his chest that felt like "walking pneumonia" (whatever that is) he recalled having in college. When we got home, he called his internist the next morning for an appointment for some "magic potion" that would make the pneumonia go away. After listening to his breathing, his doctor ordered an EKG. After looking at the results, the doctor put him in a wheelchair and pushed him directly across to the main hospital emergency room and into the hands of a good cardiologist who reaffirmed the original diagnosis (heart attack) and put him at the top of his priority list for an afternoon operation. He placed three stents into a completely blocked artery. He later explained what he did and that he has two more areas that will require stents before Hughes can count himself "out of the woods." Unlike twenty years ago when he would have required open heart surgery, Hughes's recovery has been nearly a non-event: a week of no driving or lifting, modest exercise, and a couple of new medications (Plavix, a blood thinner, and a blood pressure reducer, etc.). Today he's feeling 99% normal. (What is the other 1%? It's hard to tell.) The moral of this story: Get your body inspected regularly. (Don't you do that with your car?) An annual EKG is a must. A good internist or family doctor is also a must, as is a good cardiologist. When suggested, have a stress test. Exercise. Lose weight (Hughes is still waging that war). Eat well. Pay attention. Contrary to some opinions, 70 may not be the new 50.



Good Manners

. Lucy and Judy completed a six-week course in doggie manners. Just like kids and school, there is often a disconnect between behavior at school and behavior at home. Lucy was a star in class with the other dogs, yet still has not mastered the art of quietly and calmly greeting visitors at the door, or ignoring cars that pass while walking on the side of the road, or coming when called even if there's not a treat waiting for her when she finally does come. She still has some work to do before Judy feels comfortable placing her in the dog therapy program at Boulder Community Hospital. However, Lucy (the slightly taller one with the tail) is as loving and fun to watch as ever, and she and Bella have bonded as closely as dogs can. Together they boost our spirits.




A Mini-Marathon

. Dick Sanders, our Shanghai Rummy guru from Ohio, drove out to Denver on business in February and called to ask if we'd like to play some Shanghai. We said we'd love to see him. He drove up from Denver about noon. We ate lunch, finished six games (Sorry, Dick, that we were not good hosts), and caught up on all the family and Toledo area news by 5:00 o'clock when he had to leave. Now that was a whirlwind visit!



Continuing Stuff

. We've enjoyed several more

house concerts

in the area during January and February. The most interesting performer was Nathan Rodgers, the son of Canadian Stan Rogers and nephew of Garnet Rodgers. His voice and style and intensity reminded us of Stan's performances which we have long enjoyed. He also demonstrated his skill as a throat singer, specializing in the Tuvan and Mongolian styles. You can find all three of the Rodgers family on YouTube. Hughes continues to play with

McGinty's Wake

, though winter travels and illness have interrupted the rehearsal schedule from time to time. Judy

knits baby hats

at an very rapid pace for newborns at Boulder Community Hospital. It's one of the few things she can do while riding in the RV or watching television. Hughes's

Mystery Book Club

not only continues to read a variety of interesting mysteries, but we also sat through the film version of Stieg Larsson's

The Girl with the Dragon Tattoo

(a Swedish film with subtitles), one of the most grimly chilling and intense films we have seen, and a reasonable adaptation of the book the group enjoyed last year. Judy continues

running

well (winning her age group in a 5K/3.5 mile race in Nogales in March) and Hughes has kept his Tuesday "shift" at the

Visitors Center

when in town.

As you can see, it's been an interesting winter, one that we are not likely to forget.