August 1, 2013




Dear Family and Friends,

Spring slipped into summer unannounced. Snowy April was followed by May and June's warming days, greening up the grasses and wildflowers. Judy's veggie beds burst with spinach, lettuce, arugula, snow peas, and more. July's monsoon rains scrubbed our dirt road down to bedrock and we dug out new ditches to trench the water away from the house. Some recent evenings were strangely cool for mid- summer, enough to make us think of lighting a fire in the woodstove—o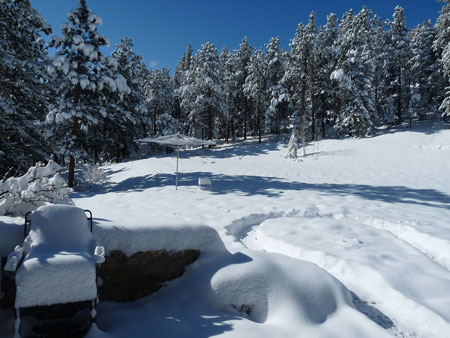 ddly out of the order of things. By the first of August, the weather gods righted themselves and we're basking in the blue-sky warmth of mountain weather that makes living here worth the travails of gully washers and wet spring snows.

Our lives continue to combine familiar patterns of community and neighborhood activity, but three events were memorable this past spring: "The Log," "The Knee," and "The Bike." Each has a story behind it. Each story begins in our winter in Arizona.





THE LOG



While enjoying the warmth of Tucson and our winter sojourn to DesertTrails RV Park, we went with friends to the artsy village of Tubac for lunch at Wisdom's, the outstanding, not-to-be-missed family owned traditional Mexican restaurant just south of town. On the way back to Tucson, we stopped to browse at the Tumacacori Mesquite Sawmill just a few miles from Tubac on the Interstate. There they make fine furniture from mesquite and have a large supply of bare mesquite wood in a field behind their showroom and sawmill complex. Hughes decided that he'd look for a log to bring home as a gift for a neighbor, Curt Will, who is an accomplished wood turner.

Hughes spent some time with a one of the workers there searching through the piles of mesquite branches, logs, stumps, etc., finally selecting a good-looking log that he thought had the potential to create bowls, utensils, or some other fine creation. It was about three feet long and about 18 inches in diameter. The worker said he'd be glad to cut it in half to make it easier to carry or pack. But Hughes said no; he'd prefer to keep the size as it was so Curt could decide how best to use it for some projects. When he went to pick it up, Hughes understood the wisdom of taking it in two pieces: the log weighed at least 100 pounds.

He hoisted it into the bed of the pickup in which they drove, got it back to Desert Trails, hefted it out of the pickup, and rolled it under the fifth wheel trailer (our winter home), protected from getting wet and safely out of the way until we left at the end of March.

Judy, it must be admitted, was surprised by and not very supportive of the purchase. She didn't see the wisdom of a hunk of wood as a gift, was doubtful that we had room in the car to carry it home, and would not accept the possibility of putting it on the top of the car. As the weeks passed friends would stop by and ask about the log under our rig, thought maybe it would burn too slowly in an evening campfire, and how we were going to get it home and what would we do with it once we got it there? And what did Judy think?


In the end, we found a place to wedge it in the back of the Subaru Outback with room left over for the dogs and personal stuff we were bringing home. When we unloaded the car at home, we had an unexpected surprise: to our dismay and concern, we had unwittingly brought back not only the log but also the insects that, without our knowledge, were living inside the log. Mind you, this was the same log that sat quietly out of the way for at least a month under our fifth wheel without a sign of insect life. But when Hughes went to remove the log from the car, there were piles of sawdust left by the critters that, apparently on the way home in the warmth of the car, came to life. While we did not see them, we knew they were there, or had been there and had moved on, somewhere in the car.

Hughes promptly drove the log down to Curt's wood shop and presented him the log. Curt was delighted to get the mesquite, which can be made into beautiful pieces, and he thanked us for the trouble to bring it back. Further, he was not surprised by the presence of insects in the wood and knew how to deal with the situation by containing the insects within the log in a plastic covering until he was ready to work on it.

The ending of this brief story is a happy one. It turns out that the insects were a blessing in making distinctively delicate designs in the rims of the bowls that he turned from the wood. Within a week he surprised us with a gift of a beautiful bowl, one of four he made from this very hard and distinctive wood. And the filigree designs along the upper edges of the bowl? This feature was thanks to the insect "tunnels" burrowed into the log, which Curt was able to blend into the overall design. It's a really handsome piece we proudly display and are happy to tell those who comment about how Curt created those "extra" delicate designs.

[Note: If you are interested in seeing the many styles, designs, woods, and forms that Curt creates, you are free to email him at <

cwill@nednet.net

>]




THE KNEE



Hiking is a major activity among many winter campers at Desert Trails. Judy, who hikes with a ladies group here during the summer in the foothills of the Rockies, continues to enjoy hiking in the company of winter hikers around Tucson, though she'll tell you she prefers the higher altitude, taller trees, and cooler alpine weather here in Colorado. But the change is interesting and the company very pleasant. Because of his tender knees and to care and comfort Bella and Lucy, Hughes plans his days closer to home.

In early March, a small group of friends decided to go on a fairly short (less than five miles) and fairly flat hike to an old homestead in the nearby Tucson Mountains and to a cave near the homestead littered with petroglyphs. The hike would probably take less than three hours, and the dogs could come along also. Hughes decided this might be a singular opportunity to see something new. So he put on his knee brace, downed some vitamin I tablets, grabbed his hiking poles and joined Judy and three neighbors on his first hike of the year.

It was all as advertised: the trail was reasonably level, the homestead provided a good mid-hike resting place, and the small cave, though it required a sharp climb of a few hundred yards, was littered with graffiti of another culture from hundreds of years ago. The return trip was no easier and everyone was glad to get back to enjoy lunch and some liquid hydration. And Hughes's left knee ached.

The next day the ache was bigger and more painful; the day after that Hughes couldn't walk. He knew it was time to make the phone call he had put off for the past five years. It was time to replace the knee altogether. He called his orthopedic surgeon in Boulder, the one who had repaired his shoulder last spring (2012), and requested an appointment as soon as we returned the first of April. The doctor was booked solid for surgeries until the first week in June (everybody it seems, was getting some joint repaired or replaced, and Dr. Stephen Paul was in great demand). Hughes took the June appointment, oddly disappointed that something he'd put off for quite a while suddenly became an immediate need. However, as luck would have it, a cancellation came up and a May 6 surgery date was available.

[

Note: The moose, which we photographed a few miles from the house, is just an interesting distraction from the story of the knee for those who want to skip the gory details.

]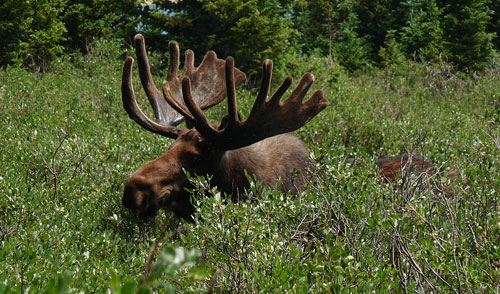 The surgery went off without a hitch. After a couple of hours under anesthesia, Hughes woke with a large wrap on his left leg, a very swollen knee, and no pain thanks to some lingering anesthetic followed by a some very effective chemicals. During the three days in the hospital, he was up walking and trying to rid his system of some obnoxious painkillers that did their job (killed pain) but came with some very nasty side effects. By the time he left the hospital, he could use crutches, a walker, and a cane for limited activity. The guest suite on the middle level of the house was turned into Sick Bay for several weeks and he began rehab.

[A quick note about the total knee replacement (AKA total knee arthoplasty): There are several replacement devices on the market, at least one of which is advertised in our area somewhat regularly on TV. Hughes's is a Smith and Nephew model manufactured out of oxinium, a zinc alloy with a ceramic zirconium oxide surface, supposedly the latest and greatest material for knee and hip replacements. It's supposed to last 30 or more years. We'll see.]

Hughes had gentle physical therapy at home for two weeks followed by five weeks at the Boulder Center for Sports Medicine. The rigors and pain of physical therapy are mythic and overblown. Hughes looked forward to each and every session with three different therapists over the five weeks of PT. He re-learned to walk, climb stairs, sit down, get up, and go down stairs independently. He rode our stationary bike 5-8 miles daily in addition to the exercise regimen laid out by the PT folks. Within four weeks he had ridden his road bike on roads up here and driven his stick shift car to Boulder for PT appointments. Everyone—those who know because they've been through it and those who haven't but are encouraging friends—as well as the therapists and the surgeon all say he's doing very well. He's not been running or hiking in the high country, but he can walk to get the mail or the paper (about a half mile round trip), he can mow our "lawn," split wood, and he can bike on roads up here for several miles.

[

A personal note: I have had two previous arthroscopic procedures on my left knee going back nearly seven or eight years. I knew the second one, five years ago, was a delaying tactic. I asked the doctor at the time when we would have a conversation about knee replacement. He said when you can't stand the pain. He was right. I truly was

avoiding doing the deed and it wasn't until I couldn't stand the pain that I eagerly and willingly made the appointment for surgery. Should I have done it sooner? Probably—but I wasn't ready. This spring I was and I'm glad that I did it. I'm told it will be about a year before I'm back at "full strength." But I'm active, doing what I have to do, just at a bit slower pace. If you're faced with this or similar surgery (hip, shoulder replacement, etc.) you'll know when the right time is to have it done. And you'll be glad you did. Maybe you

'

ll wish you had done it sooner.

Once the surgery is completed, no matter the pain and discomfort that follows, your knee will get better and the pain will diminish. If you don't have the surgery, the pain and discomfort will only get worse.

]





THE BIKE



Judy came to Desert Trails last December with foot pain caused, she thought, by plantar fasciitis. Running was uncomfortable, though she continued to run as often and as long as she could, but her routine was shorter and irregular. She hiked and she biked as usual, but running is her passion and she couldn't do it as often or as intensely as she is used to. In fact, even after she got back in April, she could not train sufficiently for the Bolder Boulder 10K, the area's premier running event in which she has won 18 age- group honors every time she's entered. Only injuries have prevented her from entering. She did not run this year.

Meanwhile, our son who lives an hour away in Lafayette, has taken up bicycling with the same intensity and passion as Judy has running. He now bikes to work, and after work, and on weekends; he logged over 10,000 miles last year and is well on his way to repeating this year. He encouraged her to get into biking: there's no impact and if she did it right, she might find the same "high" on a bike as she gets from running.

But she needed a new bike, one built for speed on the road, and one that fit her so that she should ride long distances comfortably and pain-free. She shopped eBay and Craigslist and local ads. She looked at new ones at good bike stores in Boulder. She finally found an affordable gem from a student leaving CU: a very gently used Giant OCR C3 road bike, the right size with a lightweight carbon frame and high-end components.

After using it a few weeks, she decided she needed to take the bike to the Boulder Sports Medicine Center for a professional fitting, which turned out to be exactly the right thing to do. For a few hundred dollars the guy who checked her out on the bike out made a few adjustments and three critical recommendations: a narrower handlebar that fit her narrow shoulders, a slightly shorter stem, and a different saddle, specifically a Specialized Oura 155 specially designed for women. She took a 40-mile ride recently with all the changes in place and said those three new parts made all the difference in the world in terms of comfort and control, and she's ready to do her first century.




THE REST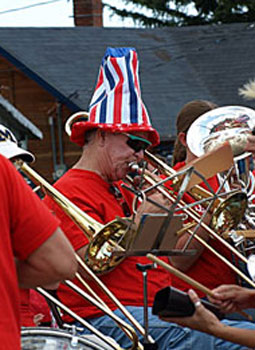 We're still doing the usual things we routinely do. April has always meant taxes and visits to our team of medical gurus. This year we included Bella, who has had some ailments that come with old age (she's 13 this month): heart issues, loss of appetite and weight, and urinary tract problems. However, thanks to the skill of the outstanding doctors at Veterinary Teaching Hospital at Colorado State University in Fort Collins, ranked the top veterinary hospital in the state (3rd in the country), she's incredibly improved. Almost overnight! Careful diagnoses and the right wonder drugs. It's almost like a miracle.

We returned to volunteering at the Carousel, playing bridge (and in Hughes's case also lots of cribbage with a neighbor who likes to play as much as he does, and was willing to come down here while Hughes was still in major recovery), Mystery Book Club, weekly ladies hiking, and entertaining old college friends: Hedy Bressler (

seen below sitting with Judy on a late July afternoon at nearby Brainard Lake near where we saw the moose

) has come almost annually, and David Delo wanders over from Delta now that we both know how close we live to each other. We had lunches with fellow DT campers Russ and Pat Peterson, Jack and Ada Dozier, John and Helen Vinck, and we are looking forward to Reve and Susan Carberry's visit in three weeks.

Judy did run in some local races this past two months: she won second place and a 12 pack of Avery Beer in the Avery 4th of July 4K (age group winners get a full case); she won first in the Father's Day 4K, and first in the Flatiron 4 XC Women's 4 Mile last week. Hughes showed up in the trombone section of the Barker Dam Brass Band for the 4th of July parade in town.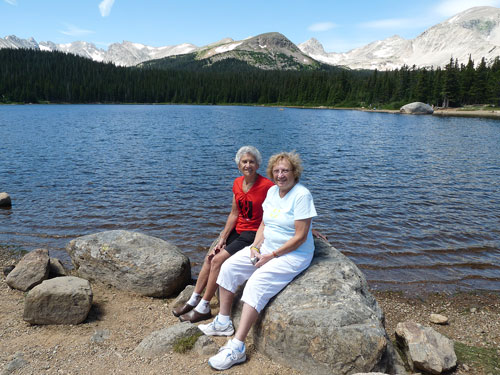 We had the house stained last month, the septic tank emptied, and the windows washed in preparation for a week long visit by our family from Boston: Deb, Dan, Griff, Julia, and Natalie, a friend of Griff's. Horseback riding, mall crawling, a moose hunt, high country hikes, and a family bar-b-q are some of the tentative plans for while they are here. The house will fill, both cars will be in play, we'll eat more than we should, Dan and Hughes may play some cribbage, and we'll consider it a success if we all sit down together for at least one meal. Who knows: we might even pull out some old childhood photos. Wow! That's something everyone looks forward to, isn't it?

Next month we're planniing to a trip to Devon and Cornwall (UK) in search of Doc Martin's surgery. When we return, we're going to pack up the RV for a road trip to the west coast. We hope early fall weather along the Pacific coast is fair and mild. We'd love to visit with friends and relations along the way. Maybe we can get together? Keep in touch. We'll do the same.




Judy and Hughes