DEVON AND CORNWALL

August–September, 2013





BACKGROUND



Over 30 years ago, we toured England, Scotland, Wales, along with two weeks in Ireland with our 16-year-old daughter. We spent a month working our way across England, Wales, and Scotland. While we had no preconceived itinerary or plan, we touched on many of the highlights of this small island— Canterbury, Stonehenge, Tintagel, Hay-on-Wye, Welsh castles, Loch Ness, Aberdeenshire (home of the early Moirs) York, and London. We ferried to Ireland for a two-week visit to what has become, in our memories, the home of beautiful landscapes and some of the friendliest people on earth (along with the Kiwis). As we did in Britain, we traveled by car, stayed in some wonderful B&Bs, and made our way without a plan across the country to wind up in Dublin for an international conference, which was the purpose (or excuse) for the trip. It was the first of seven (or eight) "Great Trips" we have been fortunate to experience.


We recently learned of an opportunity (or excuse?) to return to England when a timeshare opened up for a week in rural Devon: Woodford Bridge Country Club (photo on left). This is a part of the UK we barely touched upon during our 1982 visit. This centrally located facility is less than a day's drive from the southern coast of Cornwall (Penzance, Land's End, St. Ives, etc.) and the northern coast of Devon (Clovelly, Ilfracomb, Lynmouth, et al.), and within easy reach of the historic city of Exeter and the moors of Dartmoor National Park and Exmoor National Park.

We also went as fans of the British program "Doc Martin," a British TV production available to us on PBS, DVD, and streaming Netflix. We have watched it since the first episodes came to our attention and fell in love with the star of the show: the tiny fishing village of Port Isaac on the northern coast of Cornwall. Could this tiny village (population 700) really be as attractive in reality as it is dressed up for a TV show? We had to see for ourselves.

We flew into Heathrow on Air Canada through Montreal and located the Green Motion car rental agency which had our Yaris waiting for us. It turned out that this small agency is not at Heathrow at all but at one of four area Holiday Inns several miles away. None of the other rental agencies at the airport had heard of them and didn't know where they were located. The confirmation we had received before leaving did not include their address or phone number. It took advice from friendly local at the airport to get to the pickup point via two buses and a lot of walking. With our fingers crossed and a ratty atlas of the country, we found an entrance to the M4 and headed west toward Bristol and on to our first stop: the East Dyke Farmhouse B&B in Clovelly.




CLOVELLY



This small village of about 400 residents is a major tourist destination due to its picture postcard beauty nestled comfortably in a small cove on Barnstable Bay on Devon's north coast. The village has been privately owned by one family or another since the 1200s; today the village is operated by the Clovelly Estate Company which charges an adult entrance fee of £6.50 (± $10.25). We intended to have dinner at the Red Lion Hotel—a popular harbor side location for dinner—and therefore had the fee waived. We saved $20.50, but didn't have dinner at the Red Lion Hotel, though we had intended to.


The road from the car park to the bottom of the village is quite steep and paved entirely with cobblestones, making the 400-foot descent—and ascent—quite a serious challenge and at times treacherous, especially when the stones are damp. Donkeys still pull wooden sledges up and down to transport personal goods and provisions for the few retail shops. (They used to carry people in the past). Two inns, two museums, a cafe and pub serve the needs and interests of visitors.

We visited Clovelly when we toured England in 1982 and loved it; nostalgia prompted us to make this our first stop this trip. Little appears to have changed in 30 years despite a devastating flood just last October that created a river of mud that shot down the main street, lifting cobbles and destroying everything in its path. Today there are few reminders of that devastation.

We decided to forego the Red Lion Hotel for dinner since they began serving later than we wanted (and their menu was limited). Instead, we drove west to the small town of Hartland for dinner at the Hart Inn (one of several suggestions by our B&B hosts). The Hart Inn is a very friendly, warm local pub with a most interesting menu and finest food of the trip prepared by a chef with training and experience quite unexpected in a such a remote area. Judy's grilled hake dinner with fresh local vegetables was superb, and Hughes's pork tenderloin with mash and black pudding was outstanding—the dining highlights of our trip. The presentation would have done a five-star restaurant proud. In short we were flabbergasted and quite delighted that we had stumbled blindly upon this gastronomic gem in such humble surroundings. If you are ever traveling in this area, arrive early for seating and bring your appetite.

Our accommodations at the East Dyke Farmhouse were very comfortable and clean. We chose this particular B&B because of its location (a short walk/drive to entrance to Clovelly), the Trip Advisor rating (best in the area), and the remarkable breakfast menu they posted on their web site. We were not disappointed. Helen Goaman is a cheerful, helpful hostess and a fine cook. We joined two other English couples who were staying there and heard of their travel suggestions while enjoying a fine start to the day. Both couples remarked about how fortunate we were to be traveling during the warmest, driest summer in recent memory. The usual fog and drizzle of southwest England had given way to blue skies and warm temperatures for most of the ten days we were there.





GEOCACHING AND BIDEFORD



In the morning, as we left the B&B, we drove back to Clovelly's All Saints Church at the top of the village where we had located, online, a geocache in which we intended to place a travel bug from an Arizona geocacher in England during our trip. This seemed a lovely spot with easy access. We searched and searched for the one supposedly placed near the church, but after nearly 45 minutes, we concluded it had been "muggled" (moved or taken) before we got there. However, we had a stroke of good fortune later that day when we stopped in Bideford on our way to our main destination, Woodford Bridge Country Club in rural Milton Demerel Holsworthy.

We drove through the growing city of Bideford (pop. 17,000), a port on the River Torridge and stopped to shop at the Pannier Market, an indoor produce and crafts market in an area of this lively town with galleries, bakeries, butchers, and small specialty shops. As we were driving into downtown, we noticed several crowds of people along the waterfront and on the side streets wearing red shirts. It turned out that not only was there a rowing regatta in progress but there was a geocache flash mob: geocachers from around the area showed up at a particular time to do mass geocaching. Fortunately for us, we met a young couple in the Pannier Market with red shirts, learned they were geocachers, and when we told them of our promise to relocate the travel bug, they eagerly volunteered to "grab" it and place it somewhere in the area, thereby fulfilling our obligation to hide the travel bug.


We stayed in Bideford to watch some of the regatta, which was exciting for the folks who came from around the area to see the competition. We later enjoyed fresh strawberries and clotted cream at a farmer's market in the park, bought a generous supply of groceries at the local Morrison's, and then headed south to Woodford Bridge, a half hour south.

We checked in easily enough, found our two-bedroom cottage, checked that everything worked and was in place, put our groceries and clothes away, and walked around the facility and up to the bar for some pre-dinner real ale and a glass of wine. Dinner in the dining room was comfortable and quiet, but lacked the warmth and the camaraderie of local pubs which we sought out throughout our trip. We took this time to think about how we wanted to spend our time in the coming week. We knew we wanted to bike the popular Tarka Trail; explore the moors of Dartmoor National Park, and several coastal fishing villages both in Devon and Cornwall. We looked for special events, shopping opportunities, and local pubs.




BIKING THE TARKA TRAIL



This well known 180-mile path for runners, hikers and cyclists loops through north and central Devon and includes a 30-mile section from Greater Torrington to Barnstable on train bed of the former Tarka Line Railway. Its rolling terrain, wide profile, and scenery make this section ideal for bicyclists. It is also possible to continue seven miles north of Barnstable to Braunton; cyclists can also chose the eleven-mile "southern" route from Greater Torrington to Petrockstowe and Meeth. The most popular section of the trail parallels the River Torridge from Great Torrington to Barnstable, a flat and scenic 15-mile stretch that passes through Bideford and Instow where there are refreshments easily available.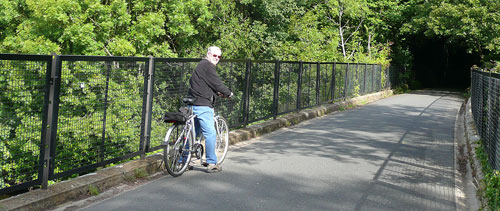 [

The original "Tarka" was an otter featured in a popular children's story Tarka the Otter by local writer Henry Williamson written in 1927 and set in this section of north Devon. The book remains respected today for its realism and careful accuracy of life along the River Taw and River Torridge. It was made into a film in 1979

.]

We rented bicycles from the Torrington Cycle Hire and rode leisurely for about four hours following this well used and clearly marked path through dense deciduous forests, through old train tunnels, across bridges that crossed the River Torridge and estuaries at Bideford Bay. We passed hundreds of people during the morning: couples, families, and individuals biking, walking, and running (including participants in a 10-mile race from Bideford to Barnstable). We stopped in Barnstable for a quick fix on Hughes's seat, and on the return at John's Delicatessen in Instow for a snack of tasty home cooked pasties (PAST-tease) and strong coffee. We got back to Woodford Bridge for a well earned rest, showers, and light dinner in the room followed by some entertaining British TV.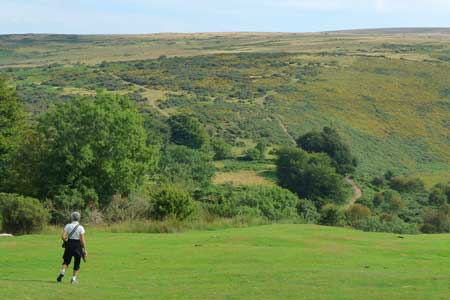 TREKKING THE MOORS OF DARTMOOR



There are those who have enthusiasm for the bleak and often wild landscapes found in Yorkshire, southwest England, and in other places in Europe and around the world (the largest moorland area is in Columbia!). We are not among this group. The moors of Dartmoor National Park consist mainly of grasses, sedges, peat, and bracken that cover a predominately granite base rock. Few trees exist in this desolate area that draws visitors who are no doubt fans of Romantic English literature including

Wuthering Heights

,

The Secret Garden

,

The Hounds of the Baskervilles

and the like. Rocky tors and stone monoliths are can be found here and give cause to speculation about Arthurian and Druid activities. We came because we felt we should experience this area and attempt to breathe in the spirit of the moors about which others have written so enthusiastically.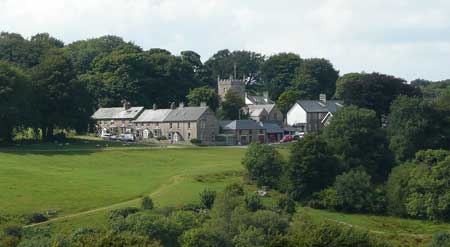 The drive to the northern edge of Dartmoor National Park took longer than it looked like it should have on the map. But roads in that part of England are rarely more than two narrow lanes—though paved—

never straight

for more than a half mile, and often poorly signed. What traffic there is usually included at least one farm tractor blocking a good portion of the road. Our route from Woodford Bridge to Holsworthy to Hatherleigh to Okehampton is probably not much more than 30 miles, but slow. It was even slower finding the small village of Belstone on the edge of Dartmoor. Finding a path that led into the moor took another few minutes, but find it we did: we really only had to look across to the hillside that rose across the grassy knoll across from town through which a small creek flowed. Like the most of Devon and Cornwall, there are many public footpaths, but almost no signs to guide the visitor.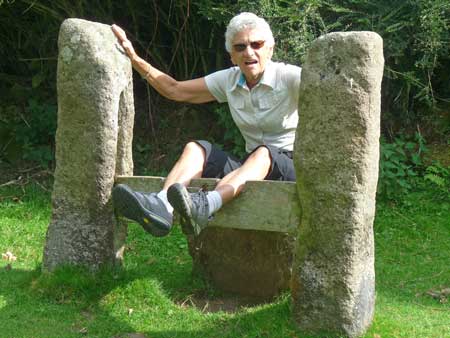 Our hiking on the nearby moor was brief and uninteresting. Nothing we encountered captured our imagination except the view of the surrounding countryside, particularly the tiny village, its church and well preserved houses and public buildings, and the green expanse next to the free house/inn, The Tors, where we decided to have lunch.

[

A

pub

or

public house

and a

free house

are generally considered different terms for the same thing: a place that serves drinks to the public. In some cases, however, a pub is tied to a particular brewery that determines which brands of beer or ale can be served, whereas a free house is independently operated by the owner.

]

After lunch we walked through this quiet village, taking particular notice of the 13th century church, the telegraph office that was once the Zion Chapel, the stocks used for public humiliation and punishment, wandering sheep throughout the village area, and the "Belstone pound" a small fenced enclosure "originally used to impound stray animals until claimed by their owners." We appreciated the quiet and rural quality of this small (population about 250) and ancient village (mentioned in the Doomsday Book, 1086 C.E.).




FISHING VILLAGES OF DEVON AND CORNWALL



Though we enjoy biking and hiking, we acknowledge that we most looked forward to urban hiking on this trip. We enjoy finding a quiet (or sometimes busy) town or village with plenty of retail opportunities, especially if there are secondhand or thrift shops, and we found plenty. We also discovered "boot sales" (our version of flea markets), pannier markets, and local outdoor produce markets. We also tried hard to contribute, through purchases, to a wide variety of charitable organizations, from orphans and people with terrible diseases to hospice and homeless animals. Most towns of any size have donated merchandise for resale and we spent a good time shopping these stores: Judy for gifts and clothes, and Hughes for good books and a CD by a Somerset group from the 1970s called The Werzels (he didn't find any CDs, but you can see and hear them on YouTube.com).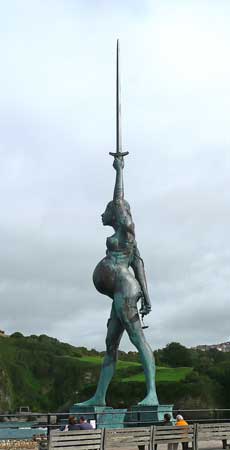 We focused our time on fishing villages and beachside towns. We covered the west coast from Ilfracombe on the northwest Devon coast on Bristol Channel to St. Michael's Mount on Mount's Bay on the south coast of Cornwall. Each town and village was distinctive, wonderfully scenic, and a postcard in the making.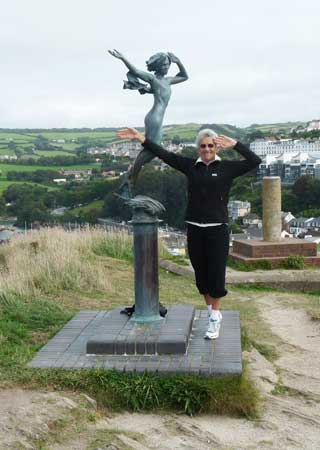 Ilfracombe

.

This seaside resort city of about 10,000 inhabitants is a concentration of tall apartment buildings that face the harbor, the lighthouse (oldest in the UK) on Lantern Hill, and "Verity," a 67-foot bronze and steel statue by Damien Hirst of a very pregnant woman holding a sword aloft. The view from the top of Lantern Hill affords an excellent view of the main section of town and the controversial award-winning Landmark Theater, nicknamed "Madonna's Bra" because of the double conical design. With so much to see from Lantern Hill and the walk around it, we spent no time at all wandering the streets of this popular vacation destination. We did notice that many of the folks out and about were our age or older.



Croyde

.

One of the longest and widest beaches on a sheltered bay in north Devon lies a half-mile walk from the small, compact village of Croyde, which lies just a few miles south of Ilfracombe. If the vacationers in Ilfracombe are generally part of the senior, sedentary set, Cryode appeals to younger, more active visitors, especially surfers looking for decent waves and campers who want a seaside vacation. New surfing equipment and clothing stores sit next to older, traditional thatch roof homes and buildings from the times when agriculture flourished. There are several restaurants/pubs from which to choose, and ice cream cones sold on every corner. We had a tasty lunch in the sitting out area of Billy Budd's Pub on this warm and sunny day. We walked to the beach to watch the surfers trying to make something of the low surf. How would they would love Hawai'i!



Appledore

and

Westward Ho!

From even the most cursory glance along the streets of Appledore it is clear the village was founded on fishing. Located on the estuary of the River Torridge, Appledore was settled by the Celts, then the Saxons, was raided by the Vikings, and resettled during the Elizabethan period as a port, a shipbuilding and shipping center, as well as supported a continuing fishing industry. A maritime museum describes the history of this small village (pop. 2100), and the town has, since 1825, supported a lifeboat station for ocean search and rescue operations. Tourism does not seem to have flourished yet in this blue collar, working class town.

Just next door is the vacation resort town of Westward Ho! The name was inspired by Charles Kingsley's novel of the same title, and was built in the 19th century for the sole purpose of providing a healthy and beautiful seaside vacation destination, and to promote tourism in this part of Devon. Along with casinos, Westward Ho! offers visitors arcades and a go-kart track to children, plenty of fast food and ice cream shops, and the loudest music on any part of the Devon coastline. The Royal North Devon Golf Club claims to be the oldest golf course in England. The beach at Westward Ho! is three miles of clean sand backed by a pebble ridge and grasslands. Clearly this town of 2100 was and is a vibrant, "happening" spot for family vacations without historical, geographical, or architectural features to divert attention from eating,
playing, and having fun.

[Westward Ho! and Saint-Louis-du-Ha! Ha! in Quebec are probably the only cities in the world that have at least one exclamation mark in their names. Just thought you might want to know.

]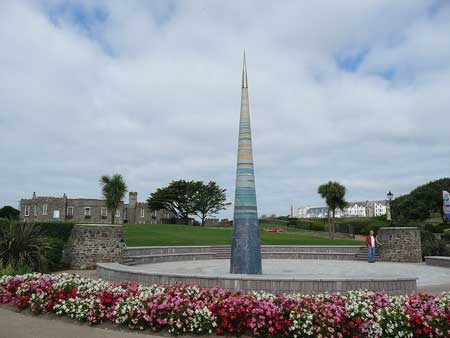 Bude

.

South of Westward Ho! (and skipping Clovelly which was discussed earlier) is the quiet town of Bude (rhymes with cued or feud). It began as a Victorian seaside resort town which continues to attract surfers, and is an important source of sand that is rich in calcium carbonate, a natural fertilizer, that was transported inland to enrich the fields of farmers in that part of Cornwall. A small canal was constructed in the 17th century to protect the town from Atlantic storms. On our visit, we were impressed with the slower pace and quiet surroundings of what remains a pleasant, low-key tourist destination.

Bude is also the home of Sir Goldsworthy Gurney who invented what has become known as a Bude Light, a device that creates an intense white light by injecting oxygen into the center of an Argand burner (a home lighting oil lamp). Bude Lights were used in coastal lighthouses and, for over 50 years in the 19th century, lit the House of Commons until electricity was installed. A cone shaped statue that commemorates Gurney's invention stands in a circular plaza at the foot of Bude Castle.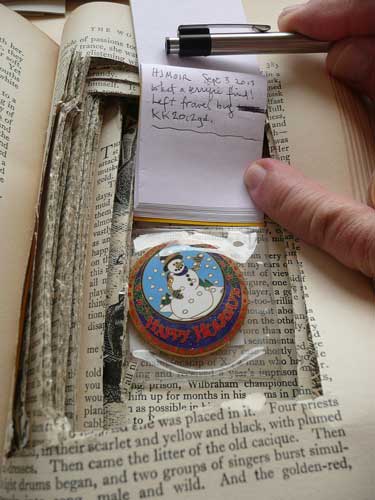 Along the promenade in front of the canal is the Bude Public Library, an attractive stone building that is nicely organized, cozy, and seems about the right size for a town of 9,000. We went in because of our interest in libraries and because it housed an unusual geocache that we had located on line. Hidden in a cut out section of a thick book on bats we easily found GC4FM69 "The Mammoth Book of...@Bude Library" and left another trackable we had brought from home.

[

Note: The English, especially in Devon where the activity began (in Dartmoor in 1854), have a pastime similar to geocaching called "

Letterboxing

." Like geocaching, it involves outdoor navigation and hunting for a hidden "treasure." Unlike geocaching, no technological device is required, but cards are hidden in a letterbox and clues are provided in magazines, web sites, word of mouth, etc. The letterboxes contain a log (to note who found it and when) and a rubber stamp for the finder's notebook to record the find. The popularity of letterboxing has begun to spread to this country and seems to be gaining in popularity here.

]



Bocastle

. Fourteen miles south of Bude is a small (pop. 900), out of the way village where the River Valency runs through the heart of the town and empties into the Atlantic Ocean. Originally strictly a fishing port (and we like to think a likely haunt of smugglers) Bocastle is a destination for those visitors who dare to navigate the narrow twisting road that leads from the A39 to the harbor. There they will find a National Trust Shop and the Witchcraft Museum which has had a controversial and colorful history. The beauty of Bocastle is that there is little to detract the visitor from the beauty of the place: there are a half dozen excellent retail shops, a grocery, several pubs and cafes, and a lovely walk from the center of town to the end of the harbor.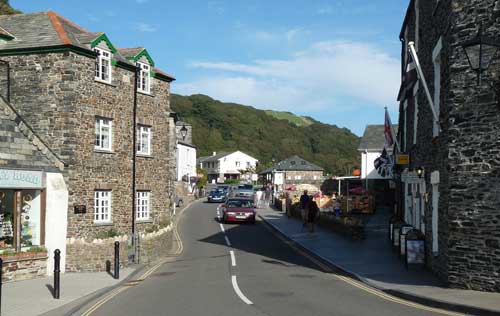 One can easily see how a steep and narrow river valley might be susceptible to flooding. In fact, in the summer of 2004, a huge flood roared through the village, trapping residents in their houses, on the roofs of cars, or simply drove them to seek higher ground up the road out of town. The Visitors Center was washed out to sea, as were 50 cars, and the bridge across the river. The town roads suffered under nine feet of water and mud. The sewage system burst and Bocastle was declare inaccessible. Helicopters were required to provide rescue, the largest peacetime rescue operation in UK history. Several buildings now note the flood water level as a reminder of that terrible tragedy. (Bocastle flooded again three years later, but the damage was much less. Even so, one can easily see how vulnerable this small area is to the ravages of water.)



Tintagel

.

Just a few miles south on the coast from Bocastle is the fabled town of Tintagel, legendary home of Arthur, Merlin, and the knights of the round table. It is one of the most visited places in Britain. We were among the tiny minority of visitors that day who did not pay a call to this attractive and historic village. We had visited 30 years before and decided that likely not much had changed and we had other places we wished to visit.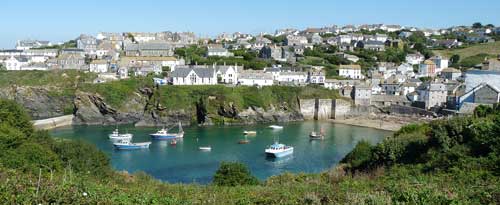 Port Isaac

. Less than ten miles down the coast from Tintagel has always sat (at least since the 15th century) the village of Port Isaac, largely unnoticed and ignored by visitors until the TV series about village doctor Martin Ellingham (i.e., "Doc Marin") woke the town up and put all 700 folks who lived there on the map of "must see" places. Port Isaac was our primary destination of the trip. We devoted most of a day to walking through this picture postcard fishing village that is the setting for this British comedy series beginning its 6th season. The day was gloriously sunny and warm, and the walk through the village was very pleasant. There were quite a few people visiting, especially for a Tuesday morning; the car park overlooking the harbor and village was full by 10 a.m. (A car park on the edge of town is a very sensible approach to dealing with visitors since the roads in this and other small towns are barely passable for single cars, and parking was, as far as we could see, virtually nonexistent.)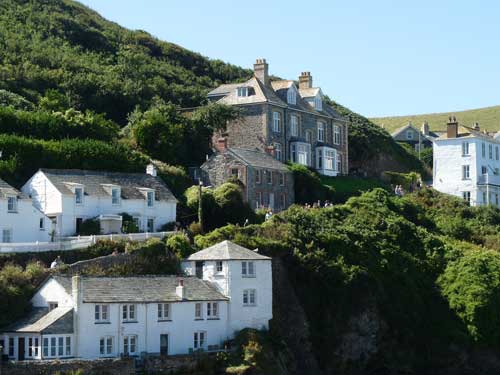 We easily found Doc Martin's surgery (that's the small stone house in the middle of the photo), Louisa's home and the village school, Mr Large's restaurant (the house on the bottom left, also a private house), Mrs Tishall's pharmacy, other places associated with the program. We had an early lunch on the porch of the Golden Lion Pub overlooking the harbor (Mr Large's wonderfully located restaurant is, in fact, a private home!)

In the late afternoon before we left, we treated ourselves to tea (and coffee) and scones with clotted cream and jam. Veddy British, we thought, and the patio of the Hathaway B&B that overlooks the village and harbor was a sensational spot to celebrate this British tradition and feel a bit of luxury. At the end of the day we walked the half mile uphill to the car park before sunset for our drive back to Woodford Bridge. Driving is hazardous enough during the day, but doing it in the dark would add to the burden of both the driver and passenger.



Padstow

.

This is another lively and attractive fishing village that has grown and prospered perhaps more than others we visited. A monastery was built here at the mouth of the River Camel in 500 C.E. in honor of the Welsh missionary St Petroc. The church of St Petroc was erected between the 14th and 16th centuries. (The name Padstow probably evolved from the name Petroc and stow, meaning meeting place.) Fishing and the import of lumber from Canada were the main industries until the arrival of tourists, especially those with yachts which dominate the small harbor. Restaurateur Rick Stein has invested heavily in Padstow, creating at least four popular restaurants besides a deli, gift shop, patisserie, and other retail outlets. His name dominates the business district to the point where some locals refer to the town as "Padstein." Across the Camel estuary is the quiet village of Rock separated by a hazardous (to sailors) sand bar known as Doom Bar, which gives its name to a fine cask ale produced by Sharp's Brewery (now a subsidiary of Molson Coors) in Rock.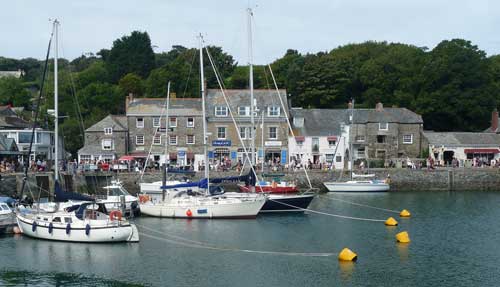 Of course we ate at one of Mr Stein's fish restaurants. The line to get in moved quickly enough and the food was worth waiting for. We enjoyed our walk through the village, and ended up walking part of the Camel Trail, a section of the South West Coast Path, away from town and up the hill for a scenic overlook of the estuary and Atlantic Ocean. And we probably enjoyed an ice cream cone from one of the many shops serving "real Cornish ice cream."



Marazion

and St.

Michael's Mount

. At the south end of Cornwall are the towns of Penzance, St Ives, and Marazion. Dominating the view from Marazion is the tidal island of St. Michael's Mount a quarter of a mile off shore. A cobblestone causeway provides access at low tide; a short boat ride (£2.00 for adults) takes visitors at high tides.

St Michael's Mount is the Cornish version of Mont Saint-Michel, a similar tidal island crowned by a monastery off the coast of Normandy. There is evidence that St. Michael's Mount was originally located in a dense forest some six miles from the ocean, but a spring flood in 1099 overflowed the shore, destroying many towns and drowning people and farm animals. The church was built by 12th century Benedictine monks and was later converted into a fortress during the War of the Roses (1400s) and again during World War II. The island and most of the property was turned over to the National Trust in 1954 by the St Aubyn family who were the last owners of the property. Today the few people who live on the island, mostly staff working on the island, are supplied by an underground railroad that transports goods from the mainland to the castle.


A word of warning to unsuspecting visitors who don't do their homework: the island properties are closed to the public on Saturdays! (And apparently access during the winter months is curtailed.) We were able to make the pleasant walk to the island, around limited non-restricted areas, and use the public bathrooms. But the castle, the gardens, the cafe and restaurant and shops were closed. However, perhaps because it was a Saturday and fewer visitors would be in the area, a couple from someplace in the Midlands were present along the causeway to have family wedding pictures taken with St. Michael's Mount as a backdrop. The location was very striking and perfect for group photos. Everyone looked better with a beachside backdrop!



Penzance

.

We were quite curious about what we might find in Penzance, a city of over 21,000, the largest town we visited in our trip. Its romantic image associated with G&S's "Pirates of Penzance" set the stage for the disappointment we felt as we discovered traffic snarls, parking issues, and the throngs of people that crowded the streets on a Saturday morning. The area has a long history that dates from perhaps as early as the Bronze Age, though recent discoveries suggest Roman occupation in the first century C.E. In spite of its oceanside setting, Penzance survived as a principle market town in the area. Later the railroad and steamships supported the economy. This emphasis on commerce seems to continue to present times.


Fortunately for us, the downtown area has many secondhand/thrift/resale stores which we poked through, but we found little sense of history, beauty, or the charm of other harbor side towns we had visited until now.



St. Ives

. We had booked accommodations at a B&B in St Ives and saw little reason to extend our visit to Penzance. We took the "extra" time we had to make our way slowly up the coast on the B3306, a twisting, narrow scenic route through

St. Just

(a charming village, once a center for tin mining surrounded by moorlands, where we spent longer visiting than we had anticipated; the 15th century church alone was worth the extra time, and there is much more to see and explore than we had time for); Pendeen and

Morva

are small towns along the way that contain visual relics and buildings that remind visitors of an active mining industry (Tin was to southern Cornwall what coal was to Wales. In fact, many of the miners who worked in the gold mines in the western USA were immigrants from Cornwall who brought their experience and skills—and their language and culture—to towns all over the west, including our home town of Nederland and nearby Caribou, Colorado).



Time was drawing near when we felt we needed to arrive in St. Ives and check in with our B&B host, Steven Williamson whose home overlooks the town of 12,000. He rents out just one splendid room (second floor on the left with the big window) with a spectacular view of town and one of its four beaches. It's good we got there ahead of schedule because we had some difficulty finding his place. Once we found him, he welcomed us with coffee and biscuits, information about the town, suggestions for what to see and where to eat, and a tidy room with a private bath.

St. Ives was once a thriving fishing village but its mild climate, scenic seaside location, and many visitor attractions (e.g., Barbara Hepworth Museum and Sculpture Garden, Tate St. Ives, galleries, diverse shopping, several distinct beaches, et al.) have earned the city the British Travel Award as "The Best UK Seaside Town" in 2010 and 2011, and "The Best Seaside Town of 2007" by the Guardian newspaper. The awards seem to us to be well deserved. Despite its size, the town is pedestrian friendly, big enough for diverse shops, restaurants, and other retail opportunities, yet it retains the leisurely pace and accessibility of a small town.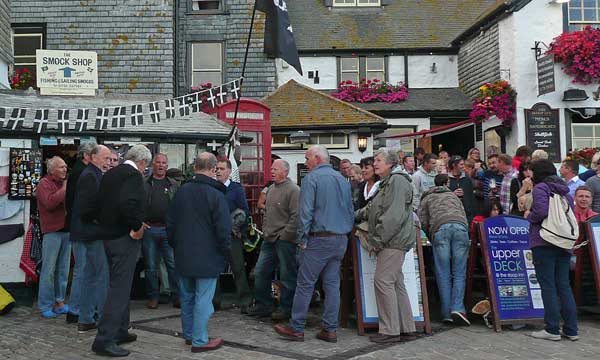 We really enjoyed our first evening in town. We were tempted to have dinner at the recommended Seafood Cafe, but it lacked the warmth of a pub atmosphere which we had come to appreciate. We backtracked a few blocks and settled in at the Union Inn, also on Fore Street, for a dinner of fresh seafood, cider, and a pint of Doom Bar Bitter. Afterwards, we strolled through the downtown, stopped in a well stocked bookstore, passed the Hard Prawn Restaurant wondering what we might have missed, and walked along the harbor to where a crowd had gathered to listen to a group of men singing shanties and folk songs (Impromptu? maybe. Rehearsed? absolutely. Popular? no question. They had a large and growing audience who, with glasses in hand, sang along with them. Paid? No sign of money exchanging hands. Just a lot of smiling at one another for the pleasure of a performance well done.)


It was our only night in St. Ives (which left us wanting more and a desire to return if we ever come back to England). The next morning we enjoyed Steven's full English breakfast that filled us for the rest of the day. We packed and locked our bags in the car and walked the town for the next few hours to explore what we had missed the afternoon and evening before. We walked past the Barbara Hepworth Museum and the Tate, not visiting either since our time was so limited; we found a small piece of quiet surrounded by the city in a well kept not easy to find garden with tropical plants in the town center; we climbed to the top of "the island" (really a peninsula) for views of the whole town and several beaches. By this time it was time to make our getaway and head for Heathrow.




OUR RETURN TO LONDON



The map says it's about 300 miles from St Ives to Heathrow and takes typically around five hours. That is, if (1) you know the roads well and (2) there are no traffic snarls. It took us closer to six hours, but instead of stopping for the night along the way, we decided we would make the big push and go the full route that Sunday afternoon. We missed only a couple of turns and had only a few major traffic slowdowns. We dropped the car off at the agency located at the Holiday Inn on Sipson Road near Heathrow. Not only were their accommodations clean, spacious, and not overpriced, but right next door was The Plough, a fine pub where we enjoyed an excellent meal (Judy fresh fish, Hughes steak and ale pie), cider and real ale, and the company of a couple from Derbyshire who had given us one of their chairs at the bar; we later got a table for four and they joined us with stories of life in the midlands. It was a splendid conclusion to an enjoyable visit to England.




SOME MISCELLANEOUS MEMORIES



• Driving in England is more than getting used to being on the "wrong" side of the road, though that does take some getting used to. The process is complicated by (a) narrow roads, many without center line markings or lines on the side of the road. There are no bike lanes and no room for pedestrians. It is impossible to drive safely in small villages, if cars are allowed at all; (b) lack of parking spaces forces folks to park in a lane of traffic or half on a sidewalk and half in the road. It's crazy; (c) too few directional signs; (d) too many traffic circles/rotaries/roundabouts and too few stop lights. Getting caught in a two- or three-lane roundabout with too few direction signs is dangerous to the driver, passenger, and other cars on the road; and (e) British drivers drive far too fast. 80 mpg on the limited access highways will often get you a horn and naughty gesture from other drivers. Going too fast on the smaller roads is quite common. (f) Of course, newcomers should have a good map at all times and review it carefully before starting out each day.

• Admittedly there are too many fish and chips places, and ice cream is everywhere. However, we were surprised by how good the food is in England, especially in pubs. The food is as good as the company. A pub half filled with small groups of people who keep to themselves or eat by themselves is a sign, to us, that the food is probably sub par, and is not a place where you want to eat. Seek out those places that are almost filled by 5:30-6:00, get a table near the bar—or eat at the bar—and make friends with those near you. It will be the best meal you can have. We tried as many foods that were new to us as we could find: clotted cream, pasties, black pudding, real ale, steak and ale pie, high octane cider. We missed Scotch eggs, which we'll look for the next time we visit. We bought a round (900g) of "Farmhouse Mature Cheddar" (from the Maryland Farm, Ditcheat, Shepton Mallet, Somerset) which puts every cheddar from the USA to shame for flavor and texture. Wonderful stuff. We should have brought back three rounds. However, it's for sale on line at the website above.


• We saw quite a few cars, both new and old, that we never see in the states: several hump-back Citroens big enough for maybe two people but with that distinctive design that calls attention to them; new Skodas that zipped along the M4 and M5 at +80 miles an hour; several Morgan sports cars in great shape; a 1952 Austin that was in mint condition; and a pre-WWII open top roadster of some make that would be the envy of any car collector. It goes without saying that with the exception of an occasional Range Rover, 99% of all the cars were tiny, appropriate for the narrow roads we traveled. Our rented Yaris was one of the biggest cars on the road.

• Try real ale in favor of "cask" ale. Always on draft. Try cider/cyder in place of wine. Also on draft.

• We saw different signs at farm houses along the back roads in both Devon and Cornwall advertising "Fresh Eggs," "Cornwall Eggs," "Real Eggs," and "Proper Eggs" as well as eggs. We should have stopped just to find out the differences, but we never did.

• There is very little litter along any of the roads. And there are no signs indicating a group or individual was responsible for cleaning a section of road. The British are, by and large, a tidy people.

• Brits apparently love to hike. Signs indicating public footpaths are everywhere. They often appear suddenly without a place to pull over and park to begin hiking. However, cities and villages along the coast have connections to a variety of footpaths. It is possible to walk the entire coastline. We wish there were as many opportunities for bicycling. We never encountered any roads that have shoulders for pedestrians or bicycles; bike paths, like the Tarka Trail or Camel Trail out of Padstow, are few and far between. Too bad; both of those are rails-to-trails projects and there must be miles and miles of train lines that are out of use today just waiting to be converted. Perhaps Bradley Wiggins' celebrity status will boost interest in bicycling.

• Much of the countryside, especially in rural southwest England, remains a mystery to us. We're sure the vistas are gloriously green and bucolic, dotted with sheep and cows munching a rich grass. (We did see some.) However, the hedgerows are usually so tall and constant along the rural roads that we had few opportunities to enjoy the rural landscape. Pullouts came upon us without warning so that we couldn't pull over and make our way past the stone walls covered with bushes to see the views from the other side. We did, however, manage to get a few images of the green countryside, farms, and hedgerows.