AUSTRALIA
April 19--May 6, 1999
THE BIG PICTURE
This three-week trip was an extension of our Elderhostel trip which began in New Zealand on April 4, 1999. We flew from Christchurch, NZ, to Melbourne for a four-day stay; we flew to Alice Springs (via Adelaide) and took a bus to Uluru; then we flew to Cairns and to Sydney,
where the Elderhostel portion of the trip ended. May 6-16, we returned to Cairns for four days of diving on the Great Barrier Reef, and to Castaway Island, Fiji, on the return flight home. Including a short flight on Ansett Air in New Zealand and the Denver-LA round trip, we logged 17,531 air miles during the entire trip.
Though Elderhostel planned most of the trip for us in advance, we read through the Insight Guide to Australia (APA Pub./Houghton Mifflin), a readable and attractively formatted resource, to learn more about the areas we were going to visit.

MELBOURNE (pronounced MILL-bn)
After the smaller cities and rural countryside of New Zealand, Melbourne (population over 3,000,000) was a kind of culture shock. Our hotel (The Ibis) was nicely located downtown near several parks and public transportation. Each of our lectures and field trips emphasized a different aspect of the metropolitan area:
1. The City
From the top of the Rialto Tower we could see for miles: the Yarra River, the Melbourne Cricket Club, the site of the 1956

Olympics, the basalt beds to the west, etc. Our on-site director, Andrew Sinclair, was an enthusiastic student of local architecture (as well as Melbourne history), so we toured a variety of neighborhoods to learn how building styles changed with the times and as different immigrant groups moved in and out. Lunch that first day was at Trinity College (part of Melbourne University). We spent the afternoon walking through the botanical gardens where the English settlers brought trees and bushes and flowers from home to mix with the indigenous plants of their new settlement. We were fascinated by the thousands of flying foxes--not bats--nesting upside down in the trees, loudly and constantly fussing with one another over issues of "personal space." Later, as Judy and I discovered areas near the hotel to run, we found Fitzroy Park where, in the 1930s, a miniature Tudor village was built and a tree carved with nursery rhyme characters had been created and preserved for children to visit, plus Captain Cook's Cottage (though there is some debate about whether it was his or whether he ever lived in it).
2. The Animals
Before our field trips the second day, we had two excellent lectures. Professor Michael Cathcart gave an overview of Australian history (the Anglo version; we would later contrast his views with the Aboriginal version presented by Colin Jones in Cairns or described in Bruce Elder's powerful Blood on the Wattle: Massacres and Maltreatments of Aboriginal Australians Since 1788 [Sydney: New Holland Pub., 1998]) and ended with a fine reading of "Clancy of the Overflow," a memorable poem by one of Australia's national treasures, poet A. B. "Banjo" Paterson (see The Collected Verse of A. B. Paterson [Sydney: Angus and Robertson Pub., 1921]). Professor Don Sinclair (Andrew's father) discussed Australian politics, elections, political parties, etc.
Our day trip was to Phillip Island and the famous fairy penguin parade.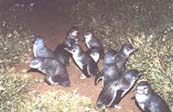 On the way we made a stop to stretch our legs at Maru Fauna Park where we fed kangaroos, wallabies, and emus, and got a close look at some dingoes, wombats, and koalas. But the penguins were quite a show (the #1 tourist destination in all of Victoria). These smallest of penguins are technically "Little Penguins," about the size of a small chicken. Their evening "show" was great fun: Just after sunset they return from a day at sea where they feed on fish, some of which they bring back to regurgitate for the young if there are any chicks left behind. They emerge warily from the surf, checking about for predators (birds in the evening, though they are prey to large fish while at sea). Then they make a dash for the shore, waddling up to their burrows in the bushes where they feed their young, sleep, and rise a few hours before dawn to return to sea again and repeat the feeding process again. They have no natural protection/defenses while on land, so they move about under the cover of darkness and in groups, watching the sky for big birds and, on shore, for dogs and cats.
3. The Culture
Ruth Pullin of the National Gallery began the day with a fine lecture on the full range of Australian art: Aboriginal traditions, colonial art, the "Heidelberg School," and the 1940s. We toured the National Gallery with her that morning. The rest of the day we spent using our all-day tram pass to shop (especially Victoria Market where there were plenty of bargains on clothing, food, etc.), Aboriginal art galleries (very expensive!), and the opal shops (A gorgeous opal pendant jumped out of its case and wrapped itself around Judy's neck. What could we do?) Later, Judy visited a downtown Melbourne Fire Department to trade patches and stories, while Hughes browsed through neighborhood stores for books and CDs. That evening we attended a theater production at the Melbourne Arts Complex.
4. The Gold Rush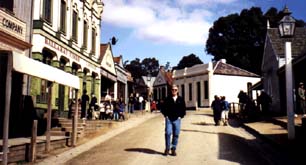 The mid-19th century Southern Australia Gold Rush transformed Melbourne from a second rate English port on the Yarra into the second largest city in Australia, so big that it rivaled Sydney and forced the creation of the state of Victoria, which had, until then, been part of New South Wales. Many of the most important gold fields were located near Ballarat, an hour west of Melbourne. Sovereign Hill, a restored mining town, like our Sturbridge Village or Williamsburg, captures the excitement of the 1850s and a way of life familiar to those of us who live in the Rockies. This gold rush, one of several booms throughout the country (and parts New Zealand as well as the US) was a huge one, perhaps as big as the California Gold Rush, and certainly as important to the history of Australia as California's was to our country.



ALICE SPRINGS
Fewer than 30,000 folks live in Alice Springs, the only "city" in Australia's "Red Centre," the largely desert region made up of sand and sandstone rich in iron oxides. Australia is the oldest continent and the region is literally as old as the hills. The nearly 1200 miles between Melbourne and Alice, and for hundreds of miles in all directions, is

largely scrub with occasional signs of dry lakes. (If you saw the movie "Mad Max," that's really what it looks like. And if you imagine living in Emporia, Kansas, and the closest cities are Los Angeles, St. Paul, New Orleans, and Baltimore, with only one paved highway to each--that's Alice.) The town was settled in 1871 while constructing the Overland Telegraph Line which connects Adelaide in the south with Darwin on the north coast. A railroad was completed some 60 years later following the same route. And, yes, there is a spring there, one of the few in the entire center of the country.
Despite its size, the importance of the town cannot be underestimated. It is the home of the Royal Flying Doctor Service, which still flies medical supplies, personnel, and emergency services to folks living in nearly 80% of the country. The School of the Air continues to broadcast school lessons to kids through grade 7 who live in the same outback area. The hospital in town brings Anglo and Aboriginal people from all over the Red Centre. We stayed at the very comfortable, inexpensive, and nicely located Oasis Resort, across from the almost always dry Todd River.
We were in Alice during "Heritage Week" and on Anzac Day, the Australian counterpart of our Memorial Day. Heritage Week was strictly a local celebration and featured a showing of the original version of the movie "A Town Called Alice," with one of the stars, Virginia McKennah, attending the performance. We took part of one morning to run our first race of the trip, a 10K sponsored by the Alice Springs Walking and Running Club. Judy ran a respectable 50:02 (considering the heat and no training) and was first in the women's masters division. Hughes ran a tad slower. We returned with local club shirts as souvenirs of the day. We later joined the rest of the Elderhostel group for the tour of the Alice Springs Desert Park, an outstanding living museum of plants, animals, landscapes, and the cultures of central Australia. Definitely time well spent.
Alice is also a tourist center, especially for adventure trips to the outback and for those interested in Aboriginal arts. The downtown area is part pedestrian mall lined with shops selling arts by several different Aboriginal groups, didjeridoos and boomerangs, opals and other gemstones, and, of course, T-shirts.
We visited to the Alice Springs Fire Department. While we were there discussing equipment, training, duties, and routines, there were two fire calls. "No worries," the guys said (a typical Australian phrase). Each call was a small grass fire that are frequent throughout the year. Two firefighters would go out in a pumper, investigate, and invariably wait while it burned itself out. Judy did trade a Nederland Fire Department patch for a patch from the Northern Territory Fire Department.
One evening we were treated to a barbecue in a river bed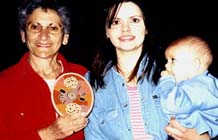 several miles out of town! As they often are at most times of the year, the river bottom was bone dry. The Buzzacotts, an extended Aboriginal family, were our hosts for beef, kangaroo, and/or chicken barbecue with all the extras grilled on wood fires. We relaxed around a campfire singing mostly John Denver tunes and American cowboy songs like "Home on the Range," both very popular music in this part of Australia, though we did learn the Australian folk/drinking song "A Pub With No Beer." Judy bought a small dot painting from one of the women. We sent a copy of the photo on the right to her when we got home. It was a splendid evening and our first opportunity to meet and talk with Aboriginal Australians. Though Alice Springs is heavily populated by Aboriginal people both in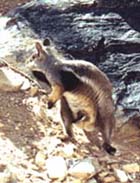 and around town, there is little interaction between Anglo and Aboriginal Australians except at the commercial levels.
Simpson's Gap and and Standley Chasm are two National Parks in the vicinity of Alice. While they are dramatic contrasts to the otherwise flat and drab landscape of the area, they do not have the grandeur and scale of national parks we think of in this country (e.g., Yellowstone, Sequoia, Rocky Mountain, etc.). We hiked through both areas for an hour or so and took lots of photos of the black-footed rock wallabies, some with joeys in their pouches) who were comfortable posing just off-trail in Simpson's Gap.
Just a note in passing: The "frontier" image of the outback promoted by TV and movies is part of Australia's mythology and, at best, a tourist commodity--at least in the Alice Springs area. (It's no different than our love affair with the myth of the cowboy and other overblown images of "the old west" we learned from movies and TV.) In truth, there were far fewer bars there and not as many cowboy hats and sweaty sleeveless shirts as the Foster's Beer commercials would lead you to believe.

ULURU
The drive from Alice to Uluru National Park is a good half day drive--about 250 miles. An interesting rest stop along the way is Noel Fullerton's Camel Farm. (Camels were imported to help build the telegraph line but, when they were soon found unsuitable for travel across the sharp-edged stones of the desert, they were released and ran wild for years.) You can choose to ride the camels or not, but the sodas and beer are always cold at Noel Fullerton's.
Four hours or so from Alice is Ayers Rock or Uluru (meaning "meeting place," as many "songlines" intersect there; see Bruce Chetwin's Songlines [penguin, 1987]). In 1985, the Rock was "handed back" to the

Anangu people who now operate the park and nearby Ayers Rock Resort (very nice!) where we stayed. The area was declared a World Heritage site two years later.
Uluru is truly a startling sight as the top third of the rock emerges for no apparent reason about 1000' out of the flat landscape surrounding it. Climbing the rock has been a major attraction for non-Aboriginal visitors since 1873, when William Gosse, the first European to see the rock, climbed it barefoot! The Anangu people know it's dangerous to climb (more than a dozen people have been killed and every few days someone must be rescued--at great expense), but they seem to accept the visitors' urge to climb it. As a compromise, park rules insist that climbers may not attempt the climb if (1) it's too hot--more than 30 degrees celsius; (2) too windy--the limit is unclear; or (3) too wet (rain is a very rare event, but the sandstone would be dangerously slippery if at all wet). The first 50-100 yards of the climb are quite steep and many climbers find the challenge beyond their capabilities. If you make it that far, there is a chain to hang on for the next 150 or so yards; from there it is a challenging hike following the white paint lines to the summit. The lines strictly define safe access through non-sacred areas of the rock. The round trip took us about three hours. The view was impressive, though the horizons in all directions were featureless.
At sunset, a remarkable ritual takes place in a parking lot a mile or so from the rock. Every tour bus in the area pulls in, disgorges its passengers who sip champagne while the sun sets on the rock which changes color from brown to glowing reds and purples, and finally turns into a black lump in the distance.
No climbing is permitted atThe Olgas, or Kata Rjuta (meaning "many heads" which describes the sandstone formations very nicely). We hiked briefly in the area before having to catch our flight to Cairns. We missed a great many hiking opportunities in the area, especially the well known Valley of the Winds, and areas like Tennant Creek, Kings Canyon, and Watarrka National Parks, or one of a dozen other natural areas the region.

CAIRNS (pronounced "cans")
Cairns (population about 70,000), for all its tourist glitz, is one of the most amazing areas we visited. Situated on the northeast coast of the country, it's the only place on earth where two World Heritage sites

converge: the North Queensland Rainforest (the oldest rain forest on earth) meets the Great Barrier Reef (the largest reef in the world) at Cairns. The range and variety of plant and animal life is staggering and beyond what can be grasped in just a few days, though we tried to do it all.
Our lectures focused on the history of FNQ (Far North Queensland), especially Captain Cook who first sailed around the southern coast of Australia, determining that Tasmania was separate from the mainland and that the southern and east coasts were habitable and worth settling. (Earlier, the Dutch explorer, Abel Tasman, came from the north and sailed along the west coast and turned around, concluding that the dry desert west and tropical northern coasts were not worth further Dutch interests.) In addition, we had lectures on the rain forest and the reef habitats. There was daily snorkel instruction in the hotel pool in preparation for a day at Michaelmass Reef.
The weather was always warm and humid, the sky overcast or cloudy even off shore. In addition to several bus trips to the Atherton Tableland region inland from Cairns and an afternoon in Kuranda for some retail therapy and a gondola ride over the rain forest canopy, we experienced four highlights we'll not soon forget:
Running. We ran almost every day we were there. Most days we'd run on the Esplanade, a paved path for bicycles, walkers, and runners, that goes for several miles from the town center along the mud flats that are the shoreline in Cairns. Moreton Bay figs line the path and hundreds (thousands?) of pink or white Major Mitchell cockatoos (see picture below) nest there and loudly make their presence known, especially in the late afternoon. We also ran twice with the Cairns Roadrunners: we joined them for an early evening fun run the first day there, but we also ran in a club sponsored race a few days later in which we both took age group firsts, Judy in the 10K and Hughes in the 5K. Our pictures were featured in the club newsletter.

Breakfast with the Birds. Often in our travels we have deliberately passed by "attractions" that appeared tacky to us. The Rainforest Habitat Center was one of those attractions we probably would have skipped--and we would have missed a spectacular morning learning about and seeing up very close many of the birds and mammals that are special to Australia. The three or four huge tents/aviaries were the setting for breakfast (a huge buffet with more varieties of more food than could possibly be eaten in a week by an army!) amid hundreds of free flying birds squawking and pecking at crumbs fallen on the tables or the floor. After breakfast, we had a guided tour of the other sections of the facility that held emus, cassowaries, wallabies and kangaroos, koalas, other birds, and platypuses. The crocodiles were in their own area where we watched them being fed live chickens. The trip was fascinating in that we saw most of the animals we had hoped to see in a setting that was more natural and more immediate than in a regular zoo.

Colin Jones and the Tjapukai Aboriginal Center. We had listened to the history of Australia several times before this, always from the English point of view. Colin Jones, an Aboriginal lecturer and artist at the Tjapukai Center, presented a history of Australia that we didn't get from the "whitefella" academics. Referring solely to available government documents and period newspaper accounts, he laid out a story of human relationships that should shame any European Australian: government sanctions of indiscriminate extermination of any Aboriginal at any time without provocation or fear of reprimand. The policies of the Australian government were even worse than our treatment of Native Americans and lasted well into the 20th century. We were stunned by what we heard. (For further historical documentation, read Bruce Elder's Blood on the Wattle, referred to earlier.) The Center also put on a spectacular high-tech drama combining live and laser/holographic performances that retold the history of the Aboriginal group that was indigenous to the Cairns area. (Just as the European conquerors of our country did, Australians denied (and some apparently still do) the cultural diversity among Aboriginal groups, believing they are all alike. We cannot recommend too strongly this experience for any visitor to Cairns.

Snorkeling Michaelmass Reef. Though we have snorkeled the Caribbean, Mexico, Hawaii, and elsewhere, our day on the Reef whetted our appetites for an extended dive/snorkel experience we were to have later in our trip. We found a great variety of fish, very healthy coral, giant clams everywhere, and quite good visibility in spite of this area being a very popular site for day trips. Judy did her first scuba dive--a short trial dive, closely monitored by the dive master, which she enjoyed more than she thought she might. Alas, she still prefers snorkeling and is not interested in dive certification.
Cairns is clearly a lively center for adventure tourism: in addition to a jumping off place for divers, visitors can arrange to go rafting, back country trekking, bush camping, bungy jumping, and almost anything else that's active and outdoors. Night life is casual, shops are open late into the evening and there are bargains to be had. The downtown area is safe and walkable after dark. There is easy internet access for those who travel and want to keep in touch. There were frequent live music shows at night in the public mall. In short, it's a comfortable town to be in, and we were looking forward to returning after our six days in Sydney.



SYDNEY
A city of 70 beaches, thousands of boats, and over 4 million folks, Sydney is impossible to take in all at once or even in a few days, but we gave it a good shot. We spent the first day getting as good an overview as

possible from the top of City Tower. It is a fascinatingly complex and impressive cityscape, though unfortunately it often has Denver's brown cloud hanging over it in every direction. Our bus tour through several neighborhoods of town and down to Bondi (BOND-eye) Beach showed the diversity of the city and how attractive each neighborhood can be, especially the suburb of Bondi which shows some signs of graceful aging. We ended the day with a gentle ferry ride around Sydney Harbour, maybe the best way to appreciate the beauty of Sydney.
Our hotel in Darling Harbour was located next to the monorail which we used every day to get to and from places in the downtown area so we could explore some of the "little" neighborhoods that make up the city. We walked through "the Rocks" where 200 years
ago English and Irish convicts were unloaded after their harrowing sea voyage from England; it is now an area of trendy boutiques and coffee shops. Paddington turned out to be a great area of bookstores, clothing shops, and other interesting shops just right for leisurely window shopping and browsing. We saw a splendid production of the musical "Chicago" at the Capitol Theatre, a beautifully restored grand theater in the tradition of Fox theaters in this country. We shopped in the ornate Queen Victoria Building pictured on the right, three stories of upscale shops and eating places. (Pierre Cardin is said to have called it the most beautiful shopping center in the world, if that counts for anything.) And we spent a quiet afternoon at the northern suburb of Manly, a seaside resort town that has seen better days. However, the ferry ride there is well worth the trip as it passes beneath the Sydney Harbour Bridge, as easily recognized as the Gold Gate or Brooklyn Bridges. (For $99 you can walk across the top of the bridge's arch, another point from which to view Sydney.)
Our group spent one day driving to the south through Royal National Park (a brief stop more to stretch our legs than experience great beauty) on our way to the University of Wollongong, home of the Australian College of Seniors which had "sponsored" the Elderhostel trip. In addition to a formal dinner, we had final lectures on opals by George Young, who has both mined and sold them for years; a lecture on Australian folk music; and after dinner entertainment by Patricia Smith, a faculty wife who is also a professional musical theater performer.
In addition to all of the above, two attractions stand out:
The Sydney Aquarium. A short walk from the hotel is one of the finest aqariums we've seen. It features not only fresh water and salt water displays, but they have recreated a coral reef exhibit in such a way that visitors can almost experience exactly what divers see without actually being "down there." Sharks and rays, along with smaller fish swim both above and below you as well as in your face. It was fascinating and well worth the price of admission.

The Sydney Opera House. This marvel is as beautiful on the inside as it is fascinating to look at from the outside. In addition to a huge opera stage, there are separate facilities inside for the symphony and for theater productions. However, to really appreciate the beauty of the design, you have to get away from the building and view it from various places on and across the harbour. It is truly a striking piece of architechtural sculpture and its location on the harbour could not be more perfect.

Sydney marked the final stop on the Elderhostel portion of the trip. After five weeks of touring with the 27 other Elderhostelers, we said good-bye and took a cab to the airport for our flight back to Cairns to dive and snorkel on the Great Barrier Reef.


FINAL NOTE
For those 55 and older, Elderhostel provides hundreds of domestic and international trips that teach and stimulate the imagination on every topic imaginable. There are also service trips which involve contributing effort to a project undertaken by an outside organization. (The costs of service trips are generally tax-deductible!!) We have been impressed with how well the trips are organized, how interesting and informed the speakers/lecturers/resource people have been, the quality of the facilities, and what an outstanding value these trips offer travelers. Our trip to Australia and New Zealand was titled "Gaudeamus: Australia & New Zealand." It is offered several times each year. As you can tell, we highly recommend the experience for all travelers. If you go, give our warmest regards to Deidre, Michelle, Suzanne, Liz, Graham, Alan, Peter, Andrew, Martin, and the others who enriched out lives and made our trip a joy.