March 27, 2008



Dear Family and Friends,

We began writing these periodic letters as a way to remember what our lives were like during retirement—what events were memorable and some details of what we were doing at that time. If others find anything interesting in letters, well, that is OK too. The letters have been a way for us to keep in touch with our lives and, perhaps, with you. We've been writing them since we moved to Colorado in 1992; we began posting them online in 1996. As our memories falter from time to time, we're glad to have these pages to help us snap our memories back to what happened when and where. Even if, at the time, we'd rather forget.


LIKE THIS WINTER!



Winters in the foothills of the Rockies are particularly—sometimes spectacularly—memorable for the obstacles and difficulties our weather can create for those of us who choose to live away from the cities three thousand feet below. Over the past 16 years we recall vividly eight feet of snow during the 2003 St. Patrick's Day storm, making it impossible for us to drive anywhere for over a week. A sudden melt of winter snow in the spring of 1995 followed by two hard days of rain washed out portions of our road and sent a torrent of water toward the house that flooded the lower level of the house with 3"–4" of water. We've constantly lived with powerful and persistent winter winds, often approaching 100 mph as they did just two months ago. However, we are proud to have taken what the mountain weather gods have thrown at us and have felt victorious—and a bit virtuous, smug, and relieved—when spring finally arrived sometime in June. We felt stronger and tougher for having survived the rigors of a Rocky Mountain winter. Sophie and Bella seem to enjoy being outside, though the high drifts can be a bit daunting from their lower line of vision and deep snow restricts their foraging in the woods. Their St. Patrick's Day sweaters, which they reluctantly let us put on them, keep them warm and dry and help us spot them in snowy woods.

This past winter has seemed harder than usual (though the weather stats don't support this notion). Perhaps it's a sign of our getting on. Who knows? But it is safe to say that when Judy recently announced in frustration that maybe it was time we should consider moving, it was clear our passion for mountain living had been put to the test—and we'd been found wavering.


Since before Christmas our 1,000-foot driveway has been the scene of a serious and persistent thaw and freeze cycle that has defied the best efforts of the fellow who plows our road. A layer of ice has built up that would make a good bobsled run: glaze ice 1" to 5" thick from side to side, making a simple walk to get the morning paper or the mail an adventure best undertaken with crampons. After a second pair of Yaktrax gave out before the winter was over, we both have found a excellent product that slips over our shoes/boots that is far superior: STABILicers are made in Maine so you know they're good. Throughout the winters we have been able to drive in and out with our four-wheel drive cars with studded snow tires, but this year the RV has been held hostage since December. We have not had one "big" snow—in fact, this March, usually our snowiest month, has been the second driest March on record—but what's fallen has not gone away. Even today we're getting another inch or two, though yesterday it was 60°. There's snow in the back meadow behind the house that was here at Christmas and may be here after Memorial Day! We've had to put on hold our winter getaway trip, though we needed it this year more than ever.

However, in spite of harsh weather, this past winter has been a time of some notable accomplishments:


SOPHIE GRADUATES


We are proud to announce that Sophie passed the classes and tests required to become a certified therapy dog at Boulder Community Hospital. She and Judy attended classes throughout February and Sophie received her diploma in ceremonies in early March. (Yes, they even took pictures of the graduates in caps and gowns!) Judy completed her CBI clearance, a TB test, and a seminar on Boulder Community Hospital policies. In addition to passing her training classes, Sophie was tested for staph; apparently dogs can carry and transmit staph infections without showing any indications. Both were photographed for their hospital IDs and fitted for their volunteer vest/shirt. Judy reports that Sophie was a "star" on her first day visiting both a pediatric ward and the cancer center facility at the hospital. Patients and nurses loved her and gave her lots of attention and treats. She came home exhausted and slept most of the rest of the day. They will be regulars on Monday mornings (when we're not traveling) from now on.

If you've met Sophie, you know this job was made for her. She really likes and responds well to people, especially children, more than to other dogs. She is loving and affectionate, and she has a much more laid back disposition than Bella, our seven-year-old puppy. Sophie now looks expectantly at Judy every time she invites her to get in the car hoping they're going to work.


PLANNING FOR ALASKA

We have just about finished planning our Alaska trip this summer. It may seem a bit early in the year to make detailed plans, but we believe that most costs will be the same whether we made reservations now or at the last minute. (A possible exception are the reservations for the Inner Passage cruise portion of the trip, which might be available for a few dollars less at the last minute, though most sources warn not to count on Alaska cruises having last minute deals.) Even so, we wanted to be sure we could count on certain parts of the trip not being closed to us because we didn't plan ahead. We're looking for a late August departure from Vancouver, a week on a floating apartment house to Whittier, travel by RV through the Kenai, and four days with friends at Denali NP. We're looking forward to a full plate of activities: biking, hiking, sea kayaking, flight seeing, fjord cruising—we might even try our hand at salmon fishing.

[

If you have traveled in Alaska, we would value your advice about places or activities we should not miss. What do you suggest? We would sincerely appreciate hearing from you.]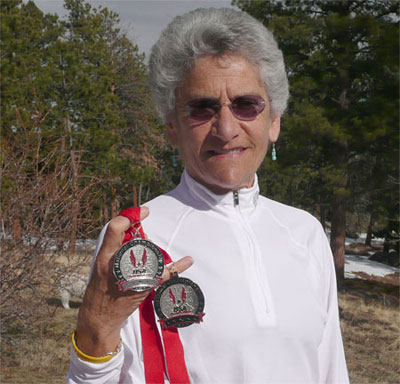 STILL RUNNING

For the fourth time Judy ran in the USA Track and Field National Cross-Country Championships, this year held in San Diego (a very sensible location for a winter running event, unlike the past three years). She had a good time for the 8K course and took second in her age group. Her team also placed second. There was a very nice article on the race and her running success in general in the March 6, 2008, issue of the Nederland

Mountain-Ear

(which included the photo on the right). As a warm-up to the nationals, she won her age group in the local Best Cross-Country Race on the Planet on an icy January morning. This month Judy began twice weekly training with the Boulder Striders to prepare for the Bolder-Boulder 10K on Memorial Day.


WINTER BRIEFS

•In spite of not being particularly active politically, we participated in the Democratic caucus this winter. Apparently there were many, many other first timers—more than ten times the number of folks attended this year than in any past year. Blizzard conditions did not keep folks from filling the high school that evening with more Democrats than there are high school students who attend during the day. The high attendance caught the planners off-guard and though the gathering was a bit disorganized, everyone was happy to go along with the last minute changes to room assignments, voting groups, etc.

•Judy continued to volunteer at the fitness program at the community center, Hughes at the Visitors Center, and both of us began volunteering at the Backdoor Theater (first run movies on the weekends) on Friday nights. This is clearly the best volunteer gig we've ever had: free movies and free snacks in return for selling snacks before the movie and sweeping out the theater afterwards.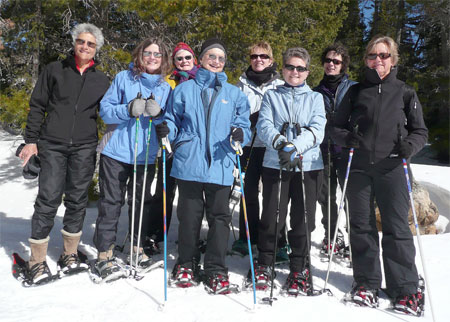 •Some of the members of the Rocky Mountain Team Survivors—women who, like Judy, are cancer survivors—ventured up from Boulder (where most of them live) for a day of snowshoeing at the nearby Eldora ski area, followed by a potluck lunch at our place. They came twice this winter for a day of healthy exercise, fine weather (for snowshoeing), great food, lots of talking, and good friendship. This is the second winter they've planned these trips, which are part of a series of fitness activities sponsored by the RMTS.

•The Mystery Book Club continues to discuss good mysteries, the best of which this winter was Qui Xialong's

Death of a Red Heroine

, a good read for its political history of post-Mao China, interesting characters in an exotic setting, well written, and a ripping good murder mystery. If you'd like a list of our past selections—some good, some stinkers—let us know and we'll send a copy. Judy dropped out of her literary book club late last year, citing too steady a diet of memoirs. Can't blame her.

•We celebrated our birthdays in March with a rare dinner out followed by a presentation by a Boulder orthopedic surgeon on the "Journey Deuce" replacement system for repairing arthritic knees. Hughes had a second arthroscopic surgery on his slow healing knee on Good Friday and is recuperating very nicely. Now that there's a trained therapy dog on staff in the house, recovery from any ailment will be faster and more pleasant.



FINALLY A SIGN OF THINGS TO COME…
AND NOT A MOMENT TOO SOON

The first day of spring was in the low 60s, sunny, and very pleasant for the first time since we can't remember when. Most days since have been similarly warmer, though still windy, below freezing at night, and occasionally cloudy, snowy, and overcast.

The hanging bird feeder outside the office window has consistently attracted a variety of small birds that gather for a feast of sunflower seeds each day, nearly all day. The year-rounders include pine siskinds (or some other member of the sparrow family), Oregon juncos, nuthatches (pigmies or white breasted, depending upon their size), and mountain chickadees. Our local Stellar's jays and woodpeckers (downy, we think) seem to be elsewhere during the harshest parts of winter, but have come out or returned with the promise of spring. However, we really enjoy the return of dozens of brightly colored evening grosbeaks, red crossbills, and finches (both house and Cassin's varieties). They always brighten up an otherwise gray and white landscape.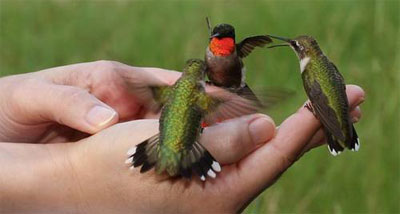 Hummingbirds should start to arrive in early April. We especially look forward to the hummers since when they show up we can begin to truly think about spring and warmer days ahead.

We hope they come sooner rather than later.