ITALY
APRIL 4–16, 2007


THE BIG PICTURE


We flew from Denverto Frankfort where we changed planes for Milan where we took a bus to Milan's central train station. Three trains later we got off at Vernazza in the Cinque Terre area where we stayed for four nights. We took a fast train to Florence where we stayed for three nights, and another fast train to Venice for three more nights. We returned by train for an overnight in Milan from where we returned to Denver via Newark.


BACKGROUND

To be honest, Italy was not our first choice as a travel destination. We had made plans a year ago to spend last July in Ireland, a country we visited 25 years ago. Judy's surgery put those plans on hold and left us with two tickets to Europe to use before the end of April, 2007. While we love Ireland, we know its lush summer green is the due to spring rains. If we were to use the tickets before they went bad, where in Europe would we find a warm, dry spring? Spain and/or Portugal were possible. The French Riviera sounded very chic and exotic—and warm. Perhaps the Greek Isles? All logical and good choices.

We are blessed with having within our circle of friends some well-traveled folks. Diana Giglietti-Pitzer, a self-proclaimed paisano, not surprisingly went on and on about the people and food of Calabria (southern Italy around the "toe" of the country) where her people are from. And it would be warm there.

Fred Cadamagnani had returned a couple of years ago from a trip to northern Italy. He spoke passionately about Cinque Terre on the northwest coast just south of Genoa. A decade or so ago, TV travel evangelical Rick Steves "discovered" this collection of five villages clinging precariously from steep coastal cliffs less than six miles apart. Fred said we should not miss the opportunity to go before growing tourist hoards changed the social and economic landscapes forever. Non-Italian Ann Runyon had already taken Fred's advice and the photos of her trip there were very convincing.

Both Ann and Fred also said it would be a crime to visit northern Italy without seeing Venice. Besides, it's in danger of sinking into the Venice Lagoon to become a shallow Adriatic Atlantis before we might venture that way again. So we said "Yes" to Venice.

A half century ago, Hughes had taken an introductory course in art history. Memorizing five hundred artists, titles, media, and periods to prep for the final exam was challenging and, to his amazement, a lot of it stuck: Giotto, Tintoretto, Botticelli, Fra Angelica, Titan, Michelangelo and da Vinci are all Italians and their work could be seen in churches and museums throughout Florence. Besides we'd heard the shopping there was sensational.

In the end, we decided northern Italy would be a great place to spend spring break '07!


I. CINQUE TERRE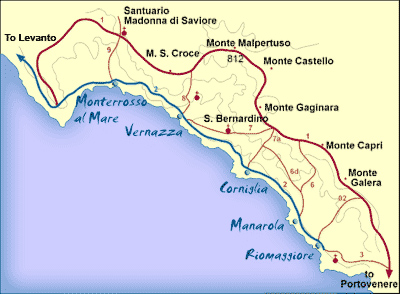 An hour south of Genoa is the Cinque Terre, one of the most scenic places we have visited anywhere. The area around the five ("cinque") villages of Monterosso, Vernazza, Corniglia, Manarola, and Riomaggiore comprise what is now a national park and, since 1977, a World Heritage Site. There are few cars, plenty of hiking trails, gorgeous beaches for swimming and sun bathing, vineyards and lemon trees, centuries-old churches, and cobbled streets surrounded by a pastel palette of stucco houses and buildings. The towns have been targets of pirates and smugglers (watchtowers are relics of early warning systems for medieval city-states to which each village owed allegiance), ports for fishermen, and now fast-growing tourist destinations. There was no access to the villages by cars until the 1960s, so their isolation has helped them retain much of their historical charm. Of the five villages where we might stay, we chose Vernazza as our home base for four nights. It was perfect.

Getting to Vernazza required us to use trenitalia which provides comfortable, quiet, efficient, inexpensive, and prompt train service throughout Italy. We took a bus from Milan's Melpensa Airport to the Central (Railway) Station in downtown Milan (now 5.00 or 5.50 euros depending upon which company you choose. There's no difference between the two except the price). From there we bought two tickets with three stops and three train changes: Milan to Genoa, Genoa to Monterosso, Monterosso to Vernazza at a cost of 11.70 euros per person ($15.96 at the current rate of exchange). We had no more than a ten minute wait between trains, just enough time to get our baggage off, check the track number for the next train, and be in place ready to board.

[Note: Though you can purchase your train tickets in advance online, there's no need to pay the extra fee for this service. We traveled during Easter week, a particularly busy time, and had no difficulty getting where we wanted when we wanted.]


We had reservations at Camere Giuliano Basso, four rooms above the town operated by Giuliano and Michele Basso. When we got into Vernazza after dark, we asked the first open business how to get in touch with Giuliano. The owner/hostess of Trattoria Da Sandro called him and he came from his house to greet us and show us to our room high above town. It was a short walk of 67 steps off the main street that we would make at least twice each day. Our room was clean, the bed comfortable, and Giuliano had just finished remodeling a new bathroom. The room and the building had fresh paint and wonderful stonework that Giuliano had set himself. We walked back to town for an excellent dinner at Sandro's: fine local wine, good seafood and trofie al pesto, a local pasta we did not find anywhere else on our trip. The total bill came to 41 euros and when I gave her a 50 euro bill she gave me back 10 euros, explaining with a smile, "I give you a discount." This was the first of many acts of friendliness and kindness we experienced on our trip.

[Note: Most restaurants, we learned, state on the menu the cover charge (1.00–3.00 euros per person) and a service charge (10%–13% of the bill). A few places waive the cover charge. We were not encouraged to tip; the service charge took care of that.]


Our first day in Italy. It was glorious, like all our days to come. The sky was almost as blue as in Colorado, the temperature in the mid 60s and heading to the low 70s, and not a hint of rain. It was like this every day we were in Italy. We decided early on that we would make this trip as leisurely as possible, not trying to "do everything," but to enjoy each location as thoroughly as possible even if we missed out on some things or places. In Vernazza, as we did most mornings, we got up when we felt like it, and walked down the main street to the Bar Blue Marlin for fried eggs, focaccia, and cafe american, which seems to be espresso with hot water added to make an 8 oz. cup. As much as we liked our breakfasts, we more enjoyed the staff who cheerfully greeted us each morning: Massimo Basso (yes, there are lots of Bassos in Vernazza and they're all related), Katia, and Carmen. We bumped into at least one of them during every day we were there; in a town of 1,000 especially friendly and gregarious folks, this was not a surprise and we looked forward to each visit.

Hiking is the main activity of many people who visit Cinque Terre. After all, no cars are allowed in the villages. The towns are connected along trails that were probably "built" by goats or donkeys or other animals. The distances between the towns is not great, but some of the trails are a bit more demanding than others and a short distance takes more time than it would on flat land.

[Note: The use of coastal path #2 (the "Blue Path") in the national park requires a "Cinque Terre Card" which is routinely inspected at the beginning and end of each segment of the route. They can be purchased for one, three, or seven days. We bought a 3-day pass, which gave us access to the path, park museums, rides on the park's ecobus in each of the five villages, and the elevator in Riomaggione. Cards can be purchased at check points on any path or at train stations in each town. Officially, the distance from Riomaggiore to Monterosso is about nine kilometers, just under six miles on path #2, and can be easily completed in five hours.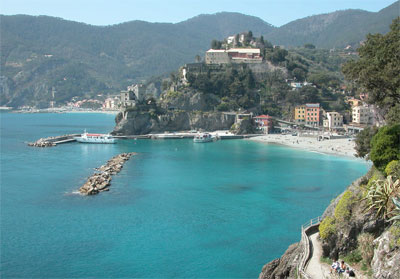 The difficulty ratings of the four segments are either "easy" or "average;" there are some other trails rated as "tough." If you're not coming back to the area, our best advice it to take all the time necessary to enjoy the spectacular views and the charm of each town along the way.]

After we walked through Vernazza for an hour or so—buying fresh bread, cheese, and fruit—we set out on our first hike to the east /north to Monterosso, about two miles away. We were dazzled by the views of the coast, of Vernazza from above, the shore, and the hillsides. We arrived in Monterosso about two hours later. Getting there often meant hiking long stretches of steep rock steps—both up and down—that reminded us of the Inca Trail. The deliciously cold beers at the end of our hike tasted especially refreshing on this hot spring afternoon, and we ate our lunch overlooking the harbor. We spent the rest of the afternoon exploring both parts of the town (there is a point of land that separates Monterosso into two distinct sections). We rode a park "ecobus" to a point overlooking the town. On the way back we witnessed a loud dispute/argument/discussion between an unrelated older man and older woman who were both passionate about something. Since it was in Italian we were not sure what the issue was, but there were enough hand gestures to convince us of their passion! At one point the man even got out of his seat and walked back to where the woman was seated to make his side of the issue both clear and forceful. Hmmm. What was that all about? The other passengers seemed unimpressed. At the end of the day, we the ferry us back to Vernazza which gave us a chance to see the coastline.

Dinner this evening was on the street: we stopped at the first place we came to that sold pizza, thinking most any place would be good. We placed our order and took our beer and wine outside and sat on a bench to wait for the pizza maker to do his/her job. We watched folks walk by and talked to everyone we knew: Giuliano and Michele and 4-month-old Sophia stopped to say hello; we talked to the couple from Genoa who sat next to us at dinner the previous night and exchanged taking photos of each other; the couple from Minnesota who have the room next to us said hello as they were going to dinner further on down the street; Massimo sat down for at least a half hour to talk about his life, about living in Spain for several years, and about Vernazza. According to Massimo, in the 1960s no one came to Vernazza; Italian tourists started coming it in the 1970s, other Europeans in the 80s, and Americans began streaming in during the 90s after Rick Steves wrote glowing reports in his travel books. The numbers of visitors
skyrocketed until 9/11. Tourism has begun to turn around and, according to Massimo, the good days are back.

Today was Good Friday and townspeople were busy preparing for a village-wide parade to mark the day. Teams of folks strung lights along both sides of the main street from the waterfront to the parking area at the top of town. Everyone gathered at dusk to follow the priest, young children with flowers, and church officials start out from the church (Sanctuary of Madonna di Reggio built in 1338) through town to the end of the main street and back again to the church. Many visitors joined the procession as well. The two lines of marchers were kept separate and in step by hooded, white-robed men who each carried a heavy staff that they smacked on the cobblestones to maintain a steady pace and keep space between them for the two lines to come back on themselves as they returned to the church.

A first day observation: dogs and grandchildren enjoy a special place in the hearts of the people of Vernazza—and everywhere else in Italy we think. Dogs, most of them small and of some terrier mix, were almost always on leash, rarely barked, were petted regularly, and their owners kept the streets clean. Grandchildren are shown off and fussed over, their grandparents' chests swelling with pride. We talked to one older woman pushing a baby carriage who had lived in New York for many years where she raised her family. She had come back to Vernazza in her retirement. Her children and grandchildren remained in New York. When we looked puzzled she that the infant she was pushing up the street was "borrowed" from a friend, which she likes to do from time to time. Hughes, caught up in the spirit of Italian grandchildren, borrowed Michele and Giuliano's daughter Sophia for this photo op.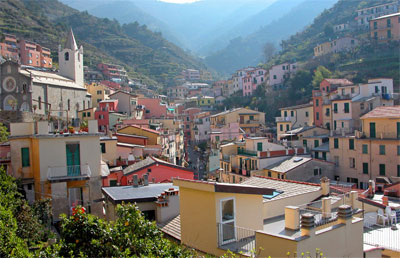 Our second day hike began a bit differently: we took the train to the "last" town to the south/west, Riomaggiore (pop. about 1,800). From the train station we walked through the town, uphill to the Church of San Giovanni Battista built in the 1340 with the sundial on the south wall, and then downhill into the commercial district swarming with people shopping and eating. We rode the park ecobus up to the top of the other side of town for some picture taking and rode the elevator down to the start of the path where a mob of tourists were in line to walk to Manarola, a half mile away. This part of the path, romantically advertised as the "Via dell'Amore," sometimes called "Passeggiata dell'Amore" is smoothly paved, wheel chair accessible, wide enough for five people across, and flat, thereby affording everyone the opportunity to experience the beauty of the coastline. People strolled along slowly, but, like everyone else, we in no hurry this warm spring day.

Manarola is a smaller village (pop. about 800) that seems to grow out of a huge rock bluff, giving it the appearance of a mighty fortress. In spite of being perched overlooking the sea, it has a small harbor that supported a fishing fleet and protected against pirates. Today it
bustles with shops and restaurants. We had a delicious seafood lunch at a quiet, out of the way restaurant and later admired the paintings in an attractive art store near the beginning of the path to Corniglia, the next village. Just a short walk leaving town was a great place to look back for a post card photo of this dramatic village.

An easy half mile walk led us to the village of Corniglia (a former Roman town, Cornelia) that sits high above the water, but unlike Manarola, it does not have a waterfront and, of course, no boat ferry service. To get there, one must hike or take a bus from the train station (which we did to save climbing a very steep series of switchbacks from the sea up to the village center). Corniglia has half the population of Vernazza, is the least visited of the five villages, and is the most isolated village in Cinque Terre and apparently always has been. Visitors seeking a truly quiet getaway will find it in Corniglia.

The final leg of our hike brought us home to Vernazza on a real trail that required hiking. Most of those who had begun the path at Riomaggiore apparently had turned back by this time and we had the trail mostly to ourselves. Even so, we did not rush but took advantage of the incredible views of the coast in both directions as well as a unique view of Vernazza looking down on it as we approached it from above. We went to our hotel room, showered and changed clothes, and went down to town for some cold beer and some serious people watching. The crowds in the waterfront square were larger than we'd seen before, but we knew that the last ferry would leave about 6:00 and only those with a place to stay for the night would remain. We managed reservations at Gianni Franzi, a popular restaurant for good food. We were not disappointed: the mussels and pasta and veal tenderloin were wonderful, and we finished a bottle of local wine before we walked back up the hill. A fine ending to a wonderful day!

Easter is not a day for pageantry or special events in Vernazza. We ate breakfast again at the Blue Marlin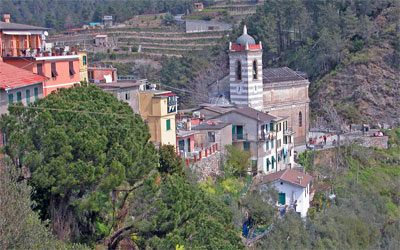 and did some serious shopping before the crowds of visitors began to grow. In addition to lots of postcards, we bought a bottle of lemonici (a lemon liqueur from the area), some trofie and pesto for Fred (we didn't see trofie anywhere else in our travels), and a special large hollow chocolate Easter egg—uova di Pasqua—with a prize inside that is sold only at Easter (a special gift that we carefully and lovingly lugged for the rest of our days across Italy without any damage!) We also bought some bread, cheese, and fruit for our last hike in Cinque Terre, to the tiny and once nearly inaccessible village of San Bernardino perched high above and away from the sea on the "Road of the Sanctuaries" visited by pilgrims or threatened villagers for over 1000 years. A handful of people live here and the few visitors who come must be satisfied with the hospitality of a cozy bar, an historic church (Sanctuary of Our Lady of Grace—il santuario di Nostra Signora delle Grazie), and a view that reaches to France or Spain on a really clear day. This was our reward for an hour of steep climbing over a narrow, rocky trail that passed through vineyards, groves of olives, figs, and chestnuts, and patches of bright wildflowers. We ate lunch in the shade of the trees near the church.

When we returned to our room we found a lily, two small chocolate eggs and other candies on our bed. Who says folks in Vernazza don't celebrate Easter! Thank you, Michele. What a nice surprise. After resting and writing postcards, we returned to town and walked up the hill to what we thought was a "second" church overlooking the town.
We found, instead, the town cemetery which, like others we saw during the trip, was rows of individual crypts stacked five high, each with the names of the deceased, dates, places for live flowers, and a photograph of each individual. It's a very steep climb to the cemetery for anyone, but we noticed it was especially taxing for older residents who likely make regular visits.

For our last evening in Vernazza, we walked down to the waterfront/town square and sat for quite a while watching people, their dogs, and their children enjoying the warmth of the late afternoon. On the spur of the moment, we decided to have dinner outside (under the yellow umbrellas) as the sun set. We knew we'd seen all of Vernazza, talked with some people several times (Katia from the Blue Marlin got off a late boat with her boy friend, we think, and stopped at our table before she headed up the main street). We hiked enough to appreciate the area, and we we were beginning to feel very much at home here. Three full days is the minimum amount of time for a visit. If we stayed longer—and we easily could have—we would spend more time at the other villages, but we feel ready to move on to Florence. Our time in Cinque Terre has been very relaxing, and a friendly way to begin our trip. We know Florence and Venice will be much larger, busier, and louder. If we had known what our time here was going to be like, we might have planned to end our Italian vacation in Vernazza. Next time…?


II. FLORENCE


We said good-bye to Michele and Giuliano and with bags in tow walked down to the Blue Marlin for a last breakfast and good-bye to Katia (the others had slept in). We caught a train to La Spezia and arrived in time to walk directly across the landing to catch our train to Florence. Out the train windows we saw the marble quarries in the mountains behind Carrara and snow on the higher peaks beyond. We passed through Pisa but saw nothing of its bell tower that leans, though we were assured it was just a 45 minute walk from the train station. Other views were even less interesting. We traveled with an artist from Colorado: Julie was from Denver and had studied in Florence some years ago and was returning to visit friends. The sound of a familiar language and some shared experiences was pleasant and comforting to find in a foreign country.

Getting from the hustle and bustle of the main train station in Florence through the car and bus traffic to the Hotel Enza was a bit daunting. A kind of mini culture shock, not surprising after days without traffic in Cinque Terre. We were not used to the illogical layout and naming of streets and the lack of regular street signs. Hotel Enza is a quite pleasant two-star hotel that is very quiet in spite of its city location. Our room was simple and clean, they serve a good breakfast for five euros, offer free internet service, have a helpful and friendly English speaking staff, and it conveniently for walking to important sites or to catch a bus. As did our hotels in Venice and Vernazza, Hotel Enza offered a generous discount for cash. They also had made reservations for our visits to the Ufizzi Gallery and the Accademia, the only two museums we had scheduled.

[Note: Online agencies will make hotel reservations for you. They make their profit by taking part of the cost of the room for their services. We made hotel reservations directly with the hotels, which made them willing to offer "a discount for cash," saving them both a credit card fee and an agency fee; it saved us 10%-15% as well. It's a win–win situation, except for the reservation agencies of course.]

Florence, a city of nearly half a million people, has a long and illustrious cultural and social history influenced by the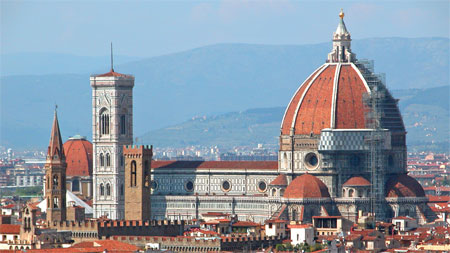 Etruscans, Romans, Ostrogoths, and Carolingians. During the effort to unify the Italian nation in the 19th century, it served as the capital of the Kingdom of Italy from 1865-1870. In addition to the artists who defined Gothic and Renaissance art, Florence was home to Dante, Savaranola, Vespucci, Machiavelli, and the de Medici dynasty. Its influence as a political, cultural, and social force in the world has few equals. To walk the streets of Florence is to walk in the footsteps of some of the greatest individuals who ever lived. There are reminders of their legacy everywhere in the public buildings, public art, and architecture of those who set the standards for the western world.

Ironically, our first encounter with Florence was among the street vendors in the blocks around San Lorenzo and the Mercato Centrale (which is closed on Monday). The number of enterprising, rarely aggressive, merchants and hucksters selling leather goods, souvenirs, watercolors and art prints, and sunglasses was overwhelming. We spent our time there getting a feel for what was possible: the prices, the quality, and the selection. In the end, we bought postcards and left the David statues for others. We continued to walk to the city center, past the Duomo and neighboring Giotto's Tower (the Campanile), across Ponte Vecchio and the Arno River to the Pitti Palace which was closed by the time we got there and Boboli Gardens were in the process of closing. We knew that another of our well-traveled friends highly recommended a restaurant on the south side of the river (Oltrarno) she thought it was called The Four Lions. The Italian name is Trattoria Quattro Lioni, a small jewel hidden in a corner of Piazza della Passera just a few blocks from Ponte Vecchio. This simple, elegant restaurant, they claim, was established in 1550! What kind of record for service is that? What historical figures have sat within the stone and stucco walls of this quiet restaurant? We walked back to the hotel to send emails, write post cards, and plan our first full day tomorrow.

After breakfast at the hotel, we walked again to Florence's Duomo, the cathedral of Santa Maria del Fiore, which along with Giotto's Tower (the Campanile or bell tower) are Florence's most recognized landmarks. We paid 6 euros each to climb the 463 stone steps polished to a shine by priests and visitors for over 700 years to the top of the Brunelleschi's Dome through narrow,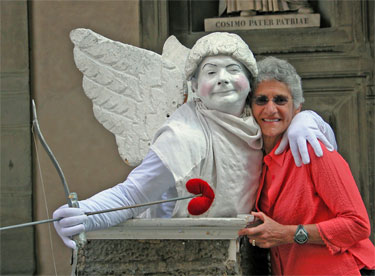 dark, twisting passages. There was a line forming by the time we got there but our wait was not long. Folks moved along with courtesy and consideration: those needing to catch their breath waited at the occasional "pull out areas" on the way up, as did those coming down who had to pass those going up in stairways that were just wide enough for one. We never felt rushed; no one pushed or shoved. What ingenuity and persistence it must have taken to design and build this incredible building, which was begun in the late 13th century and completed 200 years later. The interior fresco under the dome depicts the horrors of hell and the glory of heaven, a visual lesson for every member of the congregation each time they came to services. The view of Florence from the very top is spectacular. We spent as much time at the top as we wanted. Most of us would come this way only one time.

The Duomo was overwhelming, so much so that taking the elevator to the top of the Campanile seemed redundant and unnecessary. Instead, we walked back to the Central Market which had been closed yesterday. We shopped produce, meats, vegetables, wines, cheeses and other delights in this two-story block square building, finally choosing a half bottle of Chianti to go with our fruits, cheese with truffles, and wheat rolls for lunch. We found the sunny steps outside the Cappelle Medicee (Medici Chapels) a perfect spot for lunch. Afterwards, we walked to Gelateria Carrozze near the Uffizi for what guide gurus call the best ice cream/gelato in Italy. It was OK, but hardly equal to the lofty praise it receives in print. The gelatos in Vernazza were as good at half the price! And can you really beat Ben and Jerry's? However, the Uffizi was just around the corner and we had a 1:30 reservation. To pass the time, Judy flirted with mimes in the Uffizi Courtyard and the nearby Piazza della Signoria.

The fabulous Uffizi Gallery is located on the Arno River and comprises the second floor of one half of the Palazzo degli Uffizi built in the 16th century. The museum is home to some of the most important art of the 13th–18th centuries. Our tour began at 1:30. We gave ourselves as much time as we needed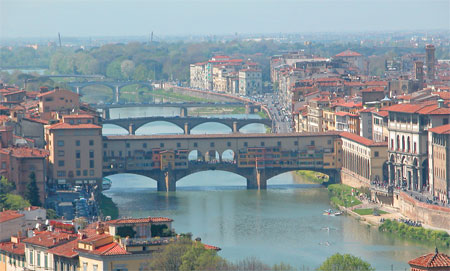 to make our way through the exhibit, which is among the richest in the world. We purchased our previously reserved tickets (9.50 euros each), entered in door #1 without a wait, passed through a security scanner like those at at airports, borrowed an audio tape that led us through the 50 rooms in a chronology of artists from Gothic to late Renaissance masters. Most are Italians: Giotto, Fra Lippi, Fra Angelico, Raphael, Tintoretto, et al. There are some non-Italians such as Rembrant, Reubens, and van Dyck. (The online virtual tour of the Uffizi is a good place for those anticipating the tour to do their homework: images, names of artists, titles, periods, types of materials, etc. are laid out room by room. There is also an online catalog of artists.) Like any lengthy museum tour the Uffizi can be exhausting: how many miles did we walk in three hours? How many renderings of Madonna and Child can there be? The audio tape helped us not only learn about some of the painting, but also helped us to understand the changes and development of styles, techniques, and materials. There were changes noted in the content: historical themes developed and occasionally we saw the faces in the paintings of those who commissioned them. The tape was a great help—don't walk through without it.

When we finally got back to Hotel Enza, we rested from
what was a fairly exhausting day. For dinner the concierge at the hotel recommended the nearby Il Giardino do Barbano, a really fine neighborhood restaurant. Their website is in Italian, but since it was the best meal we had in Florence, we wanted to acknowledge it for those who read Italian.

[Note: Judy discovered, talking with another hotel guest, that travel guru Rick Steves himself paid a surprise visit to the Hotel Enza during the early afternoon to check the quality of the rooms, the service, or whatever he had in mind. The other guest got her picture taken with him and her guide book autographed. While we didn't regret missing him, it's reassuring to know that his recommendations carry the credibility of personal inspections.]

We had to skip breakfast at the hotel the next morning since they don't serve until 8:00 and our reservation for Galleria dell'Accademia was for 8:15. We walked the four blocks to San Marco Piazza near the Museum, stopping for a quick cup of coffee, focaccia, and fruit on the way. It took a while to find the Accademia because the building looks like all the others in the area. It lacks a glitzy sign to help people find it. There are no columns, no porticos, nothing at all to announce that within those gray walls is displayed some of the world's greatest art, especially Michelangelo's David, arguably the finest sculpture in the world.

Again, because we had reservations, we got right in to pay our fees (also 9.50 euros per person) and buy a a copy of Accademia Gallery, a guide by the director of the museum, Franca Falletti. No audio program this time. We strolled leisurely through the collection at our pace (not the audio program's pace). Part museum, part art school, the Gallery was created in the late 18th century and joined with the art school, Accademia delle Belle Arti, which is in an adjoining building. Michelangelo's David, completed in 1504, had been previously displayed in a public square near the Uffizi (Piazza della Signoria) until 1873 when it was moved into the Accademia Gallery. Today David has a large room devoted entirely to himself. The gallery also has works by Botticelli, Fra Lippi, Giotto, numerous early and late gothic religious pieces salvaged from early churches in the Tuscany area, plus scores of 19th century plaster casts by Bartolini, a collection of 19th century Russian religious icons, and historic musical instruments: violins and violas by Stradavari, harpsichords and pianos (including an upright piano with its strings and sound box vertical to the keyboard), guitars and hurdy-gurdies, and wind instruments. In all, the museum is quite varied, offers surprises in its dozen or so rooms. However, it is David that draws the most attention from everyone visiting because of its size (it was often called "The Giant"), its lifelike proportions and detail, and its fame. David is why we came to the Accademia.

We hopped a public bus and headed away from town to the small suburb of Fiesole, a oasis of quiet a half hour away from the hustle bustle of the city. It sits on a hill overlooking Florence and is just high enough to have attracted wealthy pre-A/C Florentines seeking a refuge from the heat of summer. We checked in with a very friendly visitors center, found a grocery with our favorite lunch menu—fruit,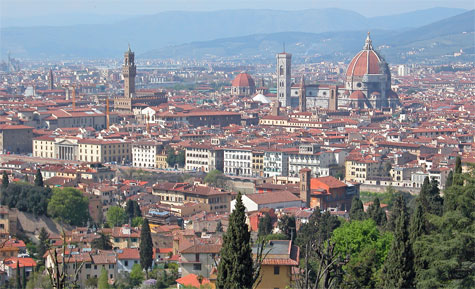 bread, cheese, and cold beer—and walked uphill to a shady park with splendid views of Florence spread out below. We ate our lunch quietly and listened to some very happy birds.

When we got back to Florence, we transferred to a bus that took us across the Arno to Piazzale Michelangelo overlooking the city. There is yet another David statue in the center of the parking area surrounded by souvenir carts selling cheap David figurines, David T-shirts, David ball caps, etc. Above the parking area is the small church of San Miniato (Basilica di San Miniato al Monte) with its green and white marble facade. It was cool and dark inside, a pleasure in the late afternoon, but not too dark to fully appreciate the Renaissance chapel, the glazed ceiling tiles, and the frescoes of the life of St. Benedict in a side room behind the altar. We had thought there was a daily vespers service somewhere between four and five o'clock, but that must have been somewhere else. We walked back down to the Piazzale Michelangelo for some great late afternoon photographs of the city, the Arno River, and, in the distance, Fiesole. After taking lots of photos we took a bus to San Marco Piazza where we began the day.

In the morning, we packed, checked out and schlepped our bags to the train station for the three-hour trip to Venice. Though there is plenty to see in Florence—and we certainly didn't see it all, nor did we try to. However, two full days was enough for us. We satisfied our cultural needs, saw some incredible architecture, and briefly walked in footsteps of the giants of western art.

[Note: We had been warned by some travel guides and TV shows about (1) pickpockets and personal safety issues, especially in Florence, and (2) appropriate attire. We should not have been concerned. We never worried for our personal safety and we walked in crowds and in quiet streets at night. Even train stations and lines for an event or attraction where people naturally are in close contact, we were no more concerned than we would be if we were at home in Nederland or down the hill in Boulder (which is probably far riskier than Florence). As for clothing, jeans and running shoes are universal if you're on vacation or a student. Except that Italians often look as though they are going to, or returning from, a funeral with the black pants, shirts, and/or skirts, we felt right at home.]


III. VENICE

A small group of tiny muddy islands in a broad lagoon in the northern corner of the Adriatic Sea became a refuge for the first Venetians, farmers fleeing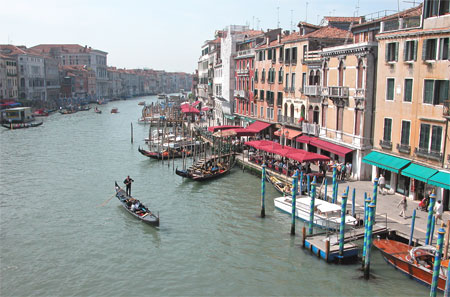 the ravages of the Huns (or Lombards?). From these humblest of beginnings, Venice rose, like a phoenix, from the mud and muck of a collection tiny islands to become, by the 9th century, a world military and economic power whose religious, cultural, and political influence spread throughout Europe and the Middle East. Ursus, the first Doge to lead the Republic of Venice, was elected in the early 700s C.E., and there has been a Doge (Duke of Venice) for the next thousand years. Venice gained much wealth during the Crusades, through strategic political and economic alliances, and by developing a worldwide fleet of military and merchant ships. Their power lasted until the final years of the 18th century when the republic fell to Napoleon's armies and became a territory of Austria in 1797. In 1866 Venice became part of the Kingdom of Italy and in 1987 it was added to the list of World Heritage Sites.

The famous canals that distinguish Venice are a matter of convenience and geographic necessity. The city is made up of some 150 canals formed in a shallow lagoon of over 100 islands connected by 400 bridges. A causeway was built in the 19th century linking the city to the mainland. Today that causeway serves as a highway for cars and buses (which are parked on the edge of town), and supports a railroad that ends on banks of the Grand Canal. Once in the Venice, visitors and residents alike travel entirely on foot or by boat: gondolas (very expensive, very slow, very romantic), water taxis (very fast, expensive, an adrenaline rush), and water buses or vaporetti (cheap, fast enough, and scenic). The result is life lived at a slow, leisurely pace for a city of about 70,000. We think it's the best place in the world to get lost in. And we did every day we were there.

[Note: What holds these buildings up? Where do they get their water? Where does the sewage go? Are there streets? Is it safe to drink from the many public drinking fountains in Venice? Does it smell? Are there mosquitoes? These are questions either we wanted to know or that friends have asked us since we got back. Here's what we can say for sure: (1) Venice doesn't smell and we didn't have any bugs bother us. We drank from public fountains (so did lots of other folks and dogs and pigeons). (2) Water comes from underground wells as it does for most cities. (3) We don't know about sewage, but the Venetians seem to know what to do with it. (4) The buildings are built on wood pilings sunk into the clay and sand centuries ago. These pilings are placed very close to each other. Buildings are built of brick and stone supported by the pilings. Streets are stones supported on the same pilings. The city does not float; it's on stilts.]

We took the #51 vaporetti from the train station to the San Zaccaria stop (near the Doge's Palace), walked along the water front (Riva degli Schiavoni) over three bridges to Calle de Dose. Our hotel, Ca del Dose, was 20 yards up the narrow street, is in a perfect location: very close to a vaporetto stop and a short walk to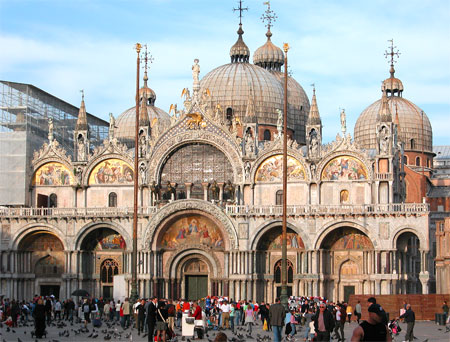 St. Mark's Square. It is an excellent B&B for hospitality, location, and value. We felt as though we had really lucked out. We ate a late lunch at the restaurant next door and spent the afternoon doing what we planned: wandered through the streets of Venice.

Although Ca del Dose is listed as a B&B, they don't serve breakfast. Hughes does. Judy had breakfast in bed this morning (and the next two morning besides). The breakfast is in the room waiting for you to put it together when you want. We had a hot water pot, a supply of packaged croissants, dry toast and crackers, jam, butter, and honey, plus a variety of coffees, teas, and hot chocolate. We added fruit from the day before to have with our coffee and rolls. We enjoyed getting up when we felt like it and lingering over a second or third cup of coffee while we planned our day.

Today we walked to St. Mark's Square. We paid a few euros to take the elevator to the top of the Campanile (bell tower) for a good view of the St. Mark's Square, the Basilica, and the city beyond. We joined the line for free entry into the Basilica which is enormous, complex, and decorated primarily with mosaics rather than paintings. Construction began in 829 C.E. to house the remains of St. Mark whose body was taken by subterfuge (i.e., stolen) from Egypt and brought to Venice as a sign the city's power and importance. One of the mosaics on the front of the Basilica depicts the deception. An excellent "virtual tour" of the interior as well as exterior facades is available online.

Of all the things to see inside the church—and there is incredible opulence in the gold tiles, the marble floors, mosaics, wood carvings, and the overwhelming vastness of the whole interior—the most impressive object was the Pala d'Oro (Golden Altarpiece) part of which was certainly looted from Constantinople in the 13th century. A second part was also of non-Venice origins: the lower portion was created by "Byzantine" craftsmen in the 12th century. Put together they form an altarpiece probably seven feet square that is one of the most opulent pieces of church art in the world: nearly 2,000 precious gems set into a gold and ceramic face that depicts saints and martyrs from the early years of the church.

We toured some smaller areas with artifacts of gold, glass, carved rock crystal: chalices, lamps, jewelry, etc.. The four larger-than-life Horses of Saint Mark were cast in bronze in 200 B.C.E. Like the altarpiece, they were part of loot taken from Constantinople in the 4th Crusade. Replicas can be seen outside the church. By the time we'd finished seeing all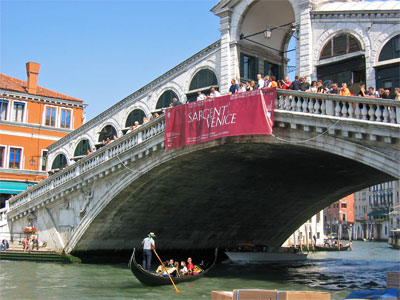 there was to see in the Basilica, we decided that tour the Doge's Palace would be like a second helping of rich ice cream: tasty, but more than necessary.

We preferred to wander through town on our own. Until about 4:00, we
• Crossed the Rialto Bridge (yawn). Completed in 1591, it is a 24-foot span of stone that rests upon some 12,000 wood pilings. Until the 19th century it was the only bridge to cross the Grand Canal, connecting the areas of San Marco and Rialto. Stores line the arcade offering the same glass, masks, and tawdry souvenirs found all over the city. It was lined with wall-to-wall humanity and not particularly inviting. We quickly walked across hoping the markets on the other side would entice us to buy fresh fruits and baked goods.

• By sheer accident we stumbled onto the Vivaldi Museum (too good to be ignored by the leading guide books). This free museum is dedicated to the works and times of this famous composer and teacher (1678–1741). The museum plays his music throughout the day while visitors look at old musical instruments and original materials and paintings from his life. He was so prolific that there is no agreement about exactly how many works he composed; certainly 400-500 concerti, 50-90 operas,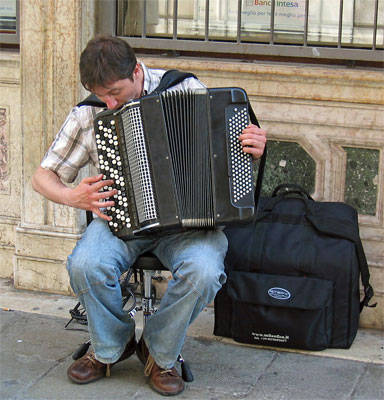 plus sonatas, oratorios, trios, and at least one Mass: his Gloria in D Major remains a favorite among chorales everywhere. It is known that in spite of success and public acclaim, he died near destitute and is buried, like Mozart, in a pauper's grave.

• By chance found Santa Maria Assunta, sometimes referred to locally as I Gesuiti, The Jesuit Church, which dates from the 13th century and used by the Jesuits until the Society of Jesus was disbanded around 1773. At that point in history, the church was, ironically, turned into a military barracks. When the Jesuits were reinstated about 1814, the church was returned to them. In addition to having an interesting history, the church is notable because of the paintings in the church by Titian and Tintoretto. There is no charge to enter. You won't find it described in more travel guides.

• Ate the best pizza on the trip. Delicious and inexpensive.

• Encountered the first—and only—snotty waiter in Italy. He actually sniffed when we asked for two cold beers at a mid-afternoon break at a modest restaurant in a lovely small square. When we said we didn't care for anything to eat, he said, "Of course not." We lingered over our drinks, watching a mime and a harmonica player compete for the attention of the few visitors who walked by.

• Listened to an incredible button accordion player on a side street off St. Mark's Square. His finger work was dazzling and his selections challenging: Bach's Toccata And Fugue In D Minor, Flight of the Bumblebee, Chopin's Minute Waltz, and several others as demanding as those. He never once played Lady of Spain or O Sole Mio. We gladly put some money in his hat.

This was also the day Hughes's camera strap slipped off his shoulder as he was sitting down and the camera landed hard on the stone pavement. It continued to function except that the images were blurred and had wavy vertical lines running through them. He tried twice to see if he could make it work, but in the end he had to put it away for the rest of the trip. It's at the camera fix-it-up shop at the moment. When Judy's camera's back-up battery later died an early death, we bought two disposable cameras to complete the trip photos. Many of the them turned out quite good.

Dinner was at Osteria al Garanghelo, a modest neighborhood restaurant near the hotel and nothing to rave about.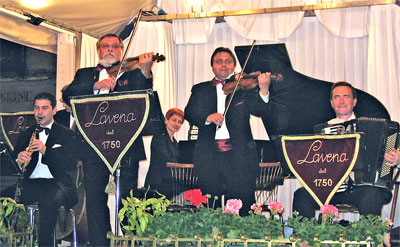 However, tonight was the night for magic. We sat in St. Mark's Square with our very, very expensive coffee and wine drinks and listened to the best of the three orchestras performing while we were in Venice. We scouted the groups playing in the Square the day before and decided on the ones from Caffe Lavena. The "magic," we were told, was to listen to the music, have a drink and dance with your spouse, and watch the stars come out over St. Mark's Square. It turned out the music and the musicians were most entertaining, the coffee got cold, and the stars were really tough to see even at 10:30 at night, probably due to the reflection of city lights. However, it was a lovely evening, and we'll remember the most expensive after dinner drinks we'll never have again.

Our second full day in Venice had its own particular surprises. We had decided we should take a vaporetto to Murano, the island in the lagoon where the Venice glass industry is centered. We learned that glassmakers were moved out of "mainland" Venice because of the risk of fire, so they were moved (banished? exiled?) to the island of Murano where you have to go to see glass being made. We saw only one demonstration while we were there and the shops selling glass looked a lot like those in mainland Venice. We did buy a few pieces as gifts at one
shop in the central business district. While Judy was talking with the owner and making her selections, Hughes talked with an 84-year-old fellow who said, with the help of a translator, that he had been to America: he'd spent three years, he said, during WW II as a "guest" of our government. Even so, he said he'd like to go back.

We took the next vaporetto to the neighboring island of Burano, noted for its quiet and solitude, handmade lace, and brightly colored pastel homes. (There's this story going around about why the homes are so brightly painted. Since the houses are built very much alike, folks decided that they should paint their homes bright, distinctive colors so that returning fishermen could find their homes more easily and quickly, especially if they had had a few drinks on the way home. If that's not true, it makes a good story.) We found the island as advertised: it is uncrowded and there is a sense of peacefulness. We watched several older women making lace, a source of income that pays as poorly as weaving Navajo rugs. The colors of the buildings were vibrant and welcoming. We enjoyed a light lunch and then walked quietly through the small village and along the waterfront until the next vaporetto picked us up and returned to the mainland.

Instead of going all the way around to the vaporetto stop near our hotel, we got off at the first stop about a mile directly north of our hotel and walked home. It took us much longer than if we had had a map. However, out of the chaos came a stroke of good fortune: As we were fumbling our way down unknown streets, alleys, and bridges, we came to the imposing Church of Saints John and Paul (Chiesa di SS. Giovanni e Paolo), the second largest church in the city and the burial site for 25 Doges. It is considered the most important church in Venice after St. Mark's. Among its artistic treasures is the Belinni Pieta behind the altar. The admission fee was a not very steep, but we did not have enough time or energy to give justice to a tour. However, as we were leaving a young woman handed us a flyer announcing a free concert that evening at the church by a high school string ensemble and madrigal singers from Wilmington, Massachusetts. What a wonderful opportunity we thought: we get to hear good music (the program included Handel, Vivaldi, and Teleman) plus see the church when we were more rested. Also, we thought what an incredible opportunity for the kids who, we learned, were going to perform in Florence and in Rome before returning home.

It took us two hours to walk the mile back to the hotel where we napped, showered, and got ready for the evening. We had a marvelous dinner, finally, in Venice at Trattoria Ai Corazzieri, a nearby restaurant that advertised fresh fish as their specialty and we were not disappointed.
Delizioso! Afterwards, we easily found our way back to the church for the concert (thanks to a good map). We arrived early enough to walk through the church and admire the paintings and the sculptures. As for the concert, the five young madrigal singers were helped by the incredible acoustics of the church. The large group of strings, the director implied, were those kids who wanted to come and could afford it, rather than the best the school had to offer. The church was magnificent (Why do the leading travel guides ignore this treasure?) and what the performance lacked in high art was rescued by the music teacher's courage and enthusiasm.

[Note: The travel gurus urge their readers/listeners not to buy a map of Venice so you can get lost. We strongly disagree. There's nothing worse than being without a clue where you are, where the nearest bathroom is, or where the nearest anything is, especially if you have never been there before, are tired, don't speak the language, and may be a bit cranky. We say, buy a good map! Keep it with you at all times! You can still wander, even get lost. But with a good map, you're lost only as long as you want to be lost. We bought copies of Streetwise Florence and Venice folding maps that fit in your back pocket and are plastic coated so we could plot walking itineraries and locate places we knew we wanted to visit. It was our best $7.95 investment.]

In the morning we said good-bye to Anna, the owner of Ca del Dose, knowing we would recommend her small hotel to anyone going to Venice. We took the #1 vaporetto, the slow boat that makes every stop on the Grand Canal which is a wonderful way to gather more memories of Venice. In fact, we decided that we liked Venice so much and there was still a lot we did not see, that we could easily have enjoyed two or three more days if we had planned them. But we needed to get to Milan.


IV. MILAN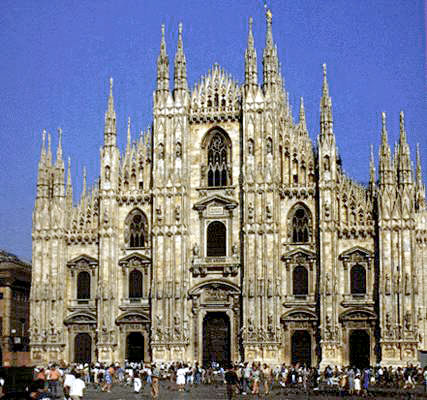 We had not planned to really visit Milan, just spend the night before a morning flight back home. We would see what we could given any time we had. As is turned out, we got in to Milan about 2:00, checked in at the nearby Hotel Garda, a comfortable and very reasonably priced three-star hotel convenient to the train station and to Milan's excellent public transit system. After we settled in we walked to the subway stop that would take us to the city center. Rick Steves' guidebook suggests the following three hour tour: the Duomo, the Galleria, da Vinci's The Last Supper, Michelangelo's Pieta, and "see a museum or two." We suppose it can be done. However, to do it all in three hours requires reservations, a working knowledge of the metro system, and no desire for anything more than a superficial glimpse of these treasures. It could be done if a person just wanted to check six more things off his or her "life list." And skip lunch, which we really needed.

If we had followed Steves' plan, we'd have not enjoyed an antique car show set up behind the Duomo; we would
have skipped a great lunch in the Galleria near the McDonald's: and we would have missed one of the great street performers/dog acts we have ever seen. The golden retriever not only jumped to catch balls, shook the rug in front of their performance area, and carried the donation basket through the crowd, but he picked up litter and put it in trash cans. We would have taken him home, but he only spoke Italian.

We did tour the Duomo, the second largest church in Italy (St. Peter's is largest). The outside of the church, which was undergoing some serious renovation (unlike this stock photo borrowed from a public website), is elaborately decorated with Baroque spires atop the Gothic and Renaissance marble building below. There is no charge to enter and wander through the massive interior of this beautiful church. As in so many religious buildings and sacred places, no photographs are permitted; besides, the light and distances inside the Duomo make any efforts surely disappointing, except by professionals with lots of technical equipment. Thankfully there is an online virtual tour of the interior, an excellent way to grasp the grandeur of the art and architecture of the Duomo.

The Galleria Victor Emanuele II is a beautiful glass covered shopping mall/arcade across from the Duomo Square. It claims to be the world's first shopping mall (built in 1878), though every store and amenity are very modern and up to date. Since the arcade covers the intersection of two city streets, it is open on all four ends. Only bicycles and other non-motorized vehicles are allowed, though we saw no skateboards or kids on roller skates. On this warm and sunny Sunday afternoon, it was almost as crowded as the square itself. Sitting at a restaurant provided some major people (and dog) watching to go with our heavy duty lunch.

It was close to six o'clock by the time we returned to the hotel. We were full of good Italian food and beer, and full of churches, religious art, Latin inscriptions, crowds and traffic, and window shopping. We needed to shut down after today's vaporetto ride, train ride across northern Italy, subway trip, and walking a mile or two. We needed a rest and to prepare for our wake-up call for a 7:30 am bus ride to the airport.


V. LEFTOVER THOUGHTS, IMPRESSIONS, AND PHOTOS

We wrote these asides in our journal from time to time:

• Conductors do not often check tickets. However, the fine is stiff if they do and you don't have one. That's true for all trains and vaporettos.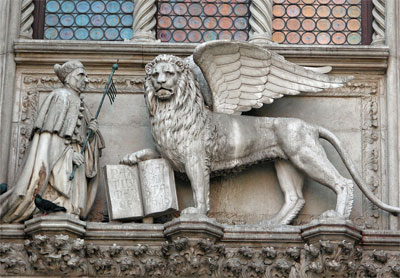 • In Greek mythology, the griffin is half lion, half eagle. In Venice, figures of griffins are on flags, sculpted into walls, and printed on T-shirts. The griffin is the symbol of Venice. It has been for over 1000 years. Except it's not a griffin, but a "Winged Lion of St. Mark." The lion is one of the winged beasts mentioned in the Book of Revelation and has long been connected to St. Mark—or so the story goes. Further, an open book (gospel), as in this bas relief on the exterior of St. Mark's Basilica, denotes peace; a closed book means war.

• Grafitti is everywhere—on sidewalks, walls, homes, churches, public buildings, trains, just everywhere. People even carve their initials in cactus and yucca plants along the Cinque Terre hiking paths. What a shame. It's a wonder Michelangelo's David, survived outside for 500 years.

• Italians of all ages generally have good teeth and smile a lot.

• Birra Moretti is the Budweiser of Italy, except it tastes really good!

• How could we travel without our Swiss Army Knife? We needed to cut bread and
open wine bottles almost every day.

• When we hike, we know that down-going rocks are lighter than up-going ones, so we don't carry up-going rocks. The same principle holds true for gift purchases. We know that. So why did we carry a giant chocolate Easter egg on four trains, two vaporettos, two buses, and to and from three hotels for eleven days?

• We bought train tickets to Venice without thinking we might have assigned seats on a specific car. By sheer chance, without looking at our tickets, we got on the right car and were in the right seats when our seat mates boarded and checked their tickets for where to sit. We just wanted to remember that little event—and remember always to read our tickets.

• Interior rooms on upper floors may not be as romantic as those that open just above the street, but they're a lot quieter.

• Murano glass and carnivale masks are for sale on every street corner shop in Venice. They are certainly beautiful, but here are so many for sale in so many places, we wonder how all the shops stay in business.

• Hughes wishes he remembered more of his high school Latin. Or had his grandson along to do the translations.

• Why does Nescafe instant coffee taste so much better outside the United States?


VI. AFTER ALL

We had a marvelous trip! We came back loving Italy! Cinque Terre is a place to vacation, to relax, and to get away from wherever you are and experience a simpler, friendly, and beautiful place. Florence is a busy city and people there are busy. It seems a kind of no nonsense place, aware of its historical importance and banking on its cultural heritage. Venice seems lighthearted and full of wonder. We loved our unexpected "finds" that we didn't read about in the guru guidebooks.