WESTERN STATES ROAD TRIP

September 10–October 13, 2007



I. THE BIG PICTURE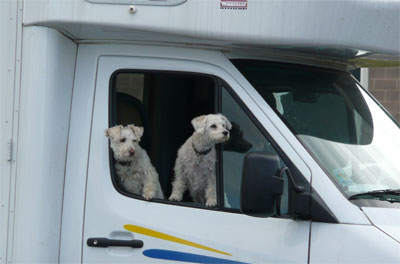 Our destination was the southern California town of Ojai to attend Hughes's 50th Nordhoff High School Reunion. To get there, we drove north through Wyoming and west to Montana and Idaho, and across to Washington where we visited Hughes's sister's family in Spokane. From there we drove west and south along the coasts of Oregon and California. Ojai is inland from Santa Barbara. After the Reunion, we drove east across the Mojave Desert, through Arizona and New Mexico, then north to Colorado and home. The trip lasted 34 days: we traveled 4,527 miles, stayed in 17 campgrounds, at the homes of five friends or family members, and we parked our RV at the Woolsey House in Ojai for 4 nights. Sophie and Bella looked forward to each new day.


II. GOING TO CALIFORNIA


WYOMING

We left Nederland the day after Judy won her age group in the Neder-Nederland 5K for the 12th time. We descended Boulder Canyon through a thick cloud with less than half a mile of visibility. Once we got to Boulder, the sky cleared and we would see nothing but blue skies for the next two weeks.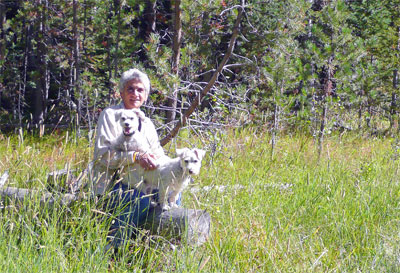 We reached southern Wyoming's Snowy Range by early afternoon and camped at South Brush Creek in time to take the dogs on a 4-mile hike through a pine and aspen forest interspersed with grassy meadows. There was no one else in the area: no other campers, no moose, no elk, no deer. We had the forest all to ourselves for the afternoon and evening. We enjoyed glasses of wine around the campfire as the evening temperatures began to drop with the setting sun. Before bed, we started a new gin rummy game that would continue in the weeks ahead.

Just a few miles away is the small town of

Saratoga

, named after the town in New York famous for its "waters." Wyoming's Saratoga has their "Hobo Hot Springs," a 24/7 free pool that was originally for cowboys coming into town who needed relaxation and a place to make themselves presentable for a night on the town. It continued to be open during the Depression for anyone who needed to clean up. The facility is operated by the town; the showers are clean, the water is hot, and it's one of the better hot springs we've been to. The rest of the town was a bit disappointing, though folks wanting to hunt, fish, canoe on the North Platte, and/or run their ATVs are well served, as are the diners at the historic Wolf Hotel. Shively's Hardware store is a throwback to what a real hardware store should be. (If you don't know what we mean, we couldn't explain it.)


We made Cody the next afternoon, but not without stopping at the famous Yellowstone Drug Store in

Shoshoni

for a milkshake (they sold over 20,000 shakes in the first six months of 2007; over 600 in one day!); a half hour north through the Wind River Canyon we had a soak in the world's largest hot springs at Thermopolis. We reached Cody in the afternoon and chose to stay in town at the Ponderosa RV Park located conveniently across from the Sierra Trading Post Outlet Store, a couple of blocks from the Buffalo Bill Historical Center, and less than a mile from downtown.

In contrast to Saratoga,

Cody

is

a lively retail center built around the life and myth of William "Buffalo Bill" Cody. The Historical Center is, in fact, five museums under one roof, a world-class facility that, in spite of all the Wild West hoopla, should not be missed. We spent most of our time in the western art wing which houses a rich and diverse collection of the best known works by Moran, Bierstadt, Remington, Catlin, Russell, Dixon, and N.C. Wyeth—truly great pieces that one sees only in art history books. Even the section on the life and antics of Buffalo Bill were interesting and worth viewing. We took in an entertaining musical review of cowboy music and watched the dreadfully silly "shoot out" in front of the historic Irma Hotel. The time watching this so-called "slice of the old west" on the street could have been better spent getting a table at the hotel's restaurant.

[

Note: Just outside of Cody was the

Heart Mountain Relocation Camp

, one of ten WW II prisons housing Japanese Americans. From 1942–45 Heart Mountain was the third largest city in Wyoming with over 11,000 temporary residents.

]


MONTANA


President Theodore Roosevelt described the road along the Shoshone River between Cody and Yellowstone National Park as the "most scenic 50 miles of highway in the US." (He'd probably not seen Colorado's Million Dollar Highway, or Glenwood Canyon, or the Oregon/California coast. In fact, he should have pointed out that it was only the last 15 miles east of Yellowstone that came close to being scenic. However, a good friend in Ohio fishes the area religiously every summer, so there is some claim to fame. The full 50 miles would make a terrific bike route: wide, smooth shoulders, and generally level.) As we approached the national park entrance, traffic slowed to a halt, reminiscent of the days when bears would successfully beg for food from tourists. The delay, however, was for construction and we saw no bears at all. We did see lots of bison and stopped with the rest of the cars to take photos. We would have stopped for moose or elk or wolves, but we didn't see any.

We drove through the park to West Yellowstone and up the Madison River valley to

Ennis

and west to

Virginia City

, a gussied up ghost town that retains all the flavor of the fabulous gold rush town that brought unsuccessful miners from California and Colorado in the 1860s in search of quick riches. (From here there were only two fabulous gold rush destinations: Alaska and Australia.)

The area around Alder Gulch is a classic story of boom and bust: There were about 5,000 residents in Virginia City when it incorporated in 1864, and 10,000 a year later; it was the territorial capital from 1865–1875; but by 1869 there were only 100 folks living in town. Today tourists bring "gold"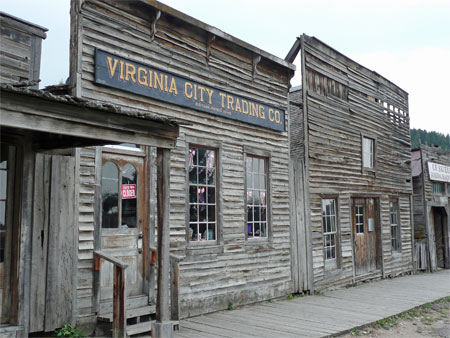 to the 150 or so who continue to live in this half-ghost town (or "town frozen in time" as the brochures say). We found a lovely blend of restored and original wood and brick buildings, friendly people, nice shops, a beautiful back bar and mirror at the Pioneer Bar, and a visitor's center that once housed a narrow gauge railroad that originally hauled gold ore but today carries tourists a couple of miles to

Nevada City

and back. Several of the old businesses along Wallace Street look like the owners just packed up and left one day, leaving their goods and window displays as they were.

We drove up the valley of the Ruby River, stopped in

Two Rivers

for fresh and delicious produce and baked goods at a small farmer's market, and pushed on to

Anaconda

for a visit with former Mystery Book Club member Wilma Burke who retired to this former mining center where she grew up. Though Anaconda played an important role in Montana mining history—almost becoming the capital, losing in a controversial (some say dishonest) run-off election to Helena—the town of 10,000 appears like it can't decide to revitalize or drift into apathetic oblivion.

Anaconda is justly proud of their Washoe Theater, a lovingly restored and still operating theater since in opened in 1936. Built in the Art Deco style, it has been ranked by the Smithsonian Institute as the fifth most beautiful theater in the nation. The theater is on the National Register of historic places. It is remarkable and worth the price of admission (though Wilma arranged a private guided tour). We also drove the Pintlar Scenic Route to nearby

Phillipsburg

, a former Victorian era mining town with an attractive fresh coat of paint. It is home of Doe Brothers Soda Fountain that serves fine homemade pasties and great milkshakes. Local sapphires can be purchased either in gravel bags or polished at the Sapphire Gallery.

Just a mile outside Phillipsburg is the ghost town of

Kirkville

. We climbed through the site which features the Bi-Metallic Mining Company Mill, a gigantic, eight level, 150' x 400' foot monster with 100 stamps that were capable of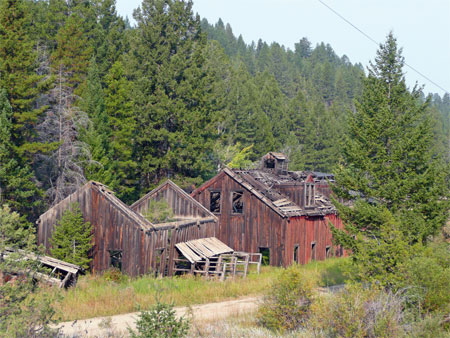 crushing 200 tons of ore per day. The twin chimneys stand tall above the trees and giant brick furnaces on a massive granite foundation. The flue still carries water and several of the camp's buildings still stand.

North and west of Phillipsburg we drove through

Missoula

and on up the very scenic Highway 200 along the Flathead River to

Paradise

and a soak at Quinn's Hot Springs, a relaxing way to end the day. We camped at Cascade N.F. Campground along the banks of the Clark Fork River, where Hughes gave the fish a good laugh before dinner. We took the dogs on a hike the following morning along an old wagon road, thick with larches, that was used for hauling lead from a mine on the other side of the mountain to barges on the river.


IDAHO

The valley of the Clark Fork became even more scenic as we drove toward the Idaho border through

Thompson Falls

and

Trout

Creek

. Finally we crossed over onto the shore of Lake Pend Oreille (pon-duh-ray) past the small towns of

Hope

,

Kootenai

(coo-ten-ee), and

Ponderay

(named for the lake but spelled phonetically for the tourists, we think) and into

Sandpoint

. The women at the Visitors Center were enthusiastic about a great RV park and the Coldwater Creek outlet store in town. The visitor's center folks were chipper and smiling, but they were wrong on both counts. The RV park at Travel America was scummy (though it was right across from a bike path connecting to town five miles away) and the Coldwater Creek outlet store closed some time ago! Oh, well…

Judy had a childhood girlfriend who moved to

Bonners Ferry

in the 1950s and was never heard from again. The location always intrigued her and so we went to see what it was like. We left Sandoint early in the morning for a dot on the map just 25 miles from the Canadian Border. The small town of about 2,500, which sits on the banks of the Kootenai River, came to life when Edwin Bonner offered ferry service to gold hunters headed to Canada along the Wildhorse Trail in the 1860s. After the gold rush, folks began cutting trees and lumber became king. Today it caters to outdoor recreation lovers and folks who want to get away from everything.

Close by is the Kootenai National Wildlife Refuge, a 2700-acre sanctuary for geese, ducks, mergansers, coots, grouse as well as such big game as deer, elk, moose, black bear and mountain lions. We spent several hours bicycling and hiking around the 4.5-mile perimeter without seeing much except waterfowl and a lone coyote.

[Note: We were surprised by the odd meaning of the term "refuge" takes here: Hunting, you see, is permitted. There are 21 blinds and hunters can take their retriever dogs can fetch fallen birds. Visitors, however, and their dogs must keep to the perimeter road. Hunting is restricted to four days a week, 25 shells per day. Big mammals—moose, bear, mountain lions, deer, etc.—are fair game also. The refuge seems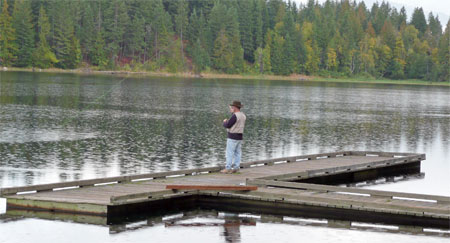 anything but a place of sanctuary or safety, the usual meaning of the word

refuge

. My nephew, Doug, who lives in Idaho, explained this apparent contradiction to me a few days later: "That's Idaho." Are there other "refuges" that permit/encourage hunting, or are we naive?

]

We enjoyed window shopping in town:

Bonners Books

is a real gem of a bookstore with good used and rare books alongside regional books and best sellers;

Larson's Department Store

had a good sale on outdoor wear; there are several good health food stores and interesting cafes. We spent the night at Smith Lake just a few miles north of town (Smith Lake fish are also the chuckling variety). In the morning, Judy's morning run was back towards town four miles to a roadside fresh produce stand where we met and filled our refrigerator with good fruits and veggies and home baked bread. We drove east a few miles to

Moyie Falls

to buy some homemade garlic knockers at the Moyie Store (gas station, small engine repair, and grocery all in one) we'd read about. We met and talked with George Elliot (age 71) and his wife Shirley who came out of retirement to take over the business and offer their secret recipe knockers to the public.

Farragut State Park is located at the southern end of Lake Pend Oreille past Sandoint near

Bayview

, a picture postcard village of sailboats and small houses on a small cove. During WW II the Farragut Naval Training Center was second in size only to Chicago's Great Lakes Naval Training Center and home to as many as 33,000 sailors. The lake's depth of over 1,000' made it appropriate for submarine training as well as surface crafts. Today, few of the structures remain; the brig is now the museum that displays the history of what took place there before the way and after. In addition to camping, there are miles of trails
for hiking and biking, plus fishing, swimming, lots of wildlife, and even an "airport" for model airplane buffs. The 3000-acre facility is one of the best state parks we found on the trip.


WASHINGTON

We had a great visit with Hughes's sister Pam and her husband Nils, who live in an eastern suburb of

Spokane

. They showed us the best that the city has to offer: the surprising castle-like county courthouse (photo on left); the lively Riverfront Park complete with a fabulous historic carousel; Auntie's Bookstore; and a drive through some elegant older neighborhoods and botanic gardens that were still in bloom in late September. On another day, they showed us

Coeur d'Alene

beginning with a farmer's market where we met up with her daughter, a granddaughter, and a great-grandson. After breakfast, we drove along the Centennial Bike Path that connects Coeur d'Alene with Spokane. We walked along the north shoreline of Coeur d'Alene Lake and window-shopped a few of the downtown blocks. Each night we played Shanghai Rummy (west coast rules, of course).

One of the great benefits of their move from the Ridgecrest in the Mojave Desert to western Washington, in addition to avoiding the heat, is that Pam and Nils are near Pam's two children and their families: two children (and spouses), four of her six grandchildren (and their spouses), and her four great-grandchildren all of who live just a half
hour in Idaho. On the Sunday we were there, the clan gathered at Pam and Nil's (all but two who had to work). Such an occasion is both a periodic event as well as a once-in-a-while command performance for the family to meet their aunt and uncle (or great-, or great-great-aunt and uncle). We'd not seen some of them in 15 years. The changes were remarkable, though no one said that we looked older! There was food for an army (including garlic knockers) and lots of pictures taken. They are a good-looking bunch and fun to be with. All in all, it was a terrific visit.

We left Spokane with the ambitious intent of reaching the Columbia River near Longview by evening. The first few hours on I-90 took us through a drab landscape. The Columbia River Gorge at George was dramatic and we saw our first green farmlands near

Ellensburg

, but the landscape returned to tan grass and volcanic rock all the way to

Yakima

where we took Highway 12 towards Mount Rainier National Park. Finally, we entered the land of scenic mountains and tall trees. We had begun to wonder where the state's nickname "The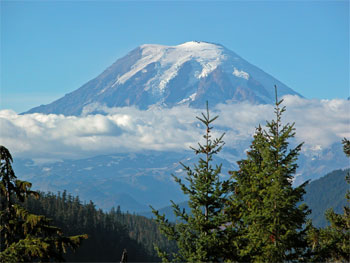 Evergreen State" came from. As we came off White Pass there was Mt. Rainier rising majestically from the surrounding hills. What a beautiful and impressive sight, reminding us both of Jhomolhari in Bhutan.

Camping in the national park would have been nice, but we had some hours left in the day and we pushed on to Taidnapam, a beautiful campground near

Glenoma

on a Cowlitz River reservoir owned and operated by the Tacoma Public Utilities. Rainier's campgrounds could not have been nicer; at Taidnapam we found thick woods of pine, fir, cedar, spruce, alder, maples, ferns and rhododendrons that create a park that is both dark and peaceful. It was as beautiful as any campground we have visited. As Judy often said on the trip, "To heck with the schedule. Let's stay another night or two here."


OREGON

We didn't. Instead we got up early and found our way to I-5 to

Longview

and crossed the Columbia and headed west to

Astoria

home of John Jacob Astor's Pacific Fur Company. It is either "oldest American settlement west of the Rockies" (Oregon Tourist Guide) or "the first permanent US settlement on the Pacific Coast" (Wikipedia). Don't count the Spanish or any Native People as "American." Oh, well, we know what they mean. The town of just under 10,000 combines new and touristy places with the historic buildings—bars, hotels, fishing supply stores, marinas—from the area's fishing past.

We didn't linger but turned south on US 101, which would be our route for the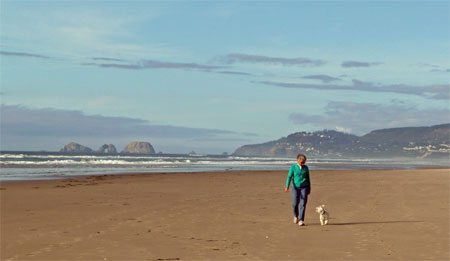 next few days. We did stop at

Seaside

, an attractive year-round tourist destination: restaurants, souvenir shops, fudge makers, bumper cars—you get the idea. There is a prominent statue of Lewis and Clark down by the end of the town walkway that identifies Seaside as the terminus of their journey. We skipped by

Cannon Beach

(a bit too ritzy and residential), though we did take shots of famous Haystack Rock, which, though often shown in travel booklets, is like a lot of other large monoliths that line the Oregon coast. We also skipped

Manzanita

and

Nehalem

, which we'd come back to on another trip.

We spent our first night in Oregon at Cape Lookout State Park south of

Tillamook

. We had no reservation but were able to get the last site with hook-ups at 4:00. We parked 30 yards from a wide, white sand beach where we turned Sophie and Bella loose to run and enjoy the exotic beach smells—at last freedom from the confinement of riding most of the day in the RV. They had a ball! After dinner we walked back to catch a typical gorgeous sunset. We hated to leave in the morning.

Judy took a morning run on a beautiful beach before we returned to Tillamook to visit the Tillamook Cheese Factory. We were astonished that the price of cheeses made right there were more than what they would cost at our local grocery. So we left promptly and spent an enjoyable hour (and a few bucks) down the road at the Blue Heron French Cheese Company, which had a better selection of both cheeses and wines. The Tillamook Cheese Factory visit is highly overrated and not worth the time.


On the way south we stopped in

Depoe Bay

to watch whales offshore. In Newport we searched for Mo's Annex, a highly regarded restaurant but couldn't locate it easily. We nearly missed a second Newport eatery, the Lighthouse Deli, because it is now called the South Beach Fish Company, but the chowder, Dungeness crab burgers, and fish and chips are still outstanding.

Yachats

(yah-hoots) was less impressive than the write-ups we read beforehand. We finally pulled into Carl Washburne State Park, found a nice site near the ocean access trail, only to discover that the ocean was in fact two miles away with huge sand dunes to cross and lots of dune buggy traffic to dodge. So we left and kept driving until we came to Umpqua Lighthouse State Park: a nice enough facility but still a distance from the ocean. But at 6:30 in the evening we decided to stick it out.

After Judy's morning run on the beach (which we drove to), we visited the Umpqua River Lighthouse then drove down to the library at

Coos Bay

, the largest town on the coast, to check email. Seventeen miles later we "discovered" what might have been the most interesting town of all along Oregon's coast:

Bandon

. We turned in to Bullard's Beach State Park, which looked like the best state park on the coast (lots of room between sites, full hook-ups, and near the beach and the Coquille River).
We'll go back there for sure. The Coquille River Lighthouse in the smallest of the eight remaining Oregon coast lighthouses. We drove through the attractive town and out to the highway via an area of posh beach homes that are being built as fast as the guys can drive nails.

We faced some tough decisions concerning the next few days: We had been driving more than we wanted and had not really explored areas as much as we might ordinarily. We also were constrained to a schedule. There were many lovely towns and beaches along the Oregon (and California) coast to explore, but we had to get to Mountain View (just south of San Francisco) in a few days and, eventually, Ojai a few days after that. We'd just have to miss some places, and skim over the others, knowing a return trip was required. In the end we opted for speed: we passed through

Port Orford

,

Gold Beach

(not nearly as interesting as their brochures hyped the town), stopped in

Brookings

where, after ignoring countless shops in every town along the south coast, we finally succumbed to buying a myrtlewood bowl (which we need like another hole in our heads) as a souvenir of the trip.


CALIFORNIA

We thought we might spend the night near

Crescent City

, the only incorporated city in Del Norte County and just 20 miles below the Oregon border. However, we decided to push on through Redwood National Park, a very scenic drive through towering groves of the tallest trees in the world. We stopped at several turnouts to walk through among the trees and to give the dogs a chance to romp. We thought we might camp at the campground in the park, but found the sites cramped together, not very flat, and no facilities—all for $20. We pushed on to the first campground we came to outside the park where the sites were level, lots of room for the dogs to roam, full hook-ups and showers.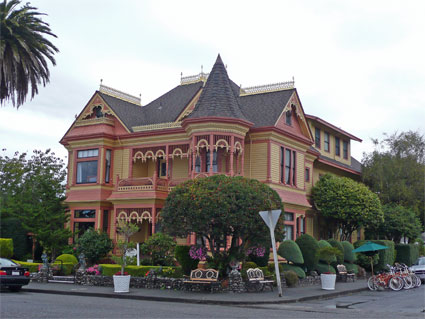 In the morning we experienced our first real rain of the trip (but since we aren't in a tent, it's no problem to unhook the electric and water line in the rain). We drove through

Arcata

, home of Humboldt State University, often referred to as the hippy/party school of the California state system, a reputation we can't confirm. The state visitor's center did have a copy of George and Jan Roberts'

Discover Historic California

(Gem Guides, 2004) that describes all the highway historical markers in the state (over 1,100 of them!) which we often referred to throughout the trip. Just south of Arcata is

Eureka

, home of Victorian mansions and a pretty good co-op/grocery where we stocked up. South of Eureka and five miles west of the highway across the Eel River is

Ferndale

, a charming farming village of Victorian homes (like The Gingerbread Mansion on the left) and interesting arty shops for the tourists who pass through here on their way to the rugged Lost Coast at Cape Mendocino.

The Avenue of the Giants parallels US 101 through Humboldt Redwoods State Park, a spectacular two-lane road that passes through the dark, dense groves of redwoods. We passed the "Drive Thru Tree," the "One Log House," and several galleries devoted to redwood objects and carvings. All together, it is an area of the state and country that should not be missed.

At

Leggett

we turned inland on California Highway 1, rightfully famous for rugged scenery, windswept beaches, solitude, and small coastal towns. The drive over to the coast reminded us of Maui's Road to Hana and any paved road in Bhutan: twisting, narrow, no shoulder to speak of, and few pullouts to let oncoming traffic (like logging trucks) get by. It took nearly an hour to complete the 27 miles to the coast, but the views from then on were worth every agonizing turn. We were two hours driving the 40 miles to

Fort Bragg

along an equally slow two-lane highway, though the scenic coast was dramatic and beautiful.



Mendocino

, just a short drive south, is one of the prettiest towns on the coast. The Victorian town overlooks a rugged coastline and is a perfect place for visitors to walk through, to shop,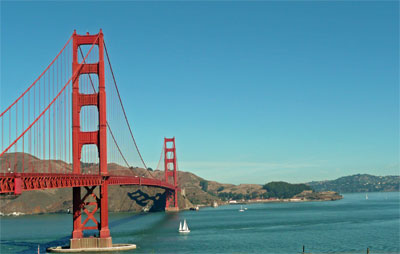 and to look for the house that was used in the opening sequence of the TV series "Murder She Wrote." The show's fictional setting was Maine, but Jessica's house was actually filmed in Mendocino. A short drive from town is a network of paths for walking, biking, and running. It was a sparkling day, so Judy ran while Hughes and dogs walked along the edge of the steep cliffs watching the sea birds and waves.

Traveling on Highway 1

is

very scenic, but very, very slow: 15–20 mph in many sections. For relief, we turned inland to

Navarro

and passed through Hendy Woods State Park, which shelters a small redwood grove just before

Boonville

(where the Boontling dialect is fast fading). At

Santa Rosa

, we returned to the coast in hopes of connecting with friends we met nine years ago in Copper Canyon, Mexico, who live in

Duncans Mills

, a wide place in the road near

Jenner

. We missed them by an hour (we found out weeks later) but spent a pleasant night camping on the Russian River at Casini Ranch, which was hosting an antique travel trailer rally.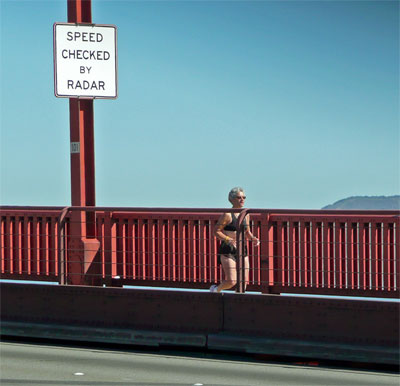 We agreed Judy should run across the Golden Gate Bridge. Luckily, there was a nearby parking spot on the south side of the bridge. Judy ran across and back while Hughes biked the same route and took pictures of the event. The bridge is only 1.7 miles each way, with lots of foot and bike traffic, a constant gentle grade, whizzing cars, and gorgeous scenery. It was a trip highlight.

We arrived at Cynthia's house in the early afternoon, after passing Golden Gate Park, the Presidio, and the edge of downtown

San Francisco

along the Junipero Serra Highway, called by some "The World's Most Beautiful Freeway." It runs atop the San Andreas Fault (or Rift Zone as it's now called). We stopped at Filoli, a beautiful park/botanic garden and historic country estate near

Woodside

(The house was used in the opening scenes of TV's "Dynasty.")

My high school friend Cynthia Sievers was the perfect hostess. Her invitation to visit gave us some much needed breathing space. The two days were a chance to slow our pace a bit, walk the Stanford campus, take the dogs for a refreshing walk along the south bay with her granddaughter, Haleigh, and have dinner with Darla Belshe, another high school friend, and to catch up on our past 50 years since high school—a sort of warm up for the reunion that was less than a week away.

[

Note: Hughes was relieved that both Cynthia and Darla had changed very little since high school. He said that not only would he recognize them at any time, anywhere, but also their personalities have remained pretty much the same. It led him to think that he hasn't changed all that much either. They both warmed to Judy immediately.

]

We spent an extra day on the road getting to Ojai: we returned to California Highway 1 at

Monterey

and drove along the rugged and isolated Big Sur coast. We spotted what looked at first like piles of driftwood logs covering a stretch of beach. As we drew closer, the "logs" turned into a colony of elephant seals sunning themselves on the sand. As few miles further we came to

San Simeon

,
where William Randolph Hearst built this famous playhouse for his rich friends, the well-connected, and his mistress.

The Hearst Castle is overwhelming in many ways: its location five miles from the highway and 1600' above the ocean could not be more impressive; the opulence of the buildings and the interiors is both spectacular and over the top; and the art and architecture that make up the buildings and grounds would have put Louis XIV to shame. Much of Hearst's original 250,000 acres, "given over" to Americans by the Mexican government in the 19th century and purchased by Hearst's father, had been sold off by Hearst Jr to repay nearly $150 million debt he'd piled up by the mid-1930s. There are currently a mere 82,000 acres which the Hearst family gave to the state of California. Of course the Hearst family can use the grounds and buildings whenever they wish; state employees working there are permitted to swim in the pool once a year for two hours. The rest of us pay $20 to tour the grounds. "The Castle" is the ultimate extravagant self-indulgence of the American aristocracy that is not likely to be seen again.

[Note: Hearst already had owned a castle in Wales and this California estate is technically "The Hearst Ranch." Cattle are still raised on the ranch and the beef sold at the visitor's center.]

We spent the night at San Simeon State Park and woke to glorious sun and the sound of the ocean. We headed south looking for a good stretch of road or beach for Judy's morning run. We picked

Cayucos

, a lovely seaside resort town just north of

Morro Bay

. Lunch was, of course, split pea soup in

Buellton

at Anderson's. Finally, the last leg of our journey on US 101 took us through Gaviota Pass to the coast, past

Santa Barbara

to

Carpenteria

(Hughes spent lots of summer days at the beach there), and over highway 150 past Lake Casitas to

Ojai

.


III. HUGHES'S 50th HIGH SCHOOL REUNION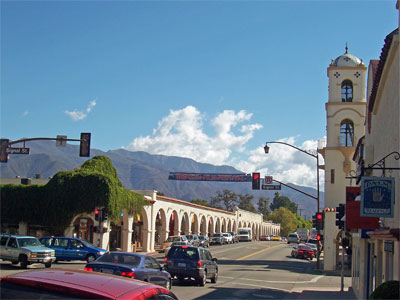 The high school reunion in Ojai was a grand affair and a wonderful three days of memories. For those readers interested in what a group of just over 100 senior citizens might do for fun, the account of the gathering of the Nordhoff High School class of '57 is written up on a separate site.

[

Note: The the town was incorporated as

Nordhoff

in the 1870s, named for noted writer Charles Nordhoff of

Mutiny on the Bounty

fame. The high school was naturally named after the town. However, during WW I the name of the town was summarily renamed

Ojai

, a Chumash word that probably means "moon," though local lore has it that it means "nest." The name change was accomplished either through the efforts of a local businessman, an edict by then Senator James D. Phelan, or because of prevalent anti-German sentiment—or all three. In any case, the high school retained the name Nordhoff. For more on the history of Ojai, see

The Ojai Valley: An Illustrated History

by Patricia L. Fry (Matilija Press, 1983).]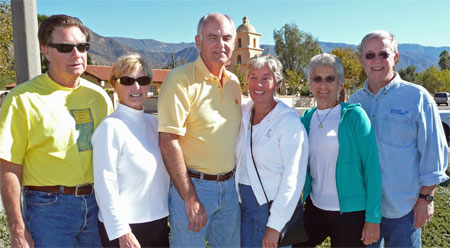 Hughes's high school reunion coincided with a mini-reunion with the two couples we reconnect with every year: Lee and Irene, and Tom and Loretta. We had only two days together, but it was enough to catch up on the past year, to wish Tom and Loretta

bon voyage

on their around the world trip of a lifetime later in October, and to look forward to a more extensive reunion trip next year. An Alaskan cruise, perhaps?


IV. COMING HOME


CALIFORNIA

We left Ojai and drove through

Santa Paula

where Hughes lived from 1945–52. We found his old house on Manzanita Drive. We also drove by McKevett Elementary School (where he attended grades 1–5) to see how little it had changed (new paint and tile roof plus lawn on the playground instead of dirt and rocks). We passed

Fillmore

(Hughes lived there 1944-45) and

Piru

, home of the best oranges in the world (Hughes started school there in 1945), and finally across the Mojave Desert to

Needles

. It was the first time either of us had crossed the desert during the daytime. In the old days, you crossed at night so the engine wouldn't boil over!


ARIZONA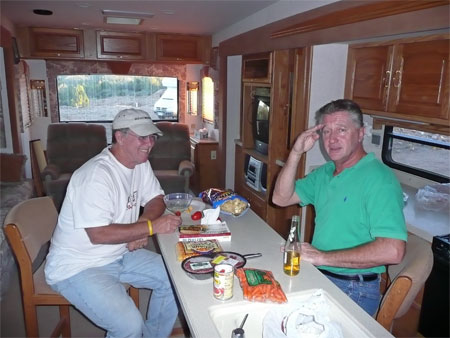 We planned to visit with an old friend who has since moved to Arizona. He lives well off the grid which required us to call for directions and have him meet us at an agreed-upon location so he could guide us to his new place. He was where he promised he'd be with his ATV and we followed him nearly four miles over dirt roads and washed out stream beds to his home site. We stayed with him the following two nights. He hasn't begun to build his house (school tax issues that have yet to be resolved), though he has finished a good-sized storage shed next to the fifth-wheel, his home until the house is completed. His solar panels and storage batteries are in place, plus, of course, his well and septic. Theres not a lot to do out in the middle of nowhere; we talked a lot, drank beer, barbequed, and hiked
his property.

We stopped in

Williams

as we continued our way east. Williams is still living in the 1950s astride Route 66. It's an attractive retro town that lives on aging tourists who like to reminisce about driving the "Mother Road," plus those who want to take the 60-mile train ride to the south rim of the Grand Canyon. It has hills, some tall trees, and some elevation. We thought we could live there.



Holbrook

is another town trying to appeal to Mother Road nostalgia—though it appears not hard enough nor successfully. The classic Wigwam Motel (with a 1950s car parked in front of each cement teepee) looked to be out of business, and Joe and Angie's café is looking the worse for wear. Several other downtown businesses looked closed. The OK RV campground was more OK than the KOA and less expensive to boot, so we stayed there. However, there's not much to do in Holbrook, unless you're headed to the Petrified Forest.


NEW MEXICO



Albuquerque

was our last stop and an opportunity to visit our former Ohio neighbor, Anna Marie Peterson. By chance, we arrived during the annual Hot Air Balloon Fiesta, the largest gathering of hot air balloons in the world. We didn't plan on it, but we were very glad our visit overlapped with the event. Anna Marie had always urged us to come down for the fiesta and stay with her, but we'd never taken her up on the offer. Good heavens, what we missed! We didn't expect to be so overwhelmed by the experience.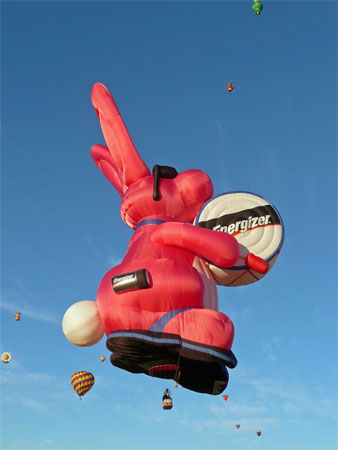 Anna Marie, who volunteers at the Balloon Museum, got us up at 4:15 am to feed and walk the dogs, and took us to the Balloon Fiesta Park at 5:30 am! By the time we bought our tickets and got a golf cart shuttle ride to the field, the first balloon had already ascended. His task was to test the currents and wind speeds and give the pilots on the ground that information. We walked from one balloon crew to another, watching them unfold the balloons, attach the lines and the baskets, and get all the preparations ready for their launch. Most of the ones we watched were "special shape" balloons, of which there were about 90 this year. There were over 900 regular tear-shaped balloons also. In a highly organized program, just before the sun rose over the Sandia Mountains, the balloons were called to ascend. And what a spectacle it was! In less than an hour, nearly 1,000 balloons ascended above and around us—first the special shapes followed by the regular balloons.

There is, we learned, something called "the Albuquerque box," a series of currents at different altitudes that permits a balloon to ascend, drift (on this day) south, then rise and reverse direction, descend to the original altitude and drift back to the south. In this manner, expert pilots can go back and forth (at different altitudes) over a selected area. This allows for pilots to compete for prizes by reaching out of their basket for an envelope on the end of a five-foot pole, or dropping a marker on a target inside the field. By going back and forth the pilots have two or three or more chances for each. The skill involved is remarkable.

More overwhelming was the dazzling array of colors constantly drifting overhead for the next three hours: different shapes, different designs, and a rainbow of color. We could have taken hundreds of photos. It was a remarkable morning and another trip highlight.



We shopped at an Albuquerque Trader Joe's,

the best food store in the world

, on the way back. We had a wonderful lunch at Anna Marie's and collapsed from exhaustion. Anna Marie, however, did manage to call a friend to make a foursome for a couple of hours of bridge in the evening.


COLORADO

We left the next morning for home. We were exactly eight hours to Boulder straight up I-25 with a stop in Pueblo for fuel. It was the only day that was overcast on the entire trip, an omen for the 6" of snow we woke up to the following morning. We called our children and neighbors to tell them we'd arrived home safely, but no one answered.

We had traveled over 4,500 miles and visited eight states outside Colorado, all of the western states except for Nevada. We paid as much as $3.40/gallon for diesel, but it was well worth it. Hughes renewed old high school friendships and saw the changes to the towns where he grew up. Judy ran on some beautiful beaches and across the Golden Gate Bridge. We had reconnected with part of our family in the northwest and with former neighbors.

We often close with a sunset photo. The picture below was taken as the sun dropped over the western horizon along the Oregon coast where sunsets are golden each evening and folks gather at the beach to honor the close of another beautiful day.