Summer Camp at Tucson's Desert Trails RV Park
February 16–March 16, 2011



Preface

What follows may appear to be a blatant commercial for an RV park. We hope not to appear as though we're gushing. The truth is Desert Trails is much more than a place to park your RV. It's an experience for people who enjoy the company of others who are, like themselves, active, creative, talented, and welcoming. It's a summer camp in the winter for adults who like to do things that are challenging, stimulating, and rewarding. We can't remember when we've had a true vacation and so much fun. Next year we are planning to go again. It's that good.





Intro to Desert Trails



Last year we spent a month traveling from Death Valley to southern Arizona following the sun and warm weather we were missing here in Colorado's Front Range. Along the way, we learned of an RV campground/park in the Tucson area that sounded interesting and, since we were headed in that direction to visit cousins and friends living there, we decided to stay a few days at Desert Trails. We liked what we saw during our few days there and planned to return this year.

We left in the middle of February and met, as pre-arranged, with cousins Carol and Ken who had arrived a few days before us. We stayed for two weeks, enjoying biking, afternoon cards, visiting other cousins in Tucson and Sierra Vista, happy hours in the afternoons, and dinners together. Carol and Ken left after two weeks, but we enjoyed ourselves so much that stayed for two more weeks. Before we departed for home, we left a deposit for next winter.

[

Along with our deposit, we left a list of preferred sites; we're hoping to get assigned space #77, a site with ample room, a little shade, a permanent bench, and at a crossroads location where we can invite passers-by for a drink and a chat. (See photo below of Hughes and dogs.) There's no guarantee of getting a particular place except by those who come by December and plan to stay at least three months—but we've got our fingers crossed.

]




Facts and Figures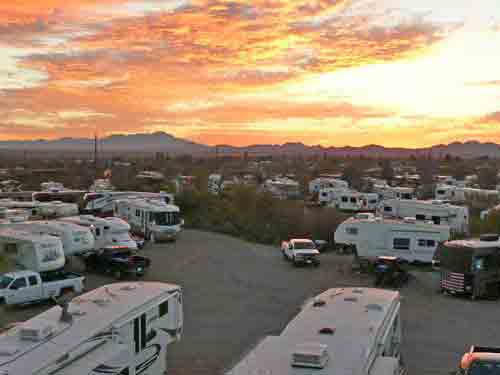 Desert Trails is located about 15 minutes west of Tucson two and a half miles north of West Ajo Highway on San Joaquin just north of Bopp Road. (GPS coordinates: N32° 10.897, W111° 9.1124) There are at least 230 sites at Desert Trails laid out, it would seem, without serious regard for straight lines or right angles, perhaps to take best advantage of the "trees" and landscape restrictions. Perhaps it's more visually interesting. The $26 per night includes tax, full hook-ups, wi-fi on site, heated pool, hot tub, cable TV lounge, pool room with darts, three-room exchange library, 24/7 ice machine, horseshoes, miniature golf, concerts, and exercise room. (There is an extra charge is for laundry.) Access to a network of hiking and mountain biking trails adjoins the property that connects directly to the Tucson Mountain Park and, for those looking for a longer hike, the Sonoran Desert Museum and Saguaro National Park West. Bird watching in these areas is excellent, as it is within the park itself. Campers must be over 40, and have no more than two dogs. (It seems everyone has a dog, and all of them are friendly and generally quiet.) Reservations are essential, especially in the winter months.

There is also an extensive and attractive smorgasbord of activities to meet everyone's tastes and interests. Most are initiated and run by campers who have an interest and round up enough other interested campers to schedule regular events and, when necessary, use of one of the buildings. In the course of a week, those who want to can join a group for road biking, mountain biking, hiking, geocaching, shooting, sewing, quilting, line dancing (both beginning and advanced), painting, photography, creative writing, acoustic jam sessions, blongo, scrapbooking, exercise classes, bean bag baseball, paper quilting, and specialized craft classes. There were seminars, workshops, and demonstrations on computers, RV repairs, self-massage, bike repair, satellite TV, and astronomy. Cash bingo (very popular!) was scheduled every Thursday evening, and on Tuesday and Friday nights were concerts presented by local or traveling musical groups. Dances (with live music) and occasionally karaoke were held on Saturday nights.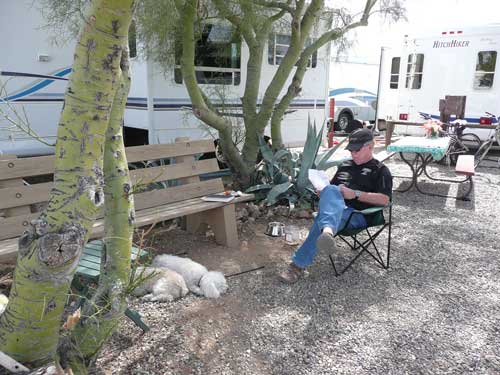 Pericles Wyatt is the owner of Desert Trails who, along with his step-daughter Andrea, nurtures an atmosphere that attracts repeat campers who come from all over Canada and the USA to Desert Trails for 4–6 months every year. Many have come for all or most of the 13 years the park has been in existence. There are other parks that may look dressier from the outside, but they lack the warmth and soul of what has evolved at Desert Trails. Pericles is as interesting an individual as his name: while we were there we listened to him talk about how he left Britain, made his living at a variety of jobs in this country, and eventually bought what was originally a water park and converted it into Desert Trails. He started telling his life story every other Monday morning before we got there and finished after we left, so there are some gaps in our knowledge of his life to date. He doesn't "run" things (e.g., the activities) nor does he appear to micromanage what goes on in the park. He is, however, a first rate administrator, visible regularly throughout the park, checking how folks are enjoying themselves or if they have any complaints; he's hardworking, seems to really enjoy people, loves the microphone and is a natural storyteller. He also has the envious knack of instantly remembering people's names (and their campsite numbers). Like a good administrator, he encourages others and provides the means make things happen; at the same time, he takes care of the nuts and bolts of the operation—making sure the electricity is on, the showers have hot water, toilets flush, the wi-fi signal reaches everyone, and the like.



Our Welcome to Desert Trails

When we pulled out of our make-shift parking area on the side of our driveway, Hughes turned into a pile of snow about two feet high. He simply cut the turn too sharp and the side pull-out drawer caught the corner of the snow which caused the metal and plastic drawer to pull out in such a way that the drawer face bent, the sliding mechanism and frame also bent so that the drawer could not be pushed in flush with the side of the RV. We were crushed, angry at the mistake and upset at the thought of repairs to our otherwise pristine vehicle. What a way to start our winter getaway! Though we were not on a tight schedule, stopping at a repair shop would cost more time than we wanted, so Hughes shoved the drawer in as far as he could force it, locked the drawer in place (though it obviously still stood out from the smooth lines of the side of the RV), and hoped nothing would happen until we got to Tucson where we could get it fixed.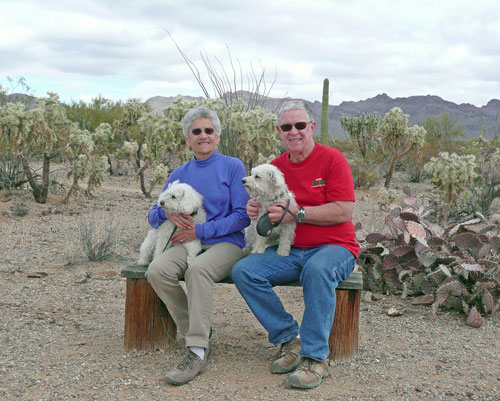 We checked the drawer at every stop on the way to Tucson and it made the trip OK. As we registered at DT, Judy asked if there were some heavy duty tools we might use to try fixing the drawer. Pericles, the owner, said he would send Stan over to see what we needed. Within the hour, Stan (a retired airplane mechanic) had come by to look the problem over, used our tools and his ingenuity, experience, and muscle to do the repair so well that you'd have to look pretty hard to notice that there was ever something wrong with it. The drawer now opens and closes smoothly and it fits almost like new. (

It should be noted also that by the end of the day, most of the camp knew what had happened in our driveway two days before. Several stopped to admire Stan's workmanship.

"We heard you had some trouble..."

)

When we registered we also received the usual brochures on area attractions, a map of the park along with the rules and regs, and a listing of February's daily activities. Since we arrived on a Wednesday afternoon, we didn't have much time to get set up, eat dinner, walk the dogs, before heading to the Rec Hall for an evening of "Cards & Games" at 6:30, which we remembered from last year really meant several dozen games of Mexican Train dominoes going on simultaneously. There were a couple of table of mah jongg players. No cards! We also knew there would be bottomless cups of coffee and plates of cookies laid out on one of the tables. We joined some hard playing women who ran their "trains" cutthroat style. If we were playing for money, we'd have lost big time. But the cookies were good and the coffee warm and strong. After two days on the road, we slept well that night in spite of the coffee.

[

A word about cookies and coffee: The culture af Desert Trails places eating near the top of the values pyramid. Whatever activity people are engaged in, food helps to make the experience more enjoyable—the grease that makes things run smoothly. Cookies are served with coffee and tea at every event throughout the day; donuts are served Monday mornings for the Information Meetings; there are at least two potlucks each month (sometimes there's a reason, sometimes there's not); events away from the park (geocaching, biking, and hiking trips, for example) usually wind up at a local restaurant; cookies and coffee/tea are served at evening concerts, seminars/talks/demonstrations, and bingo night. Up until last year, free sodas were available 24/7 from the soda dispensers in the Oasis building, but were stopped last year: apparently some adults responded to them like greedy teenagers, so everyone lost out. Fair enough. In any case, it's tough to lose weight at Desert Trails.

]


Routine Weekly Activities

Each month Pericles puts together the schedule of daily events for the month. This includes special events outside the park (e.g., Tucson Gem and Mineral Show, Indian Pow Wow at San Xavier Mission, et al. Spring baseball games used to be included, but all the teams that traditionally trained in Tucson, including the Colorado Rockies, were seduced by $$ and flashy facilities in the Phoenix area!). The one sheet of paper is jammed to the narrowest of margins with 6–8 events each day. Monday morning meetings (the ones with donuts) are to go over details, last minute changes or additions to the list for that week. Here's how we spent our time: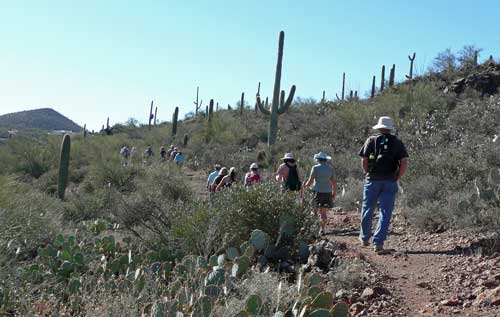 Running

.

Judy ran every day including the morning we woke to snow. (Not much, just a dusting and it was gone by 10 am, but it gave folks a lot to talk about.) She usually went out before breakfast after Hughes walked the dogs and while the dogs and Hughes were having their breakfast. Though she did talk with one or two others who claimed to be runners, she never found anyone to run with. She kept mostly to the paved roads: Bopp east or west, and San Joaquin north or south, and went out and back. There are no shoulders along the roads in that area, but at least there is dirt/gravel to run on and keep away from the speeding cars. Some days she ran in the desert on one of the many ATV trails, even getting "lost" one day when she ended up getting a much longer run that anticipated. The group activities usually began between 9:00–10:00, so she was back in plenty of time to eat breakfast and, if she wanted, take a shower.



Biking

.

Hughes and, while he was there, Ken biked every day, usually in the mornings, but occasionally in the afternoons instead or also. Like Judy, Hughes rode the two main roads, though occasionally he would ride down to and along Ajo Highway (which had a good shoulder). He also rode to east to Kinney and north into Tucson Mountain Park to the Old Tucson Studios. (Once in the Park Kinney Road has no shoulder. The speed limit is 35 mph which most vehicles observed and most drivers were very polite about sharing the narrow, two-lane with bikes.)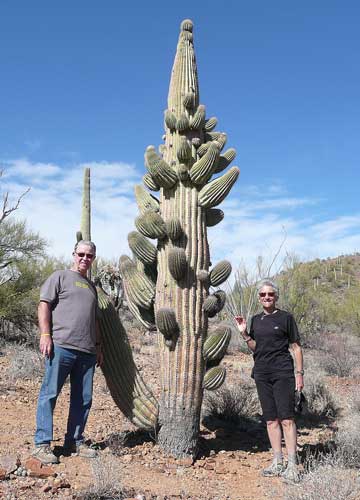 The road bike group scheduled their rides on Monday mornings after Pericles' Information Meeting. Twice we went into Tucson and rode 8–10 miles along some of Tucson's urban bike paths, winding up at restaurants such as Sweet Tomatoes or Magpie's Gourmet Pizza for lunch. Both of these were excellent, especially Magpie's on a hot day eating outside with cold beer along with great pizza. On another group ride we went on left from Desert Trails and ended up about eight miles away at Todd's Restaurant at Ryan Field west on Ajo Highway. We decided not to eat with the group that morning and instead returned to DT on our own. A week or two later, Hughes rode out to Todd's with another camper one fairly warm afternoon and had the best handmade lemonade he's had in years.



Hiking

.

The hikers scheduled outings (anywhere form 5-9 miles long) on Wednesdays, usually leaving DT about 9:00 and returning mid-afternoon. We were able to go on only one hike with the group, a 7-8 mile jaunt on a trail to the ruins of a stone house west of downtown Tucson lived in during the 1930s or 1940s. It was a hot day for hiking and the distance was underestimated by the group leaders, but there were no complaints.

The trails adjacent to DT offer excellent hiking through typical Sonoran Desert vegetation and we used them several times. Our first serious venture was in search of an unusual saguaro that had over 50 "arms." We were given several maps and verbal directions for what should have been a two-mile walk. The maps were inadequate at best, misleading at worst, and the verbal directions unclear. It turns out that we had come within 200 yards of the many-armed saguaro and turned around in frustration. On the way back we met a group of three campers who knew exactly where it was and they were headed in that direction. We tagged along with them, retracing our steps and came upon the fabled saguaro, took our pictures, and returned on our own. We got lost on the way back and walked at least a mile beyond the park, asked directions again. What should have been an easy 4-mile hike turned out nearly double that. We came back cranky, tore the maps up in frustation, had a hot shower, a margarita and a glass of wine, and a good laugh. If anyone ever wants to know how to find the saguaro with lots of arms, there is no one better to ask than us. We've been there and back!



Geocaching

.

We wish we'd started doing this sooner. We had a good time learning how to use a GPS and the internet to engage in non-competative treasure hunts. We've done some here since we came home. If nothing else it's a good excuse to get out, hike, see some places we might never get to without the excuse. The geocachers gathered every other Friday morning: we paired up with another couple and were given information about 4-6 cache sites in the Tucson area. When we found our assigned caches we met for lunch after the others found their assigned locations.

Several years ago we got Judy a Garmin Forerunner 305 so that she could log her runs: time, pace, elevations, even mapping her courses. Since it came with a heart monitor, Hughes used it from time to time when he biked. Then we discovered, to our surprise and delight, that cache location information can be downloaded from the internet (see www.geocaching.com) to the device on her wrist and it works as well as the more conventional devices used by serious geocachers.

We were able to join the geocaching group just once, going out on our maiden trip with Jack and Ada who are very experienced. They taught us the tricks and methods that led us to finishing our four sites in plenty of time to get to the restaurant for lunch with the others. We practiced while we were at DT, looking for caches that were in the Tucson Mountain Park within a couple of miles of Desert Trails. We succeeded in three of the four we searched for, but couldn't find one (Tuscon Mountain Lover's Cache near the Ironwood Picnic Area) though we searched for nearly an hour. When Jack asked how we did, we told him of our one failure and learned that he hadn't been able to find it either. A few days later we went out with Jack and another camper and we still couldn't find it! A week after we got home, we got an email from Jack saying, without elaboration or details, that he'd found it. We'll try again next year.




Musical Concerts

.

We attended musical performances on Tuesday and Friday nights. Not surprisingly, some were better than others, but none was terrible. Some were families (

large

families) who "homeschool" their kids and ride around the country in an RV performing at RV parks everywhere. Their music tended toward country/bluegrass and gospel. Others were veteran performers, often husband and wife, who follow the families from RV park to RV park. Also with a preference for country and gospel. Two groups, however, stood head and shoulders above the touring groups in quality, enthusiasm, and energy: a jazz orchestra and a mariachi band, both from local high schools. They were truly outstanding and put on shows that brought the audience to their feet. It was inspiring to see and hear the kind of talent that high school kids have. Their performances were polished and entertaining. Hats off to "Max Mercury and the Monsoons," from Tucson High Magnet School and "Mariachi Atzlan" from Pueblo Magnet School (also in Tucson). You were outstanding in every respect. We look forward to hearing you both next year.



Game Night and Bingo. Those of you who know us well recognize that we are inveterate game players, especially cards. While Ken and Carol were at the park, we played Shanghai Rummy afternoons and evenings; after they left we started up our ongoing gin rummy game (Judy took honors this trip, 2416–1716). However, Wednesday and Thursday nights we looked forward to "Cards and Games" (Wednesday) and Cash Bingo (Thursday). We had hoped to find bridge players, or at least some other folks who enjoyed cards, but we found no takers; Wednesday nights was limited to a couple of tables of mah jonng and several tables of Mexican Train dominoes. We adapted and joined the dominoes players. Thursday was more engaging since there was money (not much) at stake. We each bought five cards every night for one dollar per card. Hughes won $19 in four nights of playing. The "big pot" at the end of each evening was always in the neighborhood of $200, which would have staked us to several years of Thursday nights. Maybe next year.



Sunsets

. Arizona sunsets are simply spectacular. The reds are redder, the sky is wider, the clouds change whimsically, and the saguaro silhouettes make every photographer think his/hers are good enough for

Arizona Highways

. We had our cameras ready at 6:00 every evening and headed either for the 35' tower in the park or out to a desert trail.




Occasionally…





Accoustic Jam

. Hughes played guitar with some others one afternoon at the Acoustic Jam. There were half dozen players and singers trading mostly cowboy and country songs. A fellow hiker, Russ, brought extra guitars along and loaned Hughes one for the afternoon. Next year he'll bring his own, plus his penny whistles, and join the group more often.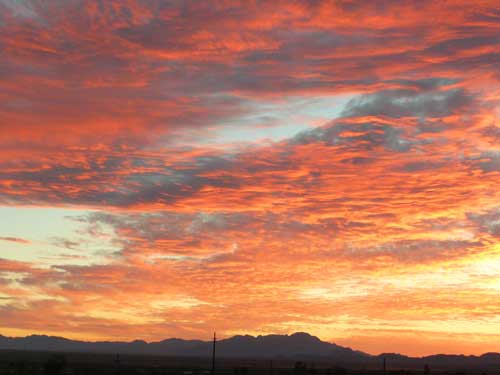 Hot Tub and Swimming Pool

. Ken and Hughes tried out the hot tub several times after biking. It was effectively theraputic. When the weather got warmer in March, Hughes used the swimming pool, which tended to be crowded. However, he found it a great place to read: standing at the edge of the pool with his book on the deck, dipping into the water when he got very warm. At the pool he saw campers he'd not seen other places. Like in any group of several hundred, some folks gravitate toward some activities and not to others.



Exchange Library

. One of the improvements made since we were there last year was expanding the library from several shelves in the Rec Hall to a separate three-room building with an outside covered reading patio. Volunteers have organized the excellent collection of varied topics from mysteries and romances to books on travel, health, history and other non-fiction. Hughes found a copy of John Le Carre's

Our Kind of Traitor

, which just came out last year. It's a sign that the DT library collection is very much up to date and that folks who use it read quality books.



Bird Watching

. Early morning and evening walks with the dogs were excellent opportunities to see some of the more that 50 species of birds that live in or near DT. There is at least one great horned owl that calls home the palm trees in the middle of park; cardinals/pyrrhuloxia (it's hard sometimes to tell since they interbreed) are quite abundant, as are finches, and a host of small seed eaters. Campers have put out feeders for hummingbirds, thistles for finches, as well as suet and seeds to attract other birds to their sites. We did not keep a list, but we'll bring a field guide with us next year.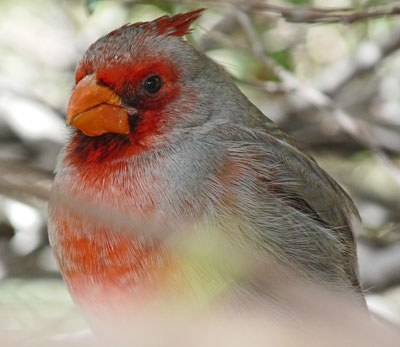 [

Note: There are few animals besides birds in the park. We saw rabbits, who keep a low profile because of the number of dogs, even though the dogs are always on leash. One night we certainly heard—and caught a fleeting glimpse of—a small group of javalinas who crashed through a couple of campsites, banging loudly into the wheel well of a neighboring fifth wheel. They caused quite a ruckus and lots of comments. Across San Joaquin Road we often heard coyotes howling at night. There was a rumor of a snake sighting in the park, but that went unconfirmed.

]



Potlucks

. There are monthly birthday potlucks to celebrate those who have birthdays that month. Pericles provides the cake and ice cream. There was a potluck in February to recognize the park-wide effort by campers who had contributed to the recylcing program this year. Pericles contributed the hot dogs and hamburgers to feed the hundreds who attended. Most everyone turned out for both occasions (why wouldn't you come?) and brought their favorite recipes. Good food, good people, and a good time.



Dog Washing

. With a name like Desert Trails you would expect that dogs would need a bath occasionally. The park has an excellent dog washing facility: a table at a good height with a drain beneath; a hose and spritzer that is always set to a perfect temperature for the dog; a chain to attach to the dog's collar keeping her on the table. Bring your own shampoo and towels. We never had to stand in line to use the dog wash station, but we were lucky. DT dogs are the cleanest anywhere.s



Informal Happy Hours

. Thank goodness there were a number of campers from Canada and Minnesota; you could count on them to host a spontaneous happy hour ("Hey, come on over for a drink?") or stop by our site for a beer, wine, or margarita and conversation before dinner. We learned a lot from these chance meetings—where to camp in other towns, where LP or diesel is cheapest, etc. It should be pointed out that while we were there in February the weather cooled in the late afternoons. Sweatshirts or more were required dress. We did wake to snow one morning, and those who were there before us remembered that the overnight temperature the first part of February got down to 17°. So it was not until early March that it was warm enought to begin having happy hours.




We skipped…



…Craft Classes (Mondays), Quilting (Tuesdays), Sewing (Wednesdays), Painting Classes and Photography Club meetings (Thursdays), Paper Quilting (Fridays), Exercise Classes (Saturdays), and Scrapbooking and Hymn Singing (Sundays at different times). We never played miniature golf; never tried our hand at bean bag baseball; never joined a blongo team. Hughes never pitched horseshoes, shot a game of pool, or threw darts.We never sang (or listened) to karoke or went to a Saturday night dance (though we did poke our noses in to hear the music a couple of times). In some cases we were not interested enough in the topic; in some cases there were conflicts with other events; much of the time we were too tired and wanted to relax and read and sip a glass of wine. After all, we had to shower sometime, and the dogs appreciated a walk more than once a day!

Without a car we felt fairly confined to the park; we gave ourselves a ten-mile radius, the distance we felt comfortable riding our bikes one way. Big Papa's outstanding milk shakes were only five miles to the east, near Susy's Shear Artistry where Judy got her hair done. As a result, we missed out on some really fine events that took place in the greater Tucson area while we were there, like the Festival of Books and the Rodeo Parade, both big deals in Tucson. We'll take care of that problem next year.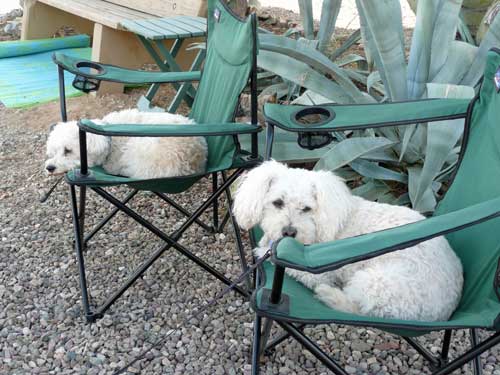 Conclusion

We've been retired for twenty years and since transplanting our lives from Ohio to Colorado we have lead full lives as active volunteers, adventure travelers, campers, and have enjoyed family and neighbors. After a month at Desert Trails, we realized that in all that time we have never felt

on vacation

. We've gone here and there, seen some awesome sights, and had life-changing experiences. But for the first time we sensed a difference between "getting way" or "taking a trip," and being

on vacation

. We have tried without success to articulate clearly what that difference is. We both feel it's real and palpable. We'll continue to mull over what makes an experience a vacation by taking another one next year.

If you can help clarify among "being retired," "taking a trip," and being "on vacation" we'd love to hear from you.

And, we hear you ask, how did Bella and Lucy like being on vacation? Here they are. Let them speak for themselves.