BEST FRIENDS ANIMAL SANCTUARY

Kanab, Utah

June 24–28, 2007








ON THE BUMPY ROAD TO KANAB


Our purpose for this trip was to volunteer at Best Friends Animal Sanctuary in Kanab, Utah. To get there, we traveled west on I-70 to Colorado
National Monument near Grand Junction, on to Green River, Utah, and then south to Capitol Reef National Park, west to Richfield and then south to Kanab. We endured some ferocious heat (upper 90s and low 100s); our "house" batteries failed, but we swapped them out for new ones under warranty in Grand Junction; most inconvenient was our engine going into the infamous "limp home mode" due to a turbo resonator failure, a defect well known among owners of Itasca and Winnebago RVs powered by Dodge Sprinters (though it's hard to find any Dodge dealer who's ever heard of this happening!) We had to cancel our reservations at Kodachrome Basin State Park and endure a 200-mile tow from Richfield to Ogden for repairs. In spite of all, we made it to Kanab on time.




BEST FRIENDS ANIMAL SANCTUARY



The story of Best Friends is a good one. In 1982, a group of friends dedicated to rescuing animals, purchased about 3,000 acres of land along Kanab Creek five miles north and west of Kanab, Utah. The ranch was for many years the location for numerous westerns and TV programs filmed in this scenic valley. They worked to build a no-kill animal sanctuary that would offer lifetime care and shelter to nearly 2,000 animals that were strays or abandoned, found injured, left behind when an owner died, victims of fire, hurricanes, war, or were simply unable to be cared for by their owners. Today, supported by donations of money, resources, and time by many thousands of individuals and groups, Best Friends has become the nation's—perhaps the world's—largest no-kill sanctuary. It also provides a resting place for those animals who, either in the care of Best Friends or pets whose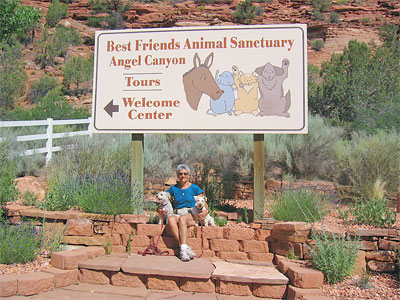 owners come from all over the country, have "crossed over the Rainbow Bridge" and are buried or memorialized at the Sanctuary's "Angels Rest." The story of how Best Friends was founded and has prospered can be found in Samantha Glen's very readable and inspiring

Best Friends: The True Story of the World's Most Beloved Animal Sanctuary

(Kensington Books, 2001). If you read it, you'll want to join us in becoming contributing members.

Though we have been members of Best Friends for many years, we did not visit the sanctuary until 2000 when we stayed several nights in one of the few cabins on the property and took the tour and hiked the property. We were impressed and vowed to return as volunteers. Four years later, granddaughter Julia spent a week of her summer vacation with Judy volunteering at Best Friends. For both of them, the week was memorable.

This was the summer we decided to return together.




BRIEF NOTE ABOUT KANAB



Kanab is in southern Utah, three miles from the Arizona border, surrounded by Grand Canyon, Zion and Bryce National Parks, and is memorable for the red sandstone formations found throughout the southwest. Early attempts of settlement by Mormons in the mid-19th century were contentious (after all, several Native American groups were living nearby and had prior claims to the area), but after three attempts a small group laid out a typical Mormon community of wide streets in 1870. Residents quietly farmed wheat and raised cattle for several generations. The area began to boom in the 1920s when Tom Mix filmed a movie near here and Hollywood folks became a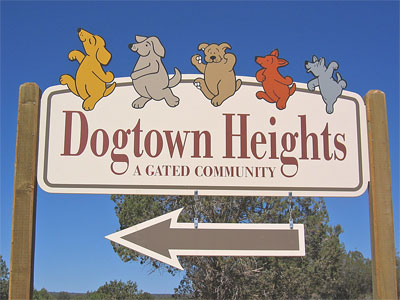 presence for the next half-century. Angel Canyon, five miles north of town, was often used as a movie location, but by the 1950s reverted to cattle ranching land until purchased by Best Friends.


WORKING WITH THE DOGS AND BIRDS

We checked in at the Best Friends Welcome Center, got directions to their new "campground" and met with the volunteer coordinator for our assignments. We drove to the campsite, set up our RV one of the two sites with full hookups (but no bathroom or shower facilities!), plugged in the electricity and turned on the A/C to keep Bella and Sophie cool. We biked five miles to Dogtown Heights, a "Gated Community" according to the entrance sign. (There is a beautiful metal sculpted gate across the road at the entrance.) We met with Bryan Chesser who was by himself this afternoon in charge of the two pods/ten kennels/about 30 dogs that comprise "The Club House." He was glad for the help and allowed that we were just in time to scoop plenty of poop and prepare the afternoon meals. After the dogs were fed, we swept and mopped the kennels and common rooms in preparation for afternoon tours.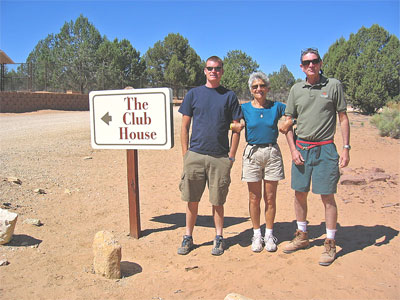 After work, we stopped by the bird area where Hughes was assigned for the next two days. They were temporarily shorthanded at the bird facility ("Feathered Friends") because of several regular staff illnesses and days off. Ken Theus was glad to see him. Ken was very easy to work with and very knowledgeable. He even volunteered to pick Hughes up in the morning and bring him back in the afternoon. He said we would work from 8:00–5:00, so Judy, who would work a 9:00–3:00 shift with the dogs, would "commute" to work by bike.

For the next two days Judy worked for Bryan (on the left) and Jose Pico: she walked dogs all morning while Hughes was cleaning the indoor bird cages (changed newspaper, mopped the bird poop off the floors and walls) as the birds were moved to their outdoor cages. We met for lunch at the cafeteria at Angel Village, a beautiful facility with floor to ceiling windows and an outdoor eating area that sits high above the canyon with sweeping views in both directions (in photo below on the rim overlooking the horse field). Four dollars paid for a scrumptious buffet (vegetarian, of course).

The afternoon routines at Dogtown were the same: scoop poop, prepare the afternoon meals, and clean the kennels. Meanwhile, at Feathered Friends, the afternoon was time for food preparation (cracking nuts, filling water and food dishes for each cage, etc.), and cleaning the cockatoo cages that were housed in a separate building, away from the parrots, macaws, cockatiels, and lorikeets. The cockatoos are striking and noisy birds which are kept separate from the others because they give off more dander, which is a health hazard to some of the other birds. Who knew?? The afternoon routines varied a little for two days: Hughes cleaned the pens that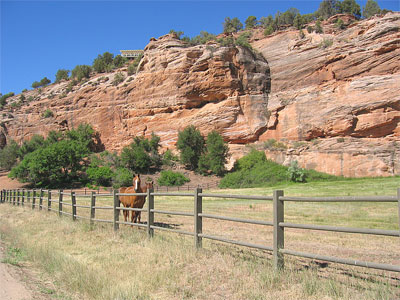 housed the peacocks and peahens, geese, ducks, and pigeons. Each day he gave the outside birds a shower with the hose to cool them off. Like the other animal facilities, the focus is on feeding the birds and keeping their living conditions healthy and clean. Everyday. There are no days off at Best Friends.

We worked together the last two days in Dogtown, taking the dogs for walks (socializing them helps prepare them for adoption), feeding, cleaning, poop scooping, etc. The work is not particularly difficult, certainly not romantic, but absolutely necessary for the health and well being of the animals. The dogs—and surely the horses, donkeys, cats, and bunnies as well—crave human contact, especially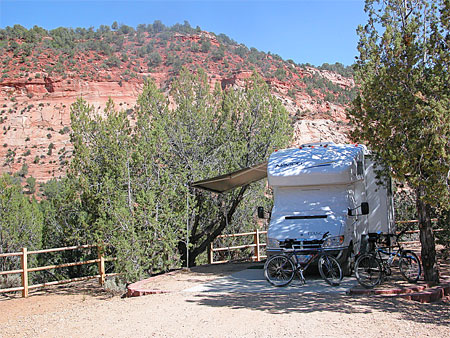 from people who are caring and friendly. The goal is to heal those animals who are hurting and, whenever possible, prepare them for adoption. It may be true for the birds as well, though it's more difficult to gauge their responses to human contact. In the process of providing for their daily needs—food and water, clean conditions, etc.—each person who comes in contact with them helps to make their re-entry into human society more acceptable and likely to succeed. It's true that some animals, because of physical issues, will live out their natural lives at Best Friends. However, most are ultimately adopted out to caring individuals and families.


THE REST OF THE TIME

Judy ran most mornings, the coolest part of the day before the weather turned beastly hot. At the end of each day, we found we were pretty tired—too tired to bike into town for dinner, which we had intended to do every evening. Instead, we walked and fed Sophie and Bella, had gin and tonics in the shade of the cypress and junipers around our campsite, and when the sun went down we explored our end of Angel's Canyon: there were caves, pictographs, and old trails to poke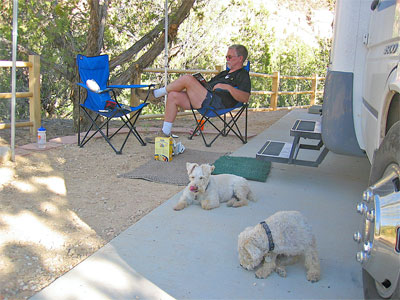 around in. The really nice thing about where we camped was that the dogs could run free—and they did! Each evening they'd wind up with red "stains" on their legs from the fine red dust.

When it was really hot, we stayed inside and read, played gin rummy, and kept our travel journal up to date. Thank goodness for the shower and warm water in the RV. We slept well (and clean) each night and got up ready to take on another day with the animals. Sophie and Bella were terrific travel companions: they snoozed in the air conditioned RV while outside the temperature hit 100+ and in the evening they had a full-time job of chasing the bunnies out of the brush around the campground. They slept well at night also.

On our last day, we returned home to find the campground full! A small Roadtrek had pulled in to othe other site and the owners had walked the mile to the Welcome Center to take the tour. The was no noise coming from the vehicle. You can imagine our surprise when they came back and unloaded three bassets and an English spaniel from their camper. The dogs had made no noise, and we never heard their A/C running. When we commented on the "large group" living in the vehicle, the couple assured us that they and the four dogs were quite comfortable, and had been over the course of their 6-week road trip.

We attended a monthly "blessing ceremony" at Angels Rest. This is a spiritual occasion for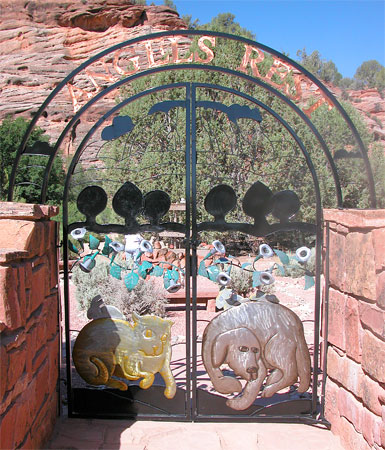 remembering animals that had recently died. Many in attendance worked there. Anyone present could offer a tribute to a pet that had passed away some time ago, as was the case with Judy publicly talked about Gordie who had died in 2000. We had a wind chime hung on a wind chime tree at the park. Dan and Debra's Isis has a wind chime hung there in her honor as well. The blessing ceremony lasted only a half hour but was moving for all present.


LEAVING BEST FRIENDS

On our last day there, we drove to Angels Rest one last time to see Gordie's chime and to take more photos. While we were there, a stray dog brought to Best Friends from Los Angeles just a few weeks ago had died the night before and was being buried that morning. As we did with Gordie's body when he died suddenly in our backyard, the Best Friends staff wrapped the dog's body in a favorite blanket and buried the body deep in the ground.

We also returned to the bird and dog areas to take final pictures and say good-bye to those we worked with and to see if we could get together with some of them for a good-bye dinner.

That afternoon, we left the Best Friends campground and relocated to the Kanab RV Corral in town, one of the cleanest RV parks n our trip, where they have a swimming pool and laundry, as well as flush toilets and showers. We swam, ran three loads of dirties, and showered. There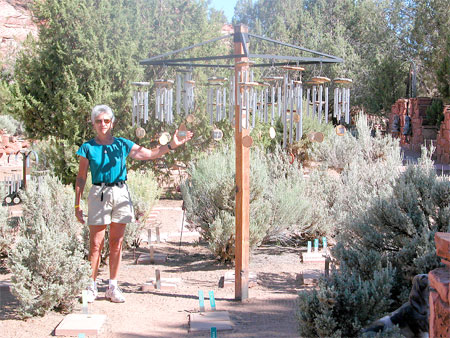 was red dust and sand on everything and it took time to get all off. In the evening, we shared dinner in town with Jose, Chris, a precinct captain for the New York City Police Department we'd made friends with, and Diane, another staff member of Best Friends. (Hughes also worked with a San Francisco plastic surgeon who had volunteered with the birds. You can never tell about what kind of folks offer their time and services at Best Friends!) We had a great farewell dinner at the Rocking V Cafe, as good a place to eat anywhere in southern Utah—in fact, anywhere. (Yes, you

can

get a decent margarita, cold beer, and a good wine in Utah).

This was Judy's third trip to the Sanctuary, and each visit renews her commitment to the efforts of the Best Friends. We contribute financial support each year, but giving of our time directly to the animals is more rewarding and gratifying. We should have taken more photos of the animals we worked with: it will be hard to remember all the dogs and their stories. If we could have, we would have taken a dog home every night for a sleep over; Jose takes a different dog each night since he lost his own dog recently. The sleep overs have to be a very special treat for the dogs (and cats).

We will go back again and we'll try to persuade some of you to join us or go on your own. There are still hikes along Kanab Creek and places to explore on the property: Hidden Lake, secret side canyons, and pictographs, caves, and other signs of Anasazi, Fremont, and Piute peoples who lived there before the Mormons settled in. If you have any interest at all in being a volunteer at Best Friends, please contact us for more information and encouragement. After our experience this summer, however, we think April or May, or October might be a better time to go.