---
Update 7/31/2004: Tommy has now moved along to a new home. Cindy has been busy with other things, and Tommy wasn't getting the attention he deserved. Jack and daughter Jennifer have taken him on to greener pastures. We could tell that Tommy was excited to begin his new adventure, but we were still a little sad watching our old friend gallop off into the sunset.

---

Thanks for visiting Tommy's homepage. Tommy is a 1968 Ford Mustang coupe. Sadie, our 64 Falcon, was feeling lonely in the garage. She never did warm up to The Golden Chariot, Cindy's 85 Toyota Tercel (which is now long gone). Sadie and the rest of the family are all very excited about having a little brother.

You're probably wondering, "Why is the car named Tommy?" Well, as Sadie was named after her original owner, so was Tommy. Lisa Tomingas purchased the car in Albuquerque, New Mexico. He was brought to Broomfield, Colorado by Lisa's son Ed Tomingas sometime around 1995, who then sold him to Thomas Seitz of Longmont in May 1999. Cindy bought him from Thomas on February 7, 2000.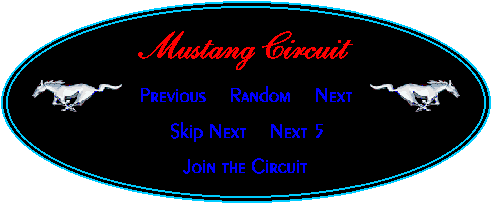 This Mustang Circuit site is owned by Cindy Moir



You are visitor number:
Thanks for stopping by!

Last updated: July 31, 2004